Do you notice that you struggle with finding the right routine for your oily skin? Our "Skincare Routine" series will help you understand your skin type better, and guide you to the best products for your skin type. The skincare specialists at LW have helped put together a much-requested skincare routine for our oily skin babes. We explain some essential steps to follow to keep your skin healthy and highlight the best products for oily skin. 
Best skincare routine for oily skin:
How do I know if I have an oily skin type?
Some people immediately think of acne when they think of oily skin. And yes, while those with oily skin types tend to get blemishes quicker, oily skin does not necessarily equal acne. Do you notice some of the following characteristics?:
Shiny t-zone or face, usually within a few hours after you wake up

Your make-up tends to "slide off" by the end of the day

You have noticeably larger pores, especially around the nose and cheeks

Your skin is more sensitive to acne and blemishes, especially if you cleanse your skin

Blotting paper and/or a mattifying powder is your best friend
Do you notice that you identify with most of these characteristics? It's highly probable you have oily skin. If you're still not sure what your skin type is, check out our blog post to help determine your skin type.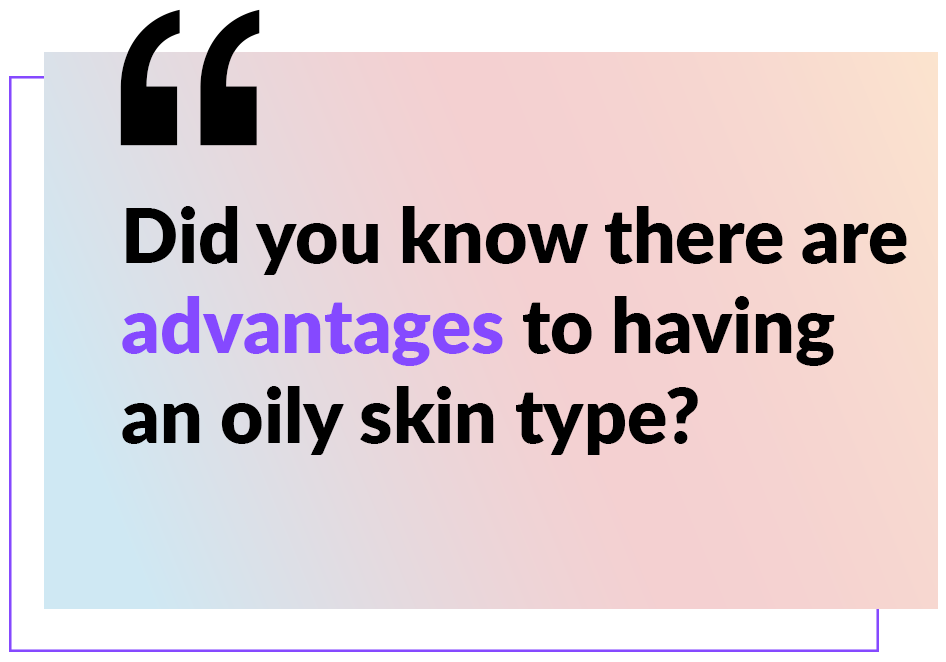 People with oily skin tend to have youthful-looking skin for longer! The oils that your skin produces help slow down signs of aging, meaning wrinkles and fine lines are something you won't have to worry about as much. 
Step 1: (Double) Cleanser
Cleansing is essential for those with oily skin, both in the morning and evening. A good face wash will not only get rid of excess sebum, and impurities that have built up on your skin during the day but will also help your skin breathe by unclogging pores, which can prevent future breakouts. In the morning a gentle pH-balancing cleanser for the face is enough to clarify the skin and get it ready for the day. Your skin does not stop producing oils when you sleep, so make sure to melt away any dead skin cells and reset the sebum on your face each morning.
Best cleansers for oily skin:
In the evening, double cleansing is a must. By starting off with an oil-based cleanser you dissolve all oil-based impurities on your face and get rid of oil-based products like makeup and sunscreen. Follow up with a gentle water-based cleanser and your face will feel squeaky clean and ready for the rest of your bedtime routine.
Best oil-based cleansers for oily skin: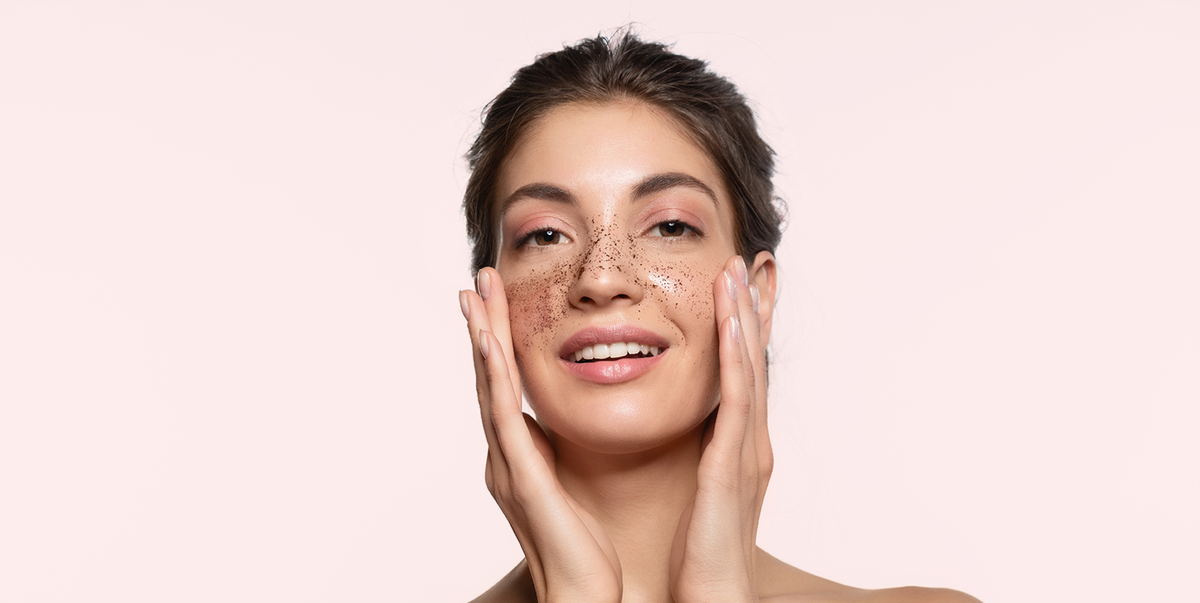 Step 2: Exfoliator

 
Chemical exfoliators are an amazing addition to any skincare routine for any skin type, and in our opinion also the best way to exfoliate the face. Choosing an exfoliator for oily skin might get a bit confusing when you see all the different types of acids. The acids are usually sorted into three main types: BHA, AHA, and PHA. While all three could benefit those with oily skin, BHA (beta hydroxy acid) is the best choice to start with. Oily skin is especially prone to dead skin cell buildup, blackheads, and clogged pores. On top of that, environmental damage can cause the surface of the skin to become dull, rough, and uneven.
Salicylic acid is a BHA that is able to penetrate deeper into the skin to unclog pores, remove dead skin cells, and decrease inflammation. We dedicated a whole blog post to why we love and use BHA exfoliants. Here we also explain how you can use the BHA exfoliant to get the most out of it. All in all, including an exfoliator for oily skin in your skincare routine, can usually benefit those struggling with oily and acne-prone skin. 
If you are new to using BHA or would like to incorporate it into your routine with a retinol-based product, our skincare specialists recommend a skincare method called "skin cycling". Skin cycling is great at repairing the skin barrier, minimizing irritation, and getting the most out of your (nighttime) routine.
Best BHA face exfoliator for oily and acne-prone skin:  
Some By Mi AHA BHA PHA 30 Days Miracle Toner:

The best exfoliator for beginners. The exfoliating toner hydrates and balances the skin's pH while preventing breakouts and pore problems. 

Isntree Chestnut BHA 2% Clear Liquid:

An exfoliating toner that contains 2% of salicylic acid to remove excessive dead skin cells and sebum. A great choice for people that have some experience with face exfoliators.
AHA and PHA exfoliants are made up of larger molecules, meaning that they penetrate less deep into the skin and work on the surface of your skin. These types of chemical exfoliators also improve inflammation and can boost cell turnover to help lighten dark spots and add radiance to dull skin. If you don't suffer from acne (anymore) but still have acne scarring or would like to improve your skin's texture, choosing an AHA or PHA might be the better choice for you. PHA is actually AHA's little sibling. It's the most gentle of the acids and the best exfoliant for sensitive skin.
Best AHA and PHA exfoliators for oily skin: 
Benton PHA Peeling Gel:

A gentle 2-in-1 peeling that will leave your skin soft and moisturized.

COSRX AHA 7 Whitehead Power Liquid:

A gentle chemical exfoliant with 7% Glycolic acid (AHA) that removes pore-clogging debris and dead skin cells, while simultaneously moisturizing your skin.
Still not sure what the best exfoliator is for your face? Check out our guide on whether you should opt for a BHA or an AHA.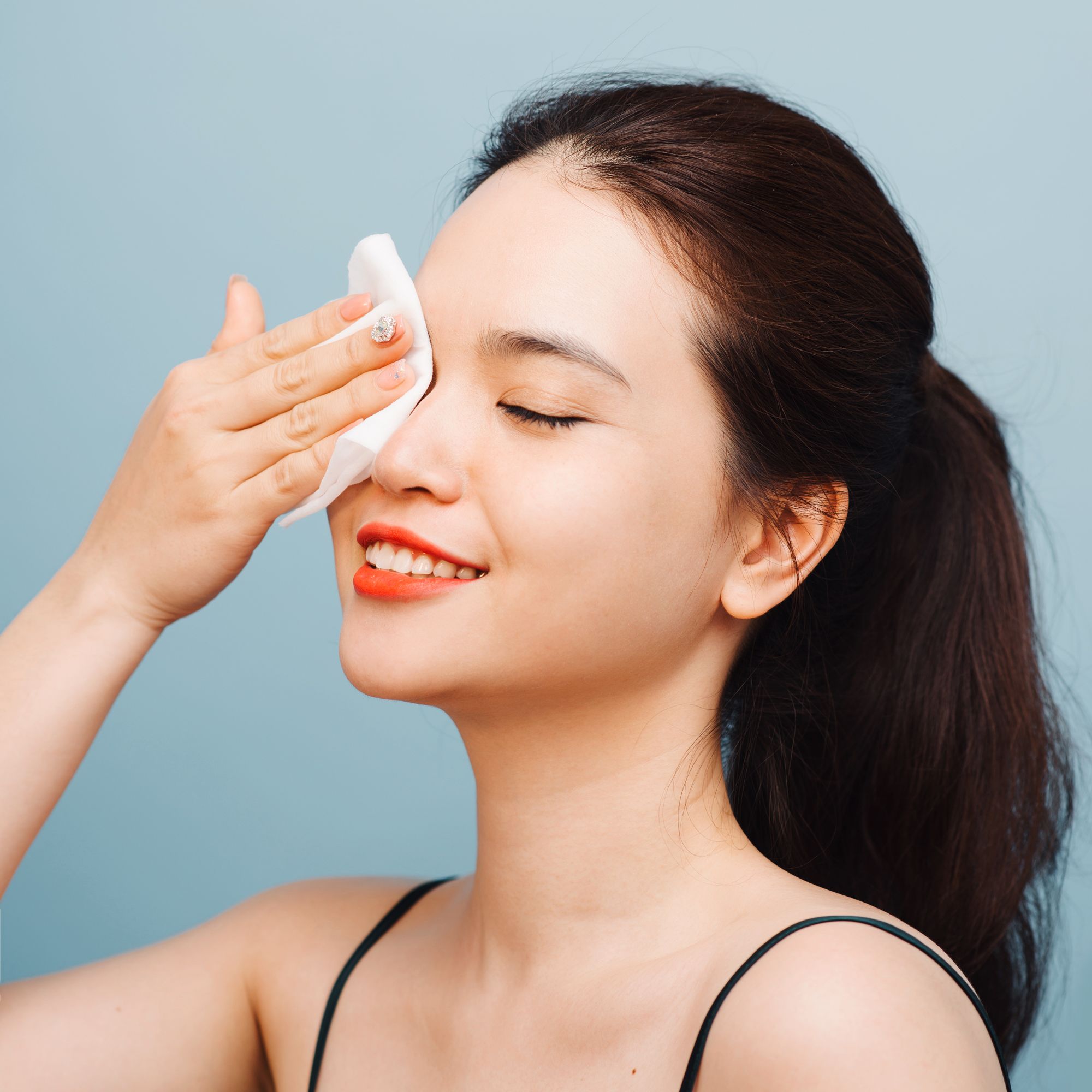 Step 3: Toner
Toners are a good choice for balancing your oily skin. The best toners for oily skin can get rid of residual impurities, sebum, and makeup, balance the pH of your skin, and prepare it for the next steps in your skincare routine. 
A good toner is packed with skin-refining and moisturizing ingredients. In addition loads of Korean toners for oily skin are infused with soothing ingredients, which is a great choice for calming acne-prone skin especially if you suffer from inflammation. Toners for oily skin tackle sebum production and refine the look of pores while balancing the oil-water levels of your skin. 
Do you have acne-prone skin or do you suffer from breakouts? You might want to have a look at an exfoliating toner.


What are exfoliating toners?
Adding an exfoliating toner to your skincare routine is a great choice if you suffer from breakouts and inflammation, or are new to chemical exfoliators. Toners infused with exfoliating ingredients usually have smaller percentages of active ingredients, making them suitable for everyday use. Some Korean toners also combine BHA, AHA, and PHA to tackle multiple skin concerns at the same time. By combining all three acid types the products are able to tackle multiple skin concerns, like controlling breakouts and brightening the skin tone. 
Note: If you are already using a separate chemical exfoliant in your routine, avoid adding an exfoliating toner. This might cause irritation and do more harm than good. Opt for a hydrating and pH-balancing toner instead. 
Do you notice that your skin is more on the sensitive side? An essence toner could be a great option for people with oily sensitive skin.
What is an essence toner?
An essence in itself as a product can be compared to an often watery, lightweight serum. Essences are usually packed with skin-caring and hydrating ingredients, however, are less concentrated than an actual treatment. Essence will be able to penetrate the skin and enhance whatever your serum is doing. It is a great addition to your routine if you strive for that natural healthy glow.

An essence toner is exactly what it says. It is a toner packed with the skin-caring benefits of an essence. Meaning a 2-in-1 wonder for your skin. Essences are often full of good-for-you ingredients like antioxidants and wonderful natural ingredients like green tea, licorice root, rice, or other (fermented) goodies for your skin to enjoy. Read our blog "Fermented Ingredients in Korean Skincare" for more information about fermentation.
Best toners for oily skin:
Step 4: Treatment
Treatments are a great addition to the routine if you want to tackle specific skin concerns. It can get overwhelming when choosing one, however... You might ask yourself, what is the best serum? What acne treatment for oily skin is effective? And then there is the choice between so many formulas. Oily skin treatments and acne treatments usually include active ingredients to effectively deal with your skin concerns. Underneath we have lined up some great ingredients that will benefit those with an oily skin type.

What are good ingredients for oily skin? 

Niacinamide: Pore care, skin texture improvement, sebum balancing, and brightening properties.

Hyaluronic acid: Improves moisture retention and dehydrated skin.

Retinol: Anti-aging, anti-inflammatory, and boosts cell turnover. Also, a great acne-fighting ingredient that reduces oil production.

Salicylic acid (BHA): Pore clarifying, anti-inflammatory and acne-fighting.

Clay (Kaolin): Works as a deep pore purifying treatment.
How to choose a treatment for oily skin?
Should you get a serum or an ampoule? While both are potent solutions to skin concerns an ampoule is a super-packed treatment for the skin. It is usually more concentrated and will deliver a proper caring punch to your skin. This does not mean that a serum is less effective at what it does. A serum, while also full of skin-caring ingredients, can usually be used on a daily basis while an ampoule is great for when your skin needs extra care once every few days.

The next thing to consider is the ingredients you want to be included in your treatment. In the overview above you can see all the beneficial ingredients for both oily and acne-prone skin. You can use the list as a little guide in searching for your next serum or ampoule. Overall, treatments are a great way to customize your routine to specific problems. Our skincare specialists have prepared a list of recommendations for oily skin treatments including some of the best serums and acne treatments.

Best treatments for oily skin: 
Step 5: Moisturizer
Yes, oily skin needs a moisturizer too! A moisturizer will make sure you're sealing in all the goodies you just applied to your face. The best moisturizers for oily skin types are lightweight formulas. You can opt for an emulsion or gel-type moisturizer in the summer and switch to a lightweight cream in the colder months.

Stick to lighter, water-based formulas since richer creams are usually designed with the drier skin types in mind, meaning that they can clog your pores faster and make your skin shinier. Oily sensitive skin types might want to look for Korean moisturizers with calming ingredients like centella asiatica, camellia sinensis, or heartleaf to prevent and relieve any types of irritation. 

Just because your skin produces more oil than other skin types doesn't mean it's protected from dehydration. Dehydrated skin happens when your skin has a lack of water. An oily dehydrated skin can show signs of irritation, quickly congested pores and can look somewhat dull. In addition, dehydrated oily skin can actually be the cause of overactive sebum production. This happens because your body is trying to make up for the lack of water by producing more oil. If your skin is producing more sebum than you're used to and you notice your skin gets oily even faster than usual, this could actually be due to dehydration. 

When your skin is dehydrated it is smart to add a serum that delivers moisture to your skin. A serum has a smaller molecular structure, meaning that it can penetrate deeper layers of your skin than e.g. a moisturizer. By following up with a moisturizer you can reinforce the moisture barrier and lock in the moisture that your serum just delivered to your skin. So, using a moisturizer can actually help oily skin in many ways. It seals in nutrients from previous products, it helps your skin retain moisture, and it's infused with other goodies that improve your skin health. 
Best moisturizers for oily skin:
Does oily skin need an eye cream?
 No matter your skin type, don't forget about the skin around your eyes. This skin is fragile and is prone to dryness and early signs of aging. Eye creams are usually designed with specific skin concerns in mind, rather than skin types. A key to a good basic eye cream is always one that is gentle and provides some extra care through moisture. If you would like to tacklewould to tackle dark circles, look for brightening eye creams enriched with ingredients such as tranexamic acid or vitamin C. Are you looking for an anti-aging eye cream? Then a formula infused with peptides or retinoids could be your go-to. 
Best Korean eye creams:
Beauty of Joseon Revive Eye Serum Ginseng + Retinal:

Contains 10% Ginseng root extract, to rapidly moisturize the skin and retain hydration. It also stimulates blood circulation, contains antioxidant properties, and fights fine lines. 

Benton Fermentation Eye Cream:

Formulated with high concentrations of Galactomyces Ferment Filtrate to brighten and firm the skin. Also infused with ceramides and hyaluronic acid to hydrate the skin and increase elasticity.

Aromatica Rose Absolute Eye Cream:

An antioxidant-rich eye cream enriched with Damask Rose, organic Argan and Rosehip oils. The formula nourishes and hydrates delicate skin around eyes. Leaves skin smoother and brighter.
Step 6: Sunscreen
Sunscreen is a vital step in your skincare routine, no matter what skin type you have. Protecting your skin from sun damage prevents premature skin aging and the worsening of skin conditions such as hyperpigmentation. In addition, sunscreen can also help fight acne.

We understand that choosing sunscreens for oily skin can get a bit tricky. Just remember your skin is unique, and you know what your skin likes best. If a moisturizer followed by sunscreen might be too heavy for you, opt for a moisturizing sunscreen instead. This means that you can skip moisturizer and use sunscreen only. Many Korean sunscreens have skin-caring benefits and will protect your skin from the sun while providing it with enough moisture!

The higher the SPF rating of your sunscreen the better protected you are. While SPF30 is a good choice, there is a good reason why you will find that most Korean sunscreens are formulated with SPF50+. Look for formulas that have broad-spectrum protection, and therefore will protect your skin from a range of harmful sun rays like UVA and UVB.


Chemical vs. Mineral sunscreen
Korean sunscreens use different filters to protect your skin. They range from chemical and mineral to hybrid filter formulas. While it is important to look at oil-free formulas, people with acne-prone skin might also want to choose a mineral filter over the others. Sunscreens with zinc oxide and titanium dioxide are less likely to cause breakouts because they won't clog your pores. In a previous blog post we broke down the differences between chemical and mineral filters to help you decide what filter is best for you.
Whatever sunscreen you choose, just make sure that you apply it liberally. The general rule of thumb is to use half a teaspoon for your face. Check out our guide on sun protection for all the details and help with choosing your next sunscreen.
 
Note: Some foundations and BB creams also have sunscreen in their formula, but the amount of BB cream the average person applies to their face is not enough to protect the skin throughout the day. This is also why we always recommend using sunscreen as the last step of your morning skincare routine.
Best Korean sunscreens for oily skin:
Our skincare specialists often get asked what products they would recommend for specific skin types. By writing these blogs we hope to help both new, and old, Korean skincare enthusiasts out with getting to know your skin and what products might work for you. All products mentioned in this post are examples of products that we at Little Wonderland love and would recommend for oily skin. 
If you already found your favorites, then yay! We know how difficult it can be to find the right routine for your skin. However, if you're up for trying something new, the products mentioned in this post are all amazing and 100% recommended.
Anything on your mind? We love to hear from our fellow skincare lovers about what they want to see next! Feel free to share your thoughts with us in the comments