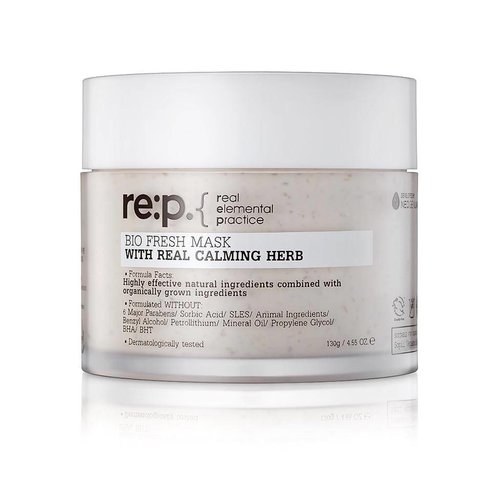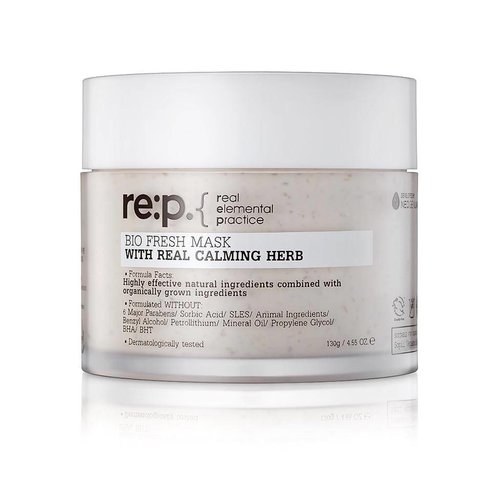 The Re:p Bio Fresh Mask With Real Calming Herb soothes irritated fatigued skin while reducing redness and inflammation.
Read more
Order before 22:00, shipped the same day.
Re:p
RE:P stands for Real Elemental Practice. They are a sustainable Korean Skincare brand. Their approach to skincare is green and eco-friendly. Their skincare containers are biologically degradable, making them less of a threat to the environment. So if you're looking for high quality skincare that is designed with the planet in mind, Re:p might be the perfect brand for you. They even use soy ink and recycled paper for their packaging!
All the skincare products Re:p develops are cruelty free, clean and sustainable. They formulate their products with the uttermost care to ensure that they are safe for everybody, including individuals with sensitive skin. That's why you will never find any parabens or sulfates in their formulas. Re:p guarantees a worry-free, soothing skincare experience. Your skin will thank you for it!
RE:P Bio Fresh Mask
Is your skin irritated and red and in need of instant soothing and refreshing care? Re:p has the solution for you! They developed the Bio Fresh Mask With Real Calming Herb to purify and to calm the skin while being mild enough for sensitive skin. This mask contains kaolin clay along with soothing herbs like chamomile and calendula to achieve soft, glowing skin. All of their products are dermatologically tested and suitable for all skin types. 
Buy Re:p at Little Wonderland
Re:p likes keeping it simple. Their skincare doesn't contain any unnecessary filler ingredients, just pure and effective components that benefit your skin. Are you curious about the popular skincare products by Re:p yet? Little Wonderland offers everything your skin needs. Our extensive skincare collection includes Korean brands like Neogen, COSRX and iUNIK. Orders placed before 22:00 are shipped on the same day. Collect Wonder Points to get considerable discount you can apply to your future orders!