If you have been around for some time and you know your way in skincare, you are probably aware off the importance of sunscreen. In an earlier blogpost we explained that, even in the wintertime, you can severely harm and damage your skin when it is is exposed to (visible but also not visible) sunrays. Today i want to give you the ultimate tools to care for your skin when it comes to suncare. What kind of uv-filters are often used and what type of sunscreen is the best for you. It is going to be a long post, so get comfy, get yourself something delicious to drink (apply some sunscreen!) and let's get started!
We separate two different kinds of uv-filters: chemical filters and mineral filters. Chemical filters are absorbed by the skin and will transfer the heat out of the skin, where mineral filters literally create a film on top of the skin and will block the rays like some sort of mirror. Chemical sunscreens are often easy to (re)apply and won't leave a whitecast. Mineral sunscreens however are known for their whitecast. They are mostly a bit greasy at first (so a bit harder to apply evenly) and can become a bit drying during the day. Mineral sunscreens are a great choice for direct sunexposure, children and people who cannot tolerate chemical filters that much. 
It is often believed that chemical filters only protect against UVA rays where mineral filters mostly protect against UVB rays. To clear this up, I will list down which filter protects against wich rays. 
Before we continue, i will tell a little about sunrays in general. One of the most important factors of aging and the development of hyperpigmentation and melasma is (excessive) exposure of the sun. We seperate three kinds of uv rays: UVA (400-320), UVB (320-280 nm) and UVC (280-100 nm). UVC is blocked by the ozon layer, so we aren't exposed to rays under 280 nm. I will explain the difference between UVA- and UVB rays and wich filters are often used for protection.
UVA rays
However, UVA (aging) is present everyday throughout the year, even in the wintertime and these rays can penetrate through glass and windows as well. This is the reason why it is so important to use a sunscreen on a daily base. UVA can be divided into UVA1 and UVA2. The difference between these two is the wavelenght. UVA1 has a reach off 340-400 naometer and UVA2 has a reach of 320 en 340 nanometer.
Filters that protect against UVA:
Chemical filters:
Avobenzone

(inci list:

 Butyl Methoxydibenzoylmethane

)
Will protect, as one of the few filters, against UVA-1 rays but also against UVA-2. This filter can be stabilized with other filters as Octocrlene or Tinosorb S. However, Avobenzone isn't very photo-stable and in the first hour of applying, it loses around 36% of its UV efficiency. This is also the reason why we need to re-apply our sunscreen during the day. 
Uvinal A Plus

(inci list:

Diethylamino Hydroxybenzoyl Hexyl Benzoate

)
A very photo-stable filter and can be used in higher concentrations than Avobenzone. Uvinal A plus has a reach of
 320-400 nm and will therefore protect the skin against UVA-2.
Neo Heliopan AP

(also known as 

Bidisulizole Disodium

,inci list: 

Disodium Phenyl Dibenzimidazole Tetrasulfonate

).
This filter will provide protection against UVA-2 rays. The filter itself is made of bigger molecules and will therefore not penetrate the skin. It won't provide a lot of protection so it is mostly used in combination with other filters for a broad spectrum coverage. The filter is water soluble so it isn't often seen in water resistant sunscreen. 
Mineral filters:
Mineral filters will not only protect the skin against UVA but also against UVB. That is why I will discuss them a bit later on.
UVB rays
UVB (burning) are the rays that is often associated with tanning and can cause severe burns when lacking sun protection. The UVB protection is indicated in a system called 'SPF' ('Sun Protection Factor'). Would you like to read more about the SPF (and PA) rating? Marte explained this a bit more in this earlier blogpost.
Filters that protect against UVB:
I will, again, only address the chemical filters since these specifically offer protection for UVB rays alone.
Uvinul T 150

(also known as 

Octyl Triazone

, inci list:

Ethylhexyl Triazone

)
A populair and stable UVB filter 
(280-320nm). Uvinal T is oil soluble and is therefore often used in waterproof sunscreen formulations. 
Octinocate

(inci list:

Ethylhexyl Methoxycinnamate

)
Octinocate has a reach of 280-320 nm and is often combined with the mineral filter Zinc Oxide. This filter can penetrate a bit deeper into the skin, hence the reason why some people tent to avoid using it. However, it isn't really known what its effect are. This filter can cause some irritation, so if you are sensitive to chemical filters, you maybe want to avoid this one. This filter has been banned by Hawaï and other coast cities since it has been proven it can be toxic to the coral reefs. 
Octrocrylene is soluble in oil and therefore is a waterproof filter. This filter is often used to stabilize other filters (like Avobenzone). Octrocrylene can trigger contact allergies and therefore it is recommended to avoid using this filter for children under the age of 3. 
Octisalate

(Also known as 

Octyl Salicylate

, inci list weergegeven:

Ethylhexyl Salicylate

)
A weak UVB filter on its own but has the ability to strengthen other filters. Also this filter can cause some irritation.
Homosalate

(inci list:

Homomenthyl Salicylate

)
Homosalate isn't a very strong filter on its own (it looses around 10% of its efficiency in the first 45 minutes) That is also the reason this filter is often seen in combination with other filters to strengthen their abilities. 
Ensulizone

(inci list:

Phenylbenzimidazole Sulfonic Acid

)
A very powerful UVB filter that is soluble in water, so this one isn't used in waterproof formulations. The filter is photo-stable. The destiny is relatively small so this filter can penetrate through the layers of the skin, but since it is soluble in water, it most likely will be demolished before it actually does.
Amiloxate

(inci list:

Isoamyl p-Methoxycinnamate

)
An, in oil soluble, filter that can, just like Octinoxate, trigger a contact allergy. There hasn't been many research done on the effect it can have.
A silicone based filter with a high density that won't penetrate the skin. This filter can stabilize a few UVA filers (like Avobenzone) and works in particular well with Ensulizone (mentioned earlier) to reach a higher SPF-protection.
Iscotrizinol

(

UVAsorb HEB

, inci list:

Diethylhexyl Butamido Triazone

)
A very efficient and photo-stable UVB-filter (research has been shown that it will only lose around 10% of its efficiency in 25 hours). This filter is often seen in waterproof formulation since it is only soluble in oil.
Enzacamene

(inci list:

4-Methylbenzylidene Camphor

)
Oil soluble filter and a somewhat unstable (it takes about 65 minutes to lose 10% of its protection powers and 345 minutes to lose half of this). This one can also stabilize unstable UVA-filters like Avobenzone. 
Wich filters do we consider 'broad spectrum'?
Chemical filters:
Tinosorb S

(also known as 

Bemotrizinol

, inci list:

Bis-Ethylhexyloxyphenol Methoxyphenyl Triazine

)
Bigger molecules that won't penetrate through the skin. Photo-stable and often used to stabilize Avobenzone, 280-400 nm.
Tinosorb A2B

(nano) (inci list:

Tris-Biphenyl Triazine

(nano))
A new generation filter and is therefore very new and not often used yet. However, this filter is 
preservative-free and has a high quality UVA- and UVB protection. It can help to prevent skin damage and is even very efficient at lower concentrations. 
Tinosorb M

(also known as 

Bisoctrizole

. Inci list:

Methylene Bis-Benzotriazolyl Tetramethylbutylphenol

)
One of the first organic sunscreen filters that both absorbs as shatters sun rays. So it has the qualities of both mineral and chemical filters. Therefore this filter can leave a slight whitecast. 
 Oxybenzone (inci list: Benzophenone-3)
Oxybenzone penetrates through the skin quite easily and is therefore often avoided since it has been said it can influence the hormonal balance. This filter can therefore be risky to use during pregnancy and breastfeeding a child. 
This filter has also been banned by Hawaï and other coast cities since it has been proven it can be toxic to the coral reefs. 
Mineral filters:
Is one of the few filters that can be used in higher concentrations and also as a sunscreen on its own. The filter is highly photo-stable but does leave a whitecast. The formulation of zinc can vary in particle size. This filter is, for example, also available in nano sized, making it coral reef friendly. However, when the particle size decreases, so does the protection, making it less trustworthy. Safe to use during pregnancy. 
Titanium is a non soluble mineral filter and can cause a ' whitewash'. This filter is often seen as nano form as well, but then will also decrease the protection. 
How much sunscreen do we actually need?
Okay, so now we now our way a little when it comes to the filters. But how much sunscreen do we actually need for the maximum protection? When I first read how much sunscreen you actually need to meet the SPF rate the product claims, I was shocked. I never really paid attention to the quantity and it me hard that I was always under applying. 
To protect your skin, you actually need around 2 millimeter sunscreen per centimeter skin. That equals around 6-7 (33 ml) tablespoons of sunscreen for all the exposed bodyparts. Jude Chao (you might know her as Fiddysnails on Instagram) came up with the ' three-finger-method'. Apply a vertical line of sunscreen on your three longest fingers and that should be enough to cover your face and neck. 
What sunscreen do you need when...?
It is very understandable that this can all be a bit much and overwhelming. It is a lot to take in obviously and it is okay if you are a bit lost. What filters are safe to use and which of them match my skin type and concerns? I want to put out there that all the filters that are used have been tested thoroughly and are safe to use. Especially when not using sunscreen is the alternative. However, there are some exceptions that I will explain a bit further. 
You are pregnant:
When you are expecting a child, a lot of things undergo some changes. Also your skin. Most women experience a change in acne or dryness during pregnancy. It can be quite the challenge to figure out a pregnancy safe routine that also fit your current needs. In
this earlier blogpost
we already discussed a few ingredients that are better to avoid when being pregnant. Chemical filters are often avoided, since the can be a bit risky. Mineral sunscreen can be a safer option. Mineral sunscreen can however feel a bit drying on the skin. If you suffer from (severe) dryness, this might not feel very comfortable. 
The 
Etude House
Soon Jung Mild Defence Sun Cream is a light, hydrating sunscreen that is gentle enough for sensitive skin and uses mineral filters to achieve SPF49 PA++ protection. It's the perfect mineral sunscreen for skin that reacts to allergens easily. The irritated, heated skin is soothed and cooled and protected. The slightly acidic pH of this product maintains a healthy balance in the skin. Moreover, 93% of the ingredients of this sun screen is naturally derived. The filters are 'nano' sized, so the whitecast is minimal.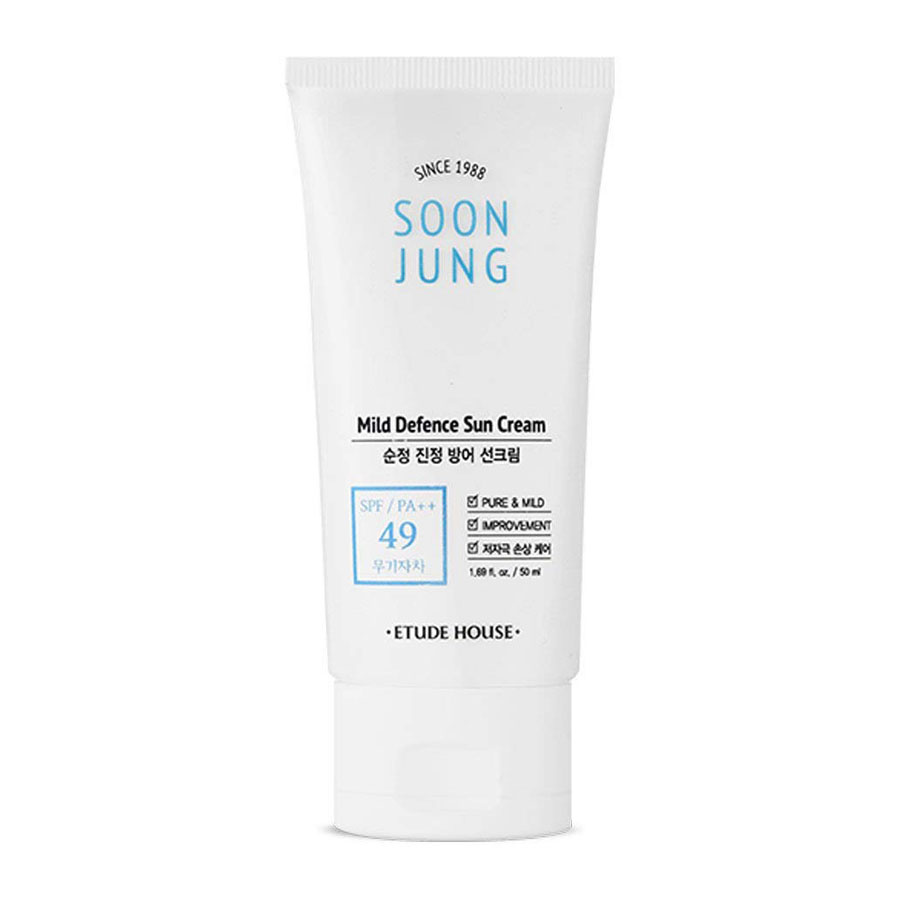 Looking for a coral reef friendly sunscreen:
Earlier we dove a little into the variety of filters. Chemical filters are often seen as 'toxic' for the coral reef (some more toxic then others) where mineral filters can have some 'bleaching' abilities. When mineral filters are 'nano' sized, their bleaching powers are decreasing as well, making it a more safe option to wear when going for a swim. 
The
Thank You Farmer
Safe Sun Fluid Age 0880 SPF50+ PA++++ is a coral reef friendly, mineral sunscreen and is formulated for sensitive skin. Enriched with 7.99% Titanium Dioxide protects the skin against harmfull UVA and UVB rays. (This product is also pregnancy safe).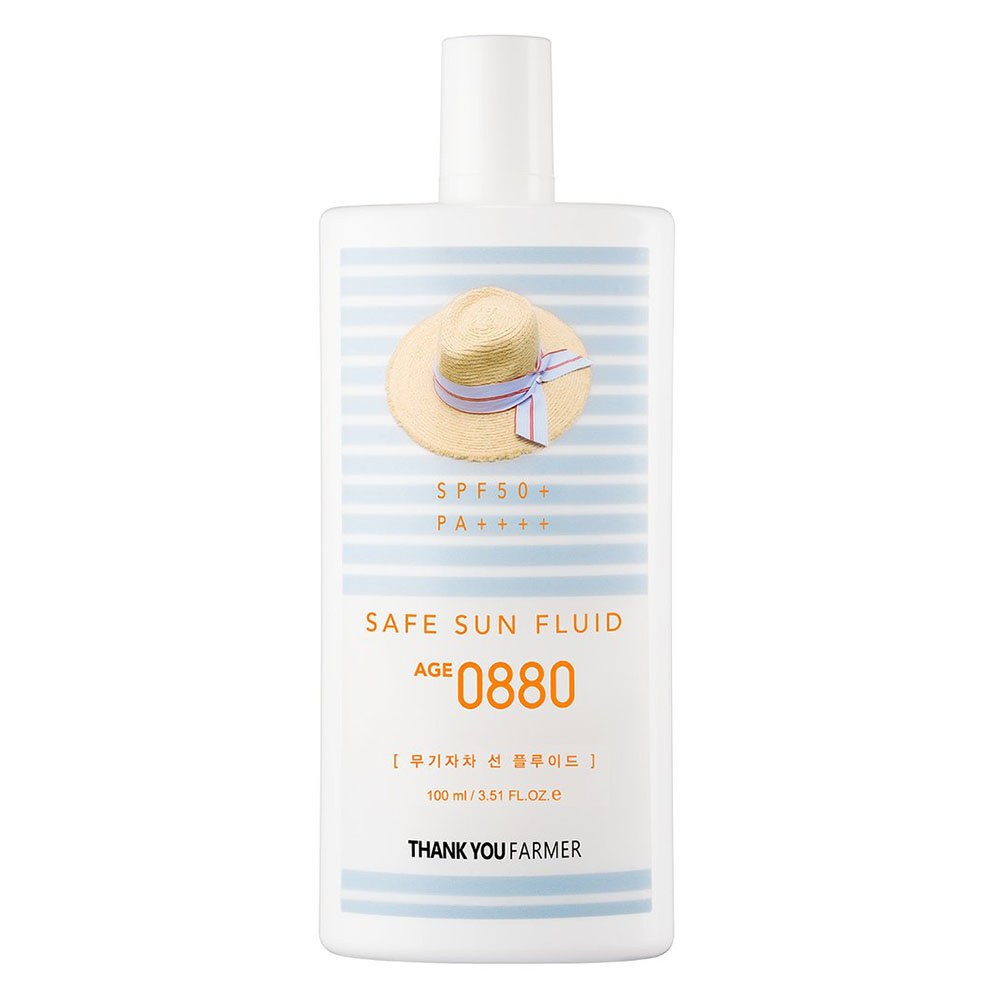 You suffer from acne prone skin:
Using a sunscreen, especially if you are dealing with specific skin concerns like acne, is very important. Sun damage and sun exposure can stimulate the growth of certain bacteria, making you acne flare up even worse. There are a lot of different types of acne. Since we are getting a lot of questions about fungal acne in general, I will suggest a sunscreen that you can try if you suffer from fungal acne. Do you want to read more about acne and sun protection? Head over to
this link
. 
The Missha All Around Safe Block Aqua Sun Gel SPF50+/PA+++ is a refreshing, broad spectrum sunscreen with a semi-matte finish. The formula is free of fungal acne triggers such as oils, fatty acids, coconut oil and fermented ingredients and makes it therefore a safe option. 
You suffer from rosacea: 
When you suffer from rosacea, there are a few ingredients you want to avoid. Drying alcohol, lactic and glycolic acid (AHA, chemical exfoliants), Urea, menthol, camphor and SLS can all be a trigger to flare up rosacea. Sundamage and sun exposure in general can worsen this condition, so it is very important to protect your skin well on a daily base. 
The Toun28 B1 Sunscreen is a very mild (mineral) sunscreen and complies with the certification guidelines Zero-20 toxic beauty ingredients and Zero-Allergy trigger-ingredients. B1 makes it suitable for dry skin. This HEV/UV defense product is produced with organic materials, shielding blue lights and UV rays to protect your skin. This brands blue light defense finished the product experiment, which was certified by BDIH, the organic certification guidelines.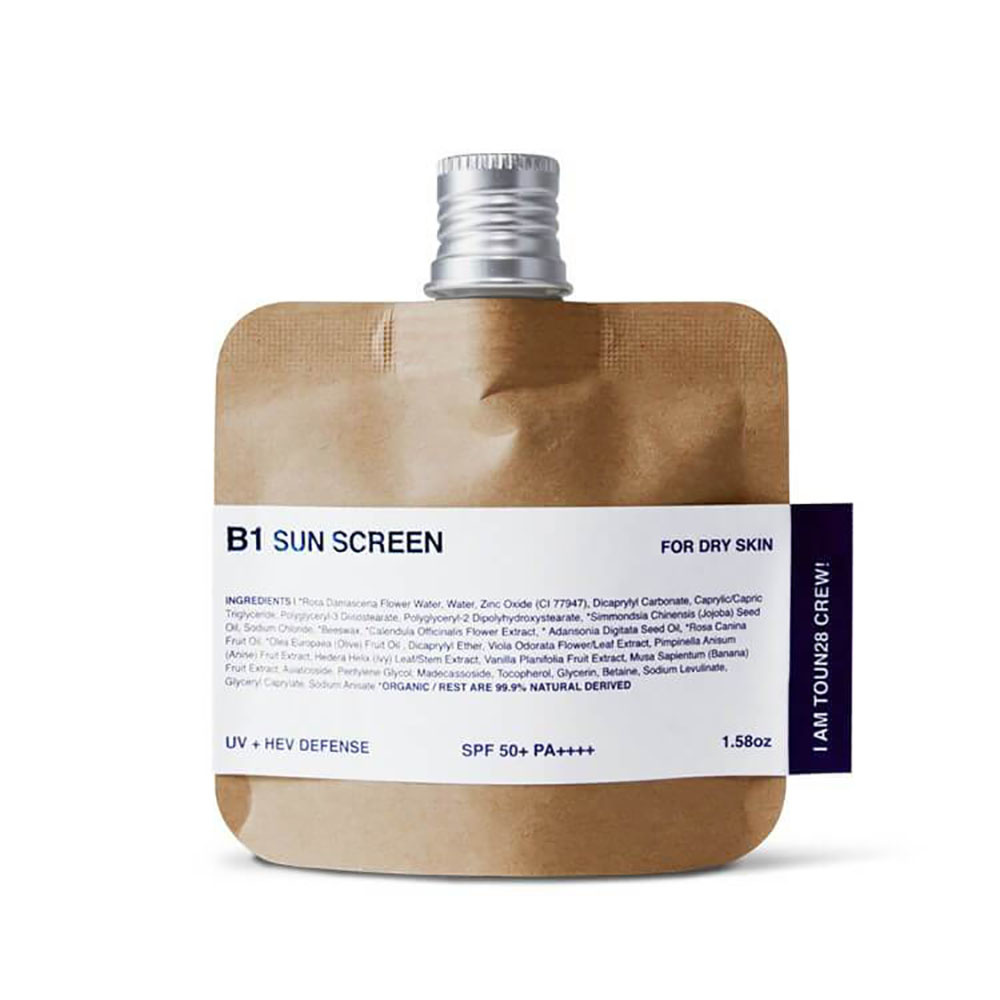 Can you layer different sunscreens?
I noticed how I have the urge to 'combine' sunscreens. One makes my skin rather oily after a few applies and the other dries my skin out. But is is actually okay to use different sorts of sunscreens throughout the day? Well yes, it is! As long as the other sunscreen has been set, this takes about 5-10 minutes, depending on the sunscreen, you can layer another on top. With this said, it isn't advised to mix them together, since the filters can clash and cause some irritation. Also when different types of filters are mixed, they can decrease in protection efficiency. 
Sunscreen as moisturizer?
I mentioned before that you need to apply quite some product to meet the SPF rating the sunscreen claims to have. Most people don't use that amount of moisturizer. Therefore it is advised to use a separate sunscreen since they are also formulated (most of the times they aren't that occlusive as moisturizers) so they are easier to apply in bigger quantities. 
If you are struggling to make this all work; a moisturizer and a sunscreen that work well together, you can also try sunscreen with moisturizing abilities. Most Korean sunscreens have a lot of nourishing ingredients and can therefore also function as a moisturizer. A good example is the Troiareuke ACSEN UV Protector Essence. This is a calming moisturizing sunscreen with a light essence-resembling texture. Apart from providing an effective protection from harmful UV rays with SPF50+/PA+++, the product also acts as a shield from stressors such as pollen, dust and air-pollutants. Formulated with Centella Asiatica extract regenerates skin, while soothing and strengthening skin's protective barrier.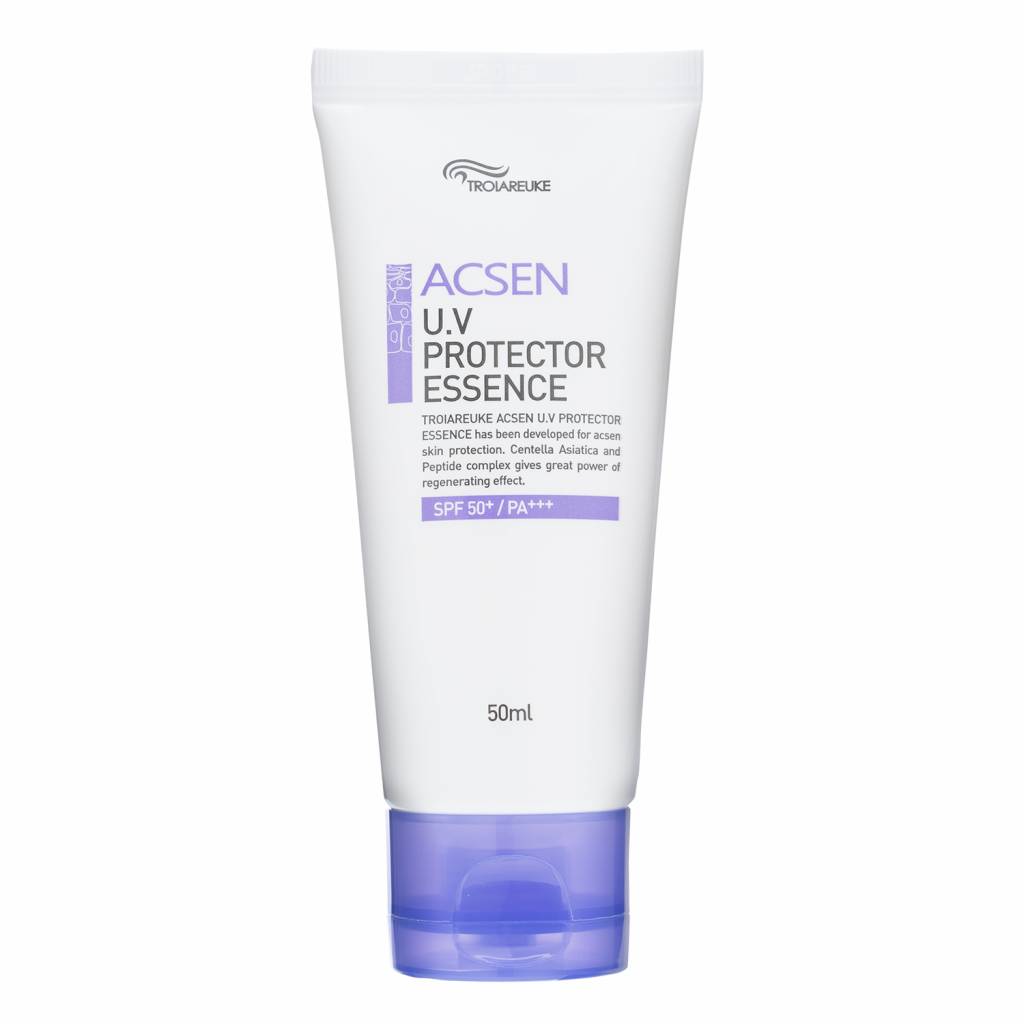 UV filters in make-up
Nowadays a lot of make-up products (BB- en CCcreams, foundations and cushions) contains some level of sun protection. Just as with moisturizers, a lot of people won't use that much make-up that they would actually meet the SPF rating stated on the packaging. To get that maximum protection, it is advised to also use a sunscreen before you apply your make-up and let this set for a few minutes before you continue. If you are struggling to re-apply sunscreen when wearing make-up, you can check out these tips. 
There is more then sunscreen alone
So, using a sunscreen is very important but sometimes, especially when you are an outdoorsy persoon like me, it isn't enough to rely on. Luckily there is more you can do to keep your skin safe. Try to avoid the sun at its peak and try to stay in the shadow, wear a hat or cap and sunglasses when you are going outside. If you are really serious, there are even special laundry detergents available that will add in some protection to your clothes, but you can also take a look at clothes with UVP rating. 
Furthermore, you can invest in a good aftersun to take care of your skin after a long day outside. The Suntique I'M REPAIR After Sun will cool and calm the skin. The formula contains Aloe Vera for an instant, cooling sensation, Centella Asiatica for calming properties and several ceramides and peptides that will keep and maintain the skins health. A very welcome addition, especially during the summertime.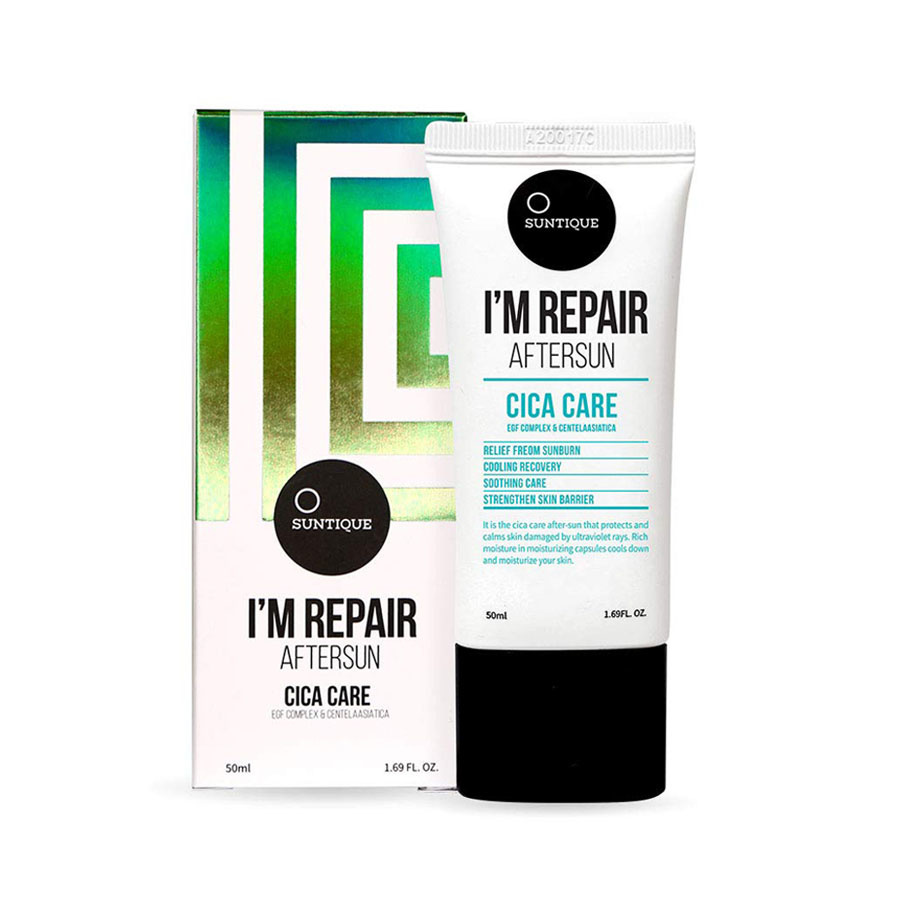 To wrap it all up; try to find out what works for you. We all have different skin and different needs and the best protection there is, is the one we actually use or wear. 
Are you still looking for a sunscreen? You can find our offer here.
What is your best sun protection tip?