The Korean skincare routine has become a worldwide known practice and a daily ritual for many. A well-cared-for skin is healthy skin, that's why we dedicate so much time and care to putting together the right routine with the right products. But how about your hair and scalp? With Japanese scalp treatments on the rise, the Korean scalp treatment is just as effective and highlights the importance of a healthy scalp for achieving luscious locks. Koreans are quite unanimous when it comes to taking care of their scalp, and the fact that it's just as important as taking care of your skin. A healthy and cared-for scalp will improve both the look and growth of your hair. 
What is a scalp treatment?
A scalp treatment focuses on the revitalization of the scalp. The scalp is deep cleansed with gentle ingredients to remove excess dirt, oils, dead skin cells, and other pollutants. This helps to unclog the hair follicles which promotes better hair growth and improves the overall health of the scalp and hair. By following up with nourishing products you balance the scalp's pH and deliver ample moisture to the hair shafts for healthy, shiny, and luscious locks. Regularly including a scalp treatment in your hair care routine will improve both the look and health of your hair.
Scalp exfoliation
The first step in a Korean scalp treatment is the deep cleansing of the scalp. While regularly cleansing your scalp and hair with shampoo is essential, a deep cleanse is necessary once in a while to eliminate excess oils, product buildup, and other dirt. By exfoliating your scalp, you're promoting healthier hair growth and paving the way for nutrients to work their magic.
Scalp scalers are Korea's answer to effective exfoliation and achieving a clean scalp. While scalp scaling is a popular treatment at salons in Korea it's a bit difficult to hop on a plane and book an appointment at the local hair salon in Seoul every time your scalp needs some extra care. Many Korean hair care brands have however come out with alternatives to use at home (yay), so no need to break the bank to achieve healthy locks. 
Scalp scaling shampoos like the Aromatica Rosemary Scalp Scaling Shampoo and treatments like Lador's Scalp Scaling Spa help purify the scalp by removing excess oil, pollution, and dead skin cells. They are usually enriched with exfoliants to effectively, but gently clarify the scalp without stripping the hair of moisture. Oily scalps might benefit from a deep cleanse once a week, while drier scalps can include a deep cleanse once every few weeks. Including a scalp scaler in the routine can help prevent dandruff, and hair loss, improve hair growth,h and is the bomb for your overall scalp health.
Cleansing and massaging the scalp
Choosing the right shampoo is as essential as choosing the right facial cleanser. Just like your skin, your scalp has its pH levels and thrives in balance. A deep cleanse can strip the hair of moisture. Reaching for a pH-balanced shampoo will re-balance moisture levels while maintaining optimal healthy conditions for your scalp and hair. A harmonious pH level leads to a healthier scalp environment, reducing the risk of irritation and dandruff. You can reach for a pH-balanced shampoo during every wash session, but especially after exfoliation or deep cleansing.
British M's Kombucha Shampoo has a sub-acidic formula (pH of 4.6) to balance the scalp and hair during every hair wash session. Kombucha, or fermented tea, is full of antioxidants for hair nourishing benefits and a healthy scalp. Other shampoos like the Lador Triplex 3 Natural Shampoo are formulated with a pH level that is close to that of the scalp too care for the scalp and hair without any disturbances.

Massaging the scalp can stimulate hair growth! By giving yourself the at-home spa treatment you are increasing blood flow to the scalp and hair follicles. This can help strengthen your hair and nourish it from within. Choose a soft silicone brush like the Kundal Shampoo Brush to massage without damaging the hair and be gentle to prevent tugging and breakage. You can choose to do this step anytime during your scalp cleansing.
Hair conditioners and masks
Using a conditioner or hair mask is essential in the next step of your Korean scalp treatment routine. This will reintroduce essential moisture into the hair shafts that might have been stripped, or not yet replenished, in the previous steps. Your hair will drink up the hydration and be left smoother, glossier,r and more manageable. This will also prevent frizz and help your hair to stay in shape. Choose the Aromatica B5+Biotin Fortifying Conditioner for that extra kick of strength or the Lador Hydro LPP Treatment for the ultimate moisture. While we recommend using a conditioner with every wash session, you might want to reach for some more intense care in the form of a hair mask after every deep cleansing session or once a week.
For oilier scalp types a heavy conditioner might sometimes simply be too heavy and cause the hair to become oilier faster. Korean vinegar treatments like the A'pieu Raspberry Vinegar Hair Treatment or the Nard Hair Plus Water Treatment are the perfect lightweight alternatives or additional options for those who need extra care.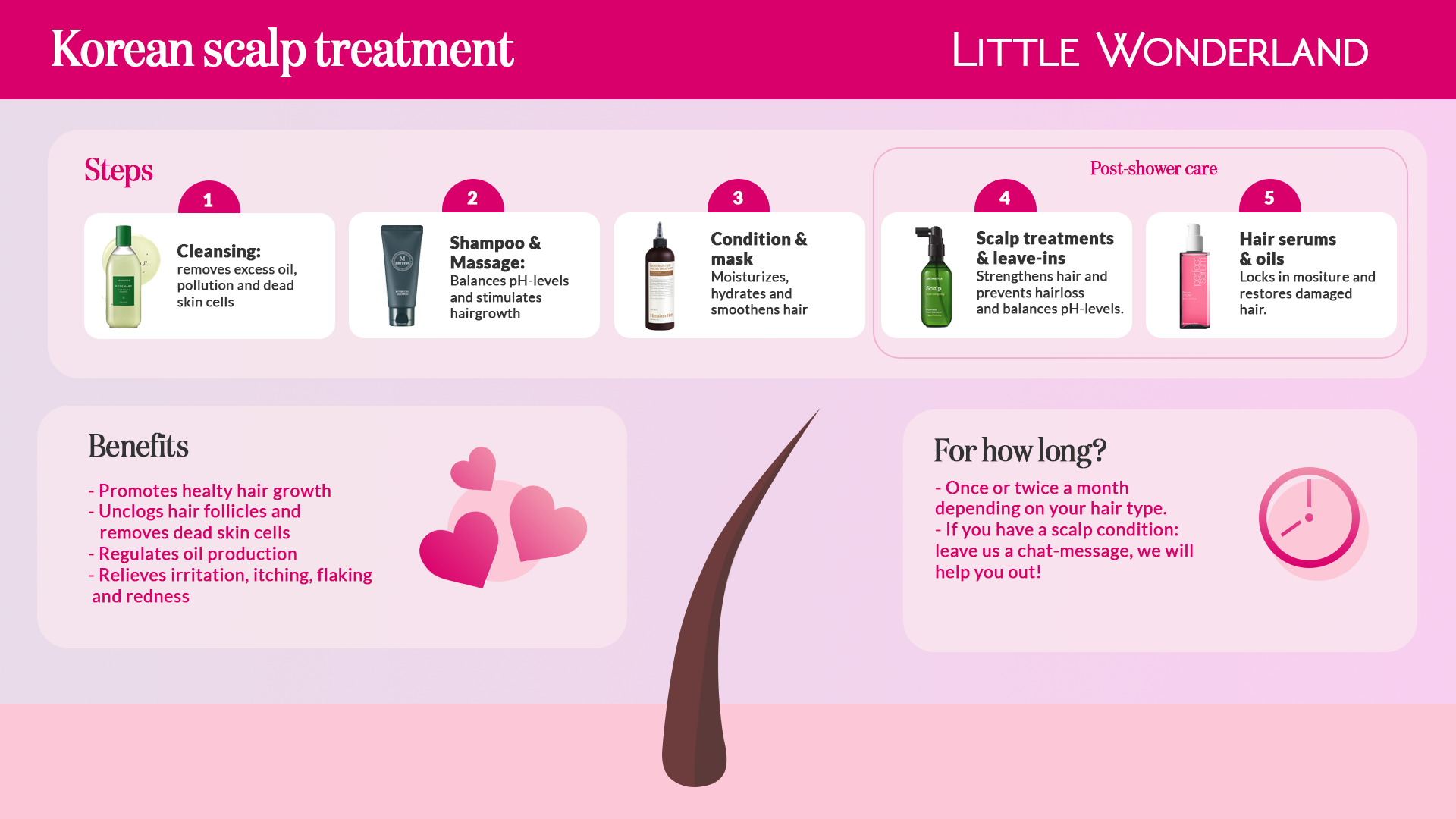 Post-shower care
Scalp tonics and serums
As you probably figured by now, a balanced pH is the key to a thriving and healthy scalp. To further encourage a harmonious environment for your scalp Korean scalp tonics and serums are a great step to care for the scalp after stepping out of the shower.
For dry scalps, a suitable scalp tonic can help relieve itchiness while other scalp tonics help strengthen hair and prevent hair loss for those with thinning hair like the Kundal Scalp Anti-Hair Loss Tonic. Overall tonics are a great lightweight addition to the scalp treatment to nourish, strengthen,n and take care of the hair from scalp to tip. A scalp serum like the British M Regenall Energy Booster is also a great solution for those who often color their hair and need some help with protection against further damage. 
Leave-in treatments
With all this focus on the scalp, it's easy to get lost in the process and forget your strands. However, using a leave-in treatment is a personal choice based on your hair type and the results you want to achieve. Reach for the British M Curl Cream if your hair is curly and in need of hydration, or add the Aromatica Quinoa Protein Hair Ampoule to strengthen your hair and it more elastic. For ultimate smoothness and powerful restoration abilities choose the Lador Keratin Power Glue Keratin Ampoule.
Hair oils and serums
Just like with the steps of the skincare routine, you can finish your hair treatment with the heaviest product, hair serum or oil. Hair oil will help lock in all the moisture in the strands and prevent frizz. Avoid applying the hair oils or serums on your scalp however since this can cause product buildup and make the scalp oilier. Korean hair oils and serums are infused with the best ingredients and will transform your hair in no time. One of the cult favorites is the British M Annatto Hair Oil which will restore damaged hair. While hair serums from Mise and Scene are currently bestsellers in Korea. 
 
Beyond the captivating rituals and innovative products, Korean scalp, and hair care are deeply rooted in cultural traditions that celebrate holistic wellness and revolve around harmony and balance. A balanced pH and moisture are the two key results in Korean hair care. By focusing on proper care starting at the scalp you will notice your hair looking and feeling healthier, and growing stronger. Maintaining a hydrated coupe will also help with longer-lasting styling results and less of a need to grab your dry shampoo or hair spray, breaking the cycle of using too many styling products which can lead to buildup faster and result in an irritated or overly oily scalp.
You can use our recommendations for the scalp treatment routine in the blog or put together a personal scalp and hair routine by exploring all the amazing Korean hair care in our hair care assortment. After treating your scalp and hair to an amazing at-home spa session, also make sure to protect it throughout the day. Check out our blog on how to protect your scalp and hair from the sun, to ensure healthy hair all year long.