It's officially summer! A great moment to give some extra attention to hair care. With lots of sunny days lined up, it's important to protect your hair against the sun. Especially when your hair leans towards the dry side, heat and humidity can cause damage and make your hair look dull and frizzy.
We all enjoy spending time outdoors when it's lovely weather. So in this blog you'll find some wonderful hair care products that will protect your hair during the summer. Enjoy healthy, vibrant hair all year through!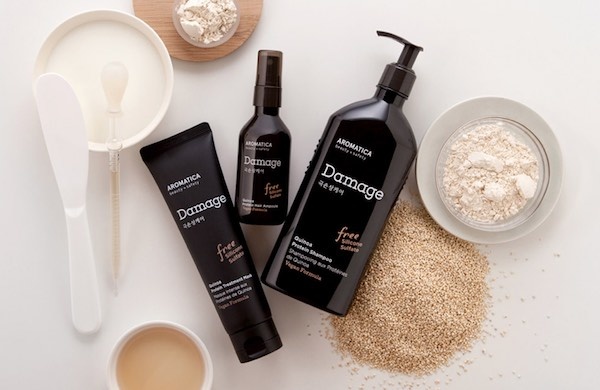 Aromatica Quinoa Protein Treatment Mask is an intensive treatment that protects hair that has been damaged by things like heat, chlorine and sun. This mask is rich in proteins derived from quinoa extract and LPP protein. Regular use of this treatment mask will make your hair feel softer and stronger. Polysaccharides from tamarind seeds form a protective coating around your cuticles, offering protection from drying and hair splitting. So say goodbye to dry hair!
After a day on the terrace, a nourishing, protective hair oil is just what your hair needs. Holika Holika Biotin Hair Loss Control Shampoo is a shampoo that protects and restores dry and damaged hair. It's all you need when your hair is feeling a bit dull after being exposed to lots of sun and heat. The formula slightly penetrates your hair strands but doesn't leave a greasy or overly shiny film, and it has a lovely flowery scent. Contains biotin, argan oil and almond oil that are rich in nourishing fatty acids and antioxidants.
There are other ways to protect your hair from the sun this summer. An "old-school" hat or a scarf around your head can help to avoid your hair from getting too much direct sun. So wrap a cheerful scarf around your head, or go for a "beach-y" look and rock a large straw hat! You'll look like a movie star and protect your hair at the same time. :) Another tip: Don't use hot styling tools during the summer. So don't use a hot blow dryer or a hair straightener; your hair has to endure enough as it is! Focus on nourishing and caring for your hair, keeping it moistened and protected. Your hair will thank you for it.
| | |
| --- | --- |
| | |
So, you spent a day in the sun without a hat or a scarf. In other words: the damage is done. Perhaps you can't protect your hair anymore, but you can still care for it. We are big fans of aloe vera; not just for using on your skin, but for your hair as well! Aloe vera gel is a multifunctional after sun product. Apply a generous amount to your hair and leave it sit for a while. If your hair is very frizzy or dry, or Afro-textured or kinky curled, aloe vera gel can be used as a leave-in treatment. Either way, it will make your hair feel soft and supple. Aloe gels that are suitable to apply to your hair include Holika Holika Aloe 99% Soothing Gel and Missha Premium Cica Aloe Soothing Gel. 
The message of this blog is clear. This summer, don't just give your skin love and attention, but make sure to protect your hair from the sun too! And don't forget to enjoy the sunny days!
XXX, Team LW