One of the best ways to keep your skin looking its best, is using sunscreen. This means not just applying sunscreen in the morning, but reapplying it throughout the day. 
While reapplying sunscreen might be a dreadful activity for some, this is definitely a thing of the past with so many amazing sunscreens and sun sticks to choose from in 2023. No more compromising, you can have your flawless make-up look and the best protection for your skin. Check out our blog to find the best sunscreen for your skin type!
Read on to find some tips on what factor sunscreen you should use, when and how often you need to reapply sunscreen, what the best sunscreens of 2023 are to do this, and other fun facts on how you can protect your skin from harmful UV-rays to ensure it stays healthy and flawless.
UV-index as your sunscreen guide
The UV index is an internationally used scale that indicates the harmful exposure to UV radiation. To put it simply, you can see it as a scale that shows you the strength of the harmful sun rays on a specific day, and it's extremely handy to help you decide on what factor of sunscreen you need to apply on that day.
In the Netherlands the weather usually ranges between a UV index 1 and 8 throughout the year, but can also reach a UV index of 10 on extremely sunny days. 1 indicates minimal harmful UV exposure, and 8+ means that you need to apply sunscreen throughout the day or you might end up red like a lobster when spending time in the sun. In other countries the UV index can go as high as 15 depending on the climate.
Overall, dermatologists recommend using at least an SPF30 or higher. There is a reason why most Korean sunscreens you will find have a SPF50+! The higher the SPF, the better the protection. The main difference between SPF30 and SPF50 is that the first protects your skin from 96.6% of the harmful UV rays while SPF50 protects your skin from 98% of the rays.
Note: Unfortunately an SPF that protects your skin from 100% of the UV rays does not exist.
Reapplying sunscreen on a cloudy day
Even on the cloudiest of days the UV-rays don't sleep, and neither should you when it comes to protecting your skin. A low UV index indicates that there is a small chance of harmful exposure to UV radiation. However this does not mean that you should totally skip the sunscreen. Apply an SPF30 or higher in the morning to form a good protective barrier on your skin. While re-application is optional on low UV index days, it's always good to keep a sun stick or your favorite sunscreen on hand in case the weather changes. Our recommendations for a sunscreen on those cloudy days are the Isehan Kiss Me Mommy UV Mild Gel SPF 33 PA+++ and the Mary & May Vegan Primer Glow Sun Cream SPF50+ PA++++ for some protection and smooth make-up base in one.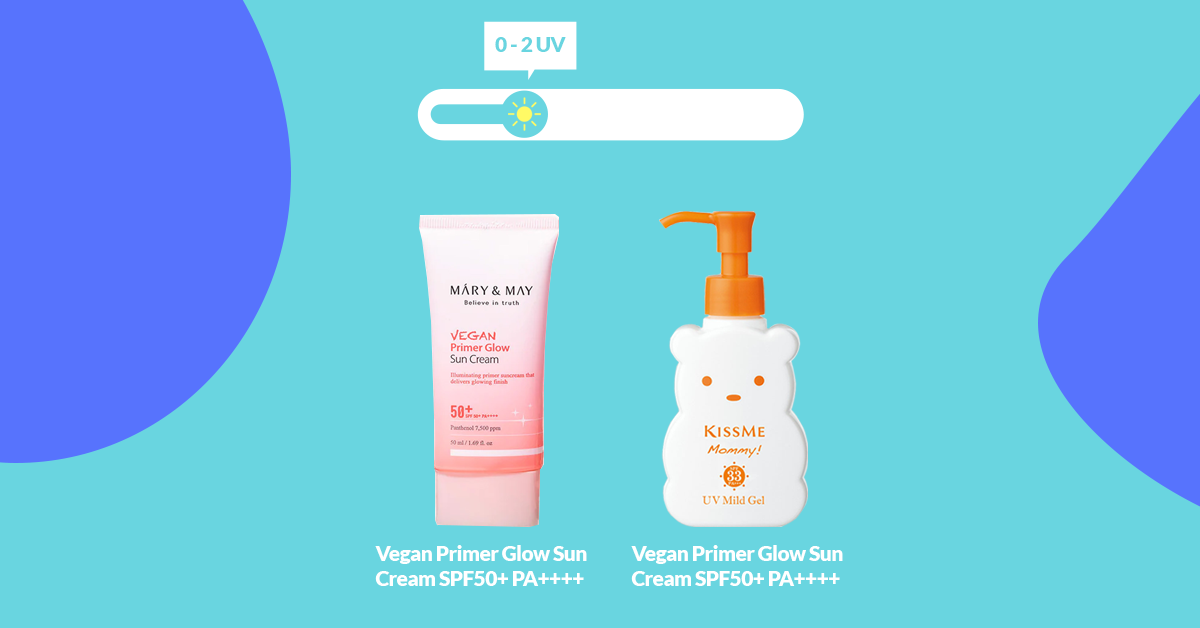 Reapplying sunscreen on a sunny day
On a sunny day the UV index could range from anywhere between a 3 and a 7, meaning that the UV index is moderate to high that day. Start the day off with an SPF 30 or higher, and try to reapply sunscreen every few hours to make sure your skin is protected from harmful UV rays at all times. In the Netherlands an index of 5 & 6 means that your skin can already burn easily. Some of the best sunscreens for sunny days all offer an SPF50+ protection, like the iUNIK Centella Calming Daily Sunscreen SPF50+ PA++++ and the Round Lab 365 Derma Relief Sun Cream SPF 50+ PA+++.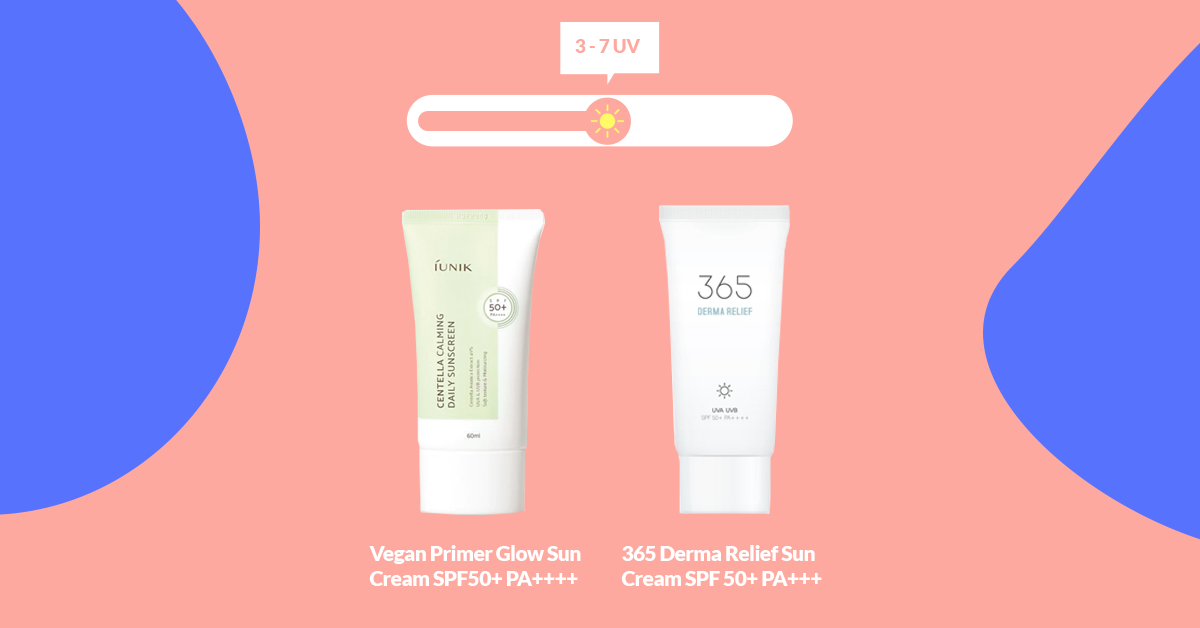 Reapplying sunscreen in the summer months
In the summer the temperatures rise, and the sun takes center place at the top of the sky. The UV index usually shows a 8 or higher which means that you can burn really fast. Your skin can already get red even after spending just 10 to 15 minutes in the sun! Wearing a sunscreen with a factor 50 is the smartest option during the summer months, it's a good thing most Korean sunscreens are SPF50. It's also important to reapply your sunscreen throughout the day. A rule of thumb is to reapply sunscreen every 2 hours for the best protection. The best sunscreens in the summer months will offer broad spectrum protection and feel lightweight on the skin by working as a moisturizer and sunscreen in one like the Rovectin Skin Essentials Deep Moisture Uv protector SPF50+ PA++++. For reapplication there are amazing sun sticks out there like the Mary & May Vegan Peptide Bakuchiol Sun Stick SPF50+ PA++++.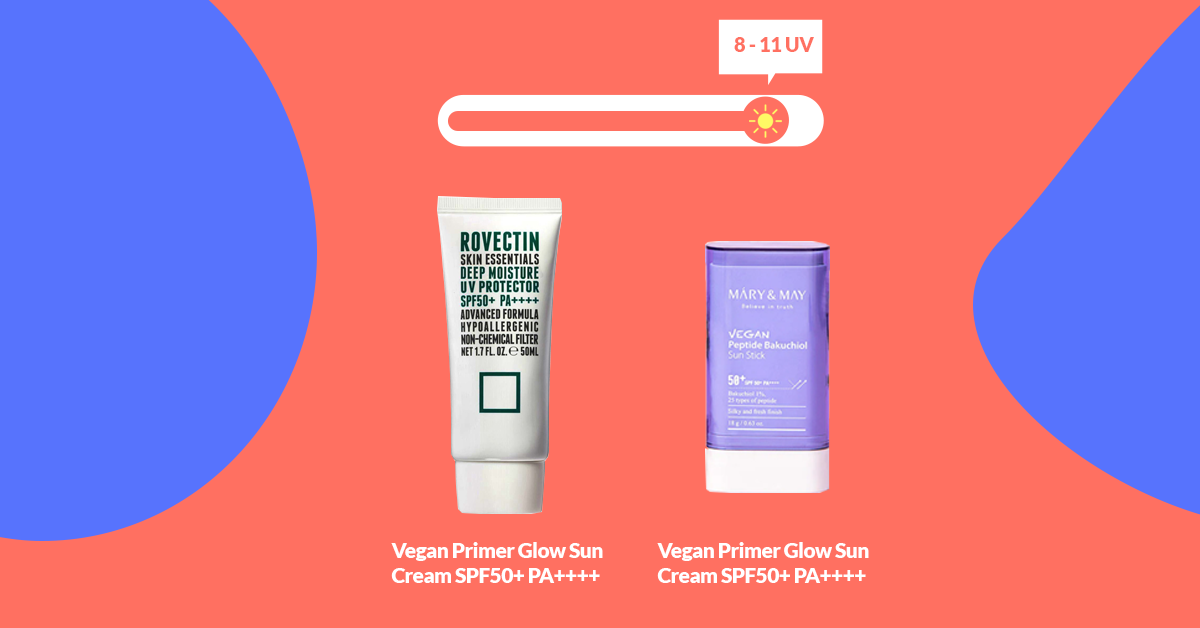 Sunscreen for traveling
Sun sticks are one of our favorite products that came from the innovative skincare wizards in South Korea! It's compact, makes reapplication easy, and it's the perfect size for traveling. Since sun sticks are not liquid it means you can easily take them in your hand luggage. Check out the Abib Quick Sunstick Protection Bar SPF50+ PA++++ or the Make P:rem UV Defense Me. Calming Sun Stick for easy sun protection while on the road.
Now that you have become an expert in reapplying sunscreen, and found out what sunscreen will match your skin type perfectly you might as well up your knowledge on all things sunscreen with our ultimate guide to sun protection. Would you like to know why we are such super-fans of sunscreen? Besides it being a holy grail among skincare products, it's actually also the ultimate anti-aging strategy!