The world of Korean skincare can be overwhelming. There are so many brands and products, it's easy to lose track. We totally get it! At LW, we love exploring new Korean skincare brands and sharing them with you, to help you find your HG skincare products. This week we're diving into Korean skincare cult brand Thank You Farmer. Like the name suggests, this brand takes an all-natural approach to skincare. Their skincare formulas are firmly rooted in the philosophy that the power of plant extracts can make your skin healthy and glowy.
Thank You Farmer was created as a reaction to some far fetched claims made by the beauty industry. An essence that makes you look ten years younger? A treatment that makes your pimples disappear overnight? Some things are too good to be true. This brand doesn't like to make outlandish claims. But they do think that glowing, healthy skin is attainable for most skin types. How, you ask? By following a mild, minimal skincare routine rich in plant extracts and ingredients that are proven to be effective in treating skin issues. Basically, the true soul of Korean skincare!
They decided to create different product ranges, each with their own focus. We're going to explore three of them: Miracle Age, True Water, and Back To. All of these product lines have their own identity and purpose. Miracle Age is focused on treating premature aging, True Water underlines the importance of proper hydration and moisturizing, and Back To is geared towards the ultimate cleansing and exfoliating basics for your skin.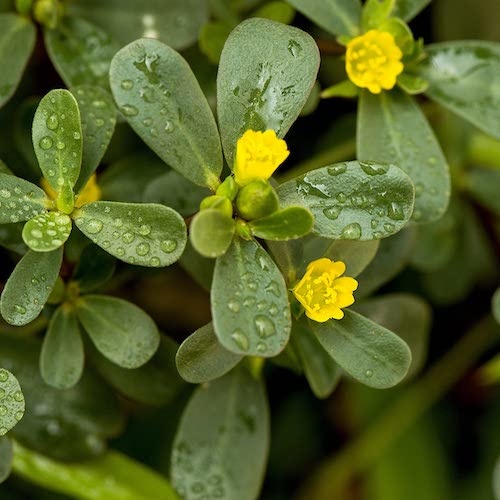 Thank You Farmer Miracle Age
We all get older (phew!). This isn't always good news for your skin. As time goes by, certain skin issues become more prominent. The amount of collagen in skin decreases, skin tone tends to get more dull, and wrinkles start to show. A good skin care regime can make a world of difference, and nourishing your skin with natural ingredients from an early age will make your skin look and act younger for a longer time.
This is where Miracle Age by Thank You Farmer comes into play. Miracle Age is developed especially for skin in need of thorough anti-aging care. This range contains everything you need in an anti-age skincare routine, like a serum, a moisturizer and a sheet mask. The Korean skincare products in the Miracle Age line are all formulated with a rich complex of herbal extracts that rejuvenate and strengthen skin, like licorice root, burdock root and purslane extract. Let us tell you more about purslane, a wonderful antioxidant that can rejuvenate skin.
Purslane isn't as famous as Centella Asiatica or Hyaluronic Acid, so there isn't a big buzz around it. But we are in love with Purslane and its effects on skin! Purslane (Latin name 'Portulaca Oleracea') is a succulent that blooms from until fall, and is known for its beautiful yellow flowers. In Korean traditional medicine, purslane has been used to treat inflammation and irritation for centuries. Purslane is an incredibly rich plant based source of omega 3 fatty acids. It's loaded with antioxidants, minerals and vitamins. All in all, it's a true powerhouse ingredient, calming inflammation, and slowing down the harmful effects of oxidative stress on skin. This means that biological processes that lead to sagging skin, dullness and wrinkles are lessened significantly over time. Purslane extract is present in high concentrations all the skin care products from the Miracle Age line, so you know you're getting bang for your buck.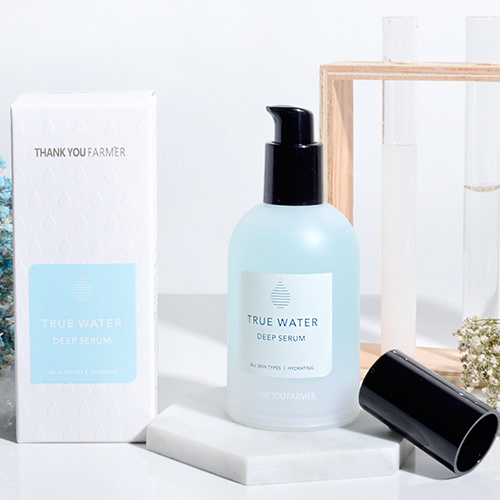 Thank You Farmer True Water
There are several reasons why some people suffer from dry skin. Sometimes it's simply genetics, but other things can contribute: cold weather, or using certain active skincare ingredients (looking at you, retinol). In any case, a healthy moisture barrier is crucial to maintaining healthy skin that's radiant and resilient. Skin that suffers from a compromised moisture barrier is more prone to a lot of skin concerns, like irritation, a rough and uneven skin texture, and even break-outs and more severe acne.
The Thank You Farmer True Water range is geared towards maintaining and restoring a healthy moisture barrier. All the products in this range are rich in hydrating ingredients like glycerine, aloe and hyaluronic acid. These are all ingredients that attract hydration, i.e. water, to the skin cells. They act like little magnets or sponges that ensure that moisture is pulled toward the outer layers of skin, making your skin look dewy, plumped and radiant.
The True Water Deep Cream is a wonderful example of a moisturizer that is hydrating and moisturizing. This cream is formulated with sensitive, dehydrated skin in mind. Regular use of this cream will help enforce your moisture barrier, replenish the skin and bring back balance in the oil and water content of your skin. It contains different components of aloe vera, centella asiatica and glycerin to hydrate the skin. Shea butter and squalane act as emollients that ensure the moisture is locked into the skin and does not evaporate, and forms a protective layer.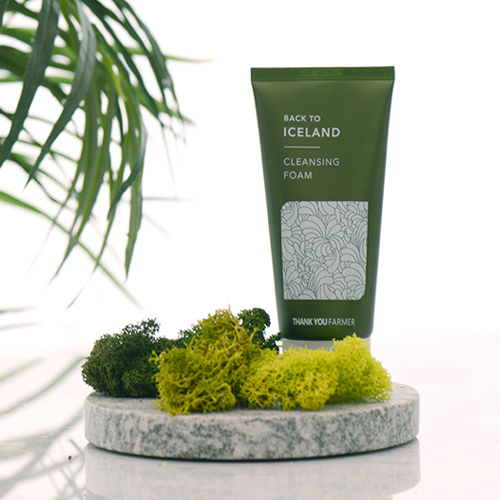 Back To Iceland
Cleansing and exfoliating are the base of any Korean skincare routine. These steps keep your skin free of dirt, harmful bacteria and excessive oil that can congest your pores. Moreover, a layer of dead skin cells, dirt and sebum impairs the absorption of your toners, essences and moisturizers. It's important that these fundamental steps are done properly. Thank You Farmer's Back To Iceland skin care assortment features products that are perfect for your cleansing and exfoliating routine. You can choose between a cleansing foam, a cleansing water and a peeling gel.
The main ingredient in the Back To Iceland line is Icelandic Moss. Icelandic Moss is a combination between an algue and a type of moss, and it is formed in extreme climates like high in the mountains or in the arctic circle. Icelandic Moss is a herbal edible plant that works against the common cold and coughing symptoms by forming a protective soothing layer over the mucus membranes of the nose and the throat. On the skin, it has these moisturizing and protective abilities too. The Back To Iceland Cleansing Foam, Back To Iceland Cleansing Water and Back to Iceland Peeling Cream are all formulated with high concentrations of Icelandic Moss.
Top picks