Last week I wrote a post about how you can determine your skin type so that you can look for products that will work best for your specific skin type. Today's post is a continuation of last week's post. Now that you know what skin type you are, we can dive deeper into your skin type's needs and discuss what type of products are best to incorporate into your routine. I'm also going to give a few recommendations for each type of product as an example.
This week I'm going to focus on dry skin. Dry skin feels tight and dried out, sometimes flaky. Whether you always have dry skin or it's the cold weather that causes your skin to get dry, there's no need to worry. With the right skincare products your skin will feel hydrated and plump in no time.


Morning Routine
1. Cleanser
For most of us, the first step of our morning skincare routine is cleansing. However, if you have dry skin and your skin doesn't feel greasy or dirty in the morning, you can totally skip this step. If you do prefer to do some sort of cleansing in the morning, use a hydrating, creamy cleanser that gently dissolves dirt and sweat and simultaneously moisturizes your skin. You can also pour a little bit of micellar water on a cotton pad and swipe across your face as a morning cleanse.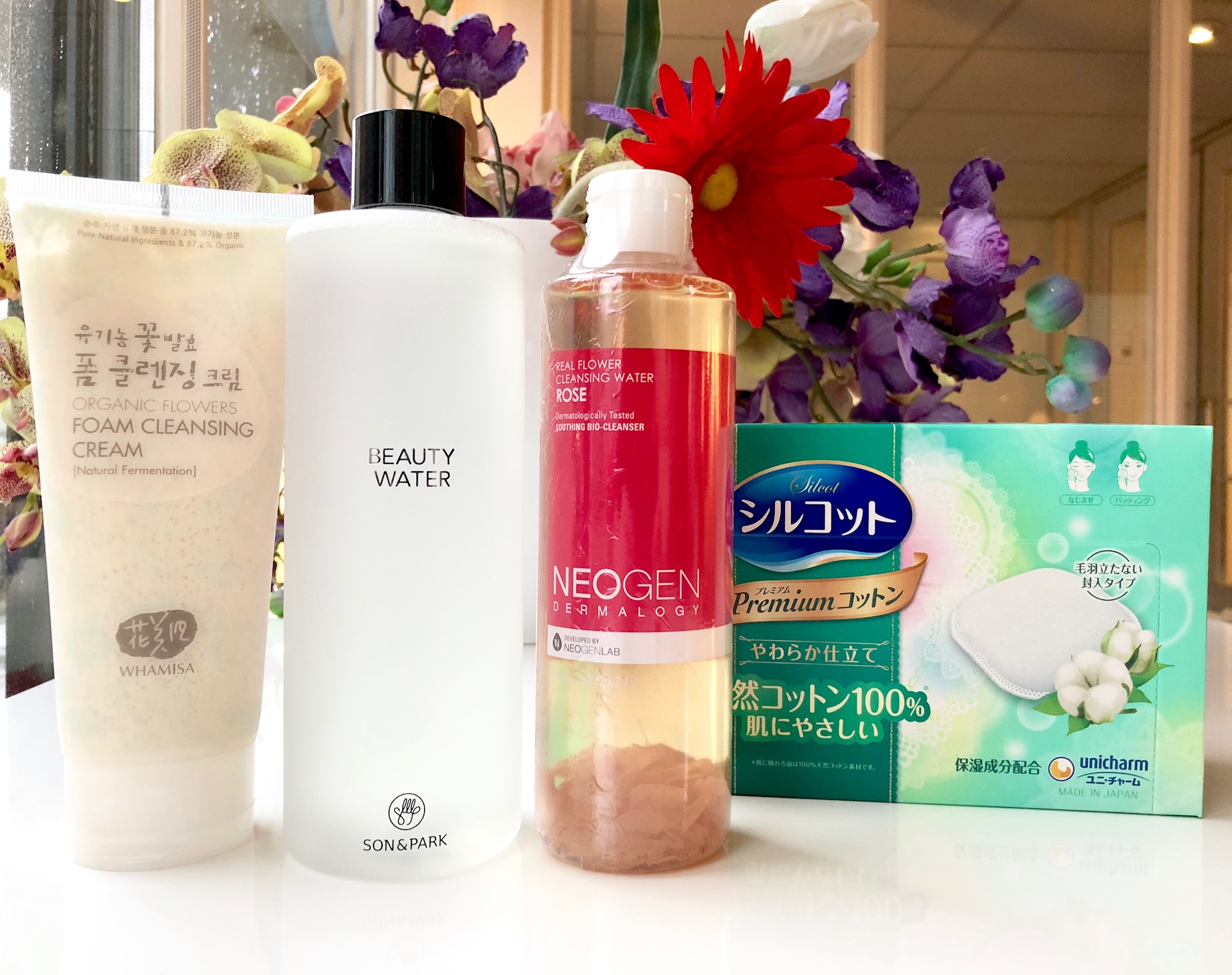 Neogen Dermalogy Real Rose Cleansing Water
A cleansing water specially developed for dry skin with real rose petals. Removes dirt and makeup and leaves skin moisturized and hydrated. 

Son & Park Beauty Water
An award winning pH balancing toner and cleansing water in 1. With Willow bark, Papaya extract, Lavender, and Orange.
Unicharm Silcot Soft Rich Cotton
Extremely soft cotton pads with an extra layer of moisturizer. They feel soft and moist and are extremely gentle on the skin. 
Whamisa Organic Flowers Foam Cleansing Cream
A gentle foaming cleansing with fermented Rice extract, Olive oil and Shea butter. Perfect for dry skin. 




2. Exfoliation
Because dry skin tends to flake up, it's important that you exfoliate your skin on a regular basis. Flaky skin is not only unattractive, but it also prevents serums and treatments from penetrating your skin. And Korean skincare is all about layering hydrating goodness into your skin, so make sure you remove those dead skin cells regularly (no more than 1-2x a week) with a gentle exfoliant. You can exfoliate in the morning if your skin is looking dull and you want to start the day with a brighter complexion, but you can also opt to exfoliate in the evening if you'd prefer that. It's up to you.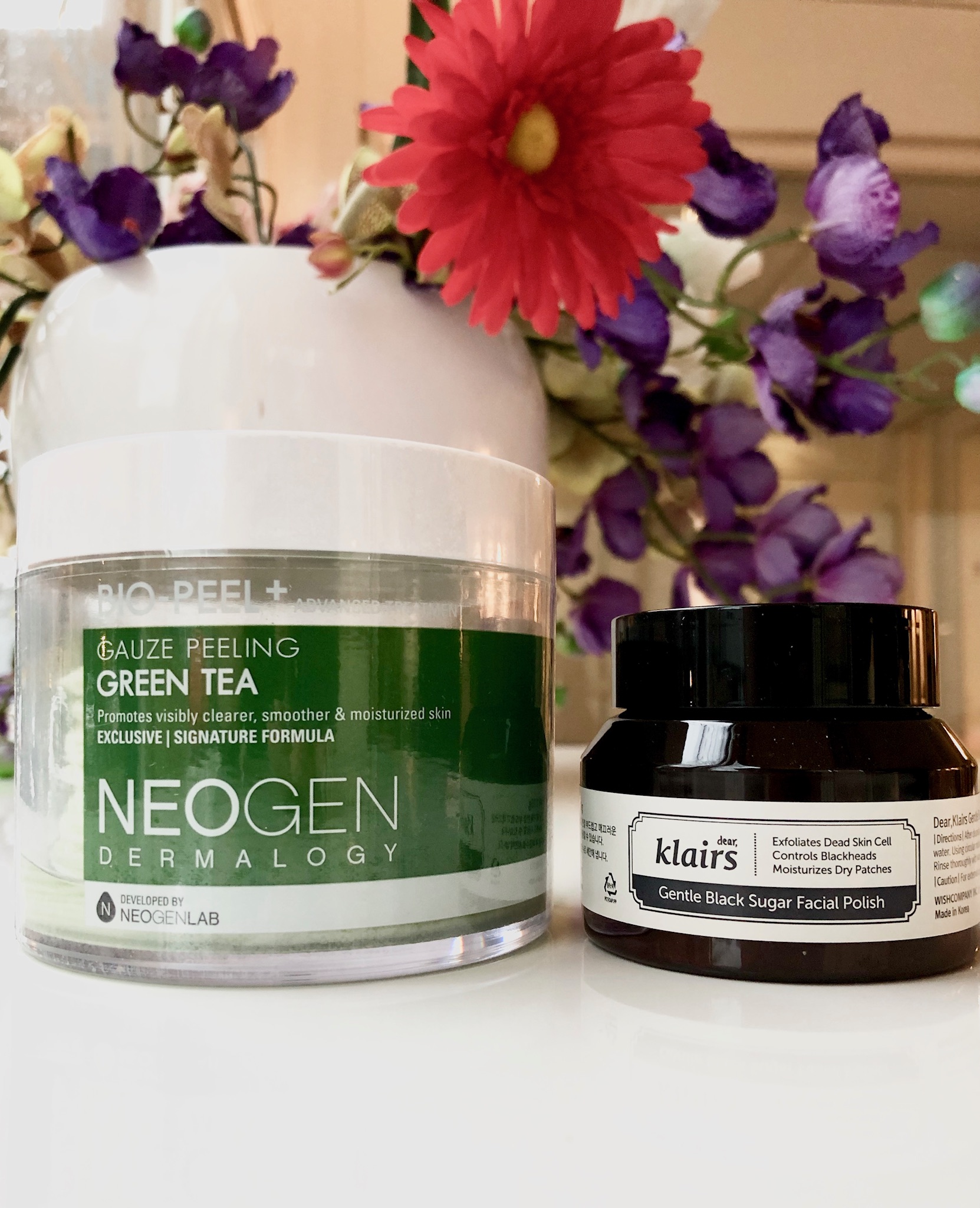 Neogen Bio-Peel Gauze Peeling Green Tea (chemical exfoliant) 
Single-use exfoliating pads that gently remove dead skin cells and impurities. Formulated with antioxidant-rich Green Tea to prevent premature aging and sooth irritated skin. 

Klairs Gentle Black Sugar Facial Polish (physical exfoliant)
An exfoliating scrub with Black Sugar that removes dead skin cells and blackheads. Exfoliates dry, flaky skin and adds a healthy glow to the skin.




3. Toner
Toners not only get rid of residual dirt and makeup, they also prep skin for the following steps. Toners make your skin absorb more active ingredients from the serums and moisturizers you apply to your skin afterward. A good toner will help to restore the moisture balance of your skin while also improving your skin's texture. Nowadays there are toners for every skin issue. If you have dry skin, try looking for hydrating and moisturizing toners. If you have other skin issues, like pigmentation or irritation, you could try looking for a toner that does multiple things (hydrate, brighten, sooth) at the same time.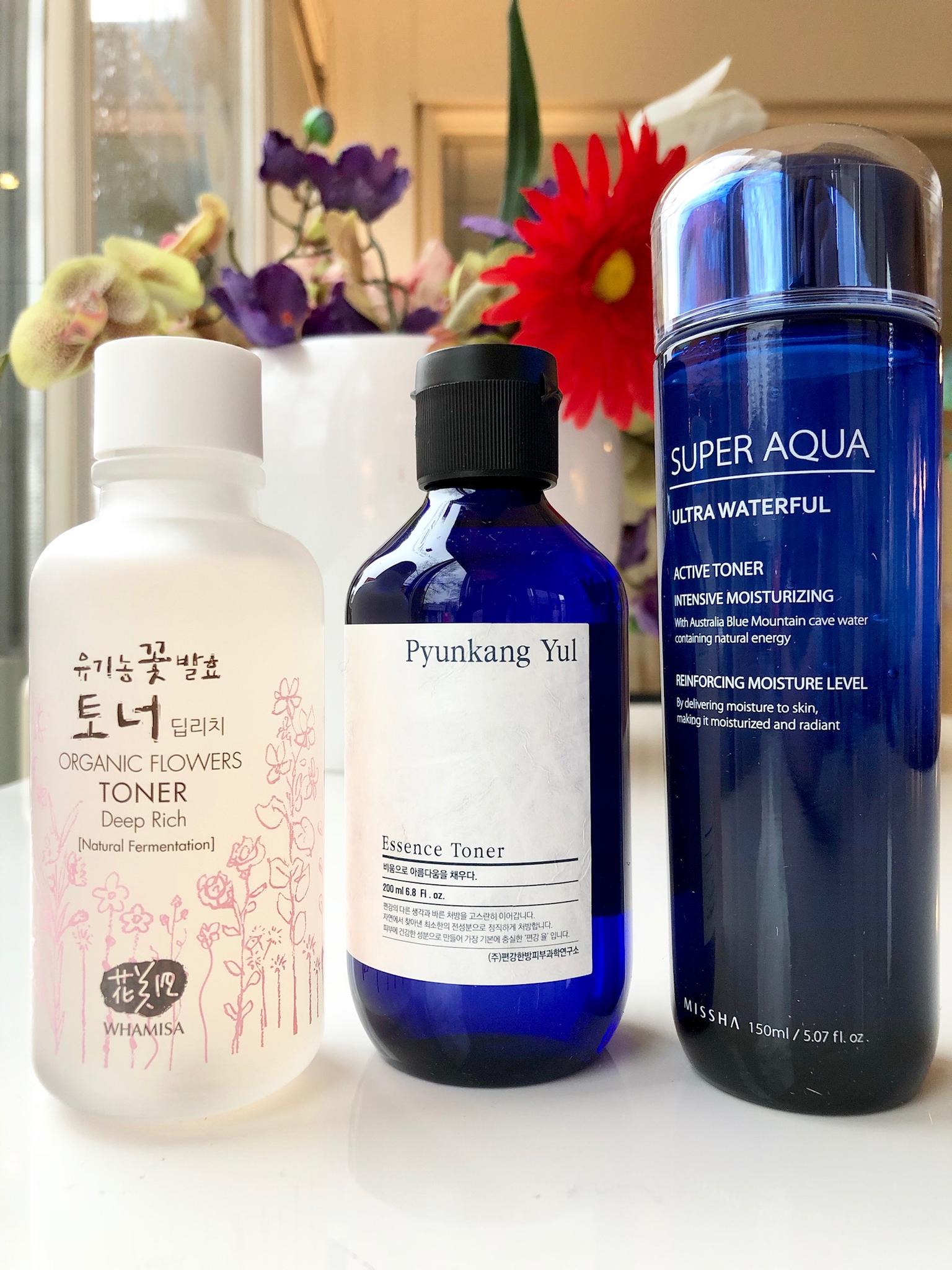 Whamisa Organic Flower Toner Deep Rich
A rich, serum-like toner enriched with Argan Oil, fermented Dandelion and Galactomyces extracts to improve skin texture and leave skin dewy and hydrated. 

Pyunkang Yul Essence Toner
An intensely hydrating toner with 91.3% Milkvetch root extract. Rich in antioxidants, minerals, and nutrients.

Missha Super Aqua Ultra Waterful Active Toner
Hydrates, restores skin's moisture balance, and fades skin discoloration with natural bedrock water and Baobab extracts. 




4. Treatments: Essence/Serum/Ampoule
The next step I like to call 'targeted treatments'. Korean skincare offers lots of very effective, high quality treatments for skin. Targeted treatments deliver active ingredients deep into the skin to 'target' specific skin concerns. Essences, serums, and ampoules all fall under this category. I have once posted about the difference between these three, but for those who missed it here's a brief recap: essences are watered-down versions of serums, and ampoules are more concentrated versions of serums that you use for a short period of time to boost your skin. 
You want to use a treatment that addresses your specific skin concerns. If you feel like you need more hydration and moisturizing, you can use a hydrating treatment. If you feel like your skin gets enough moisture from your toner and creams and you'd like to use treatments to target a different skin concern that you have (maybe pigmentation, aging, etc.), you can also do that.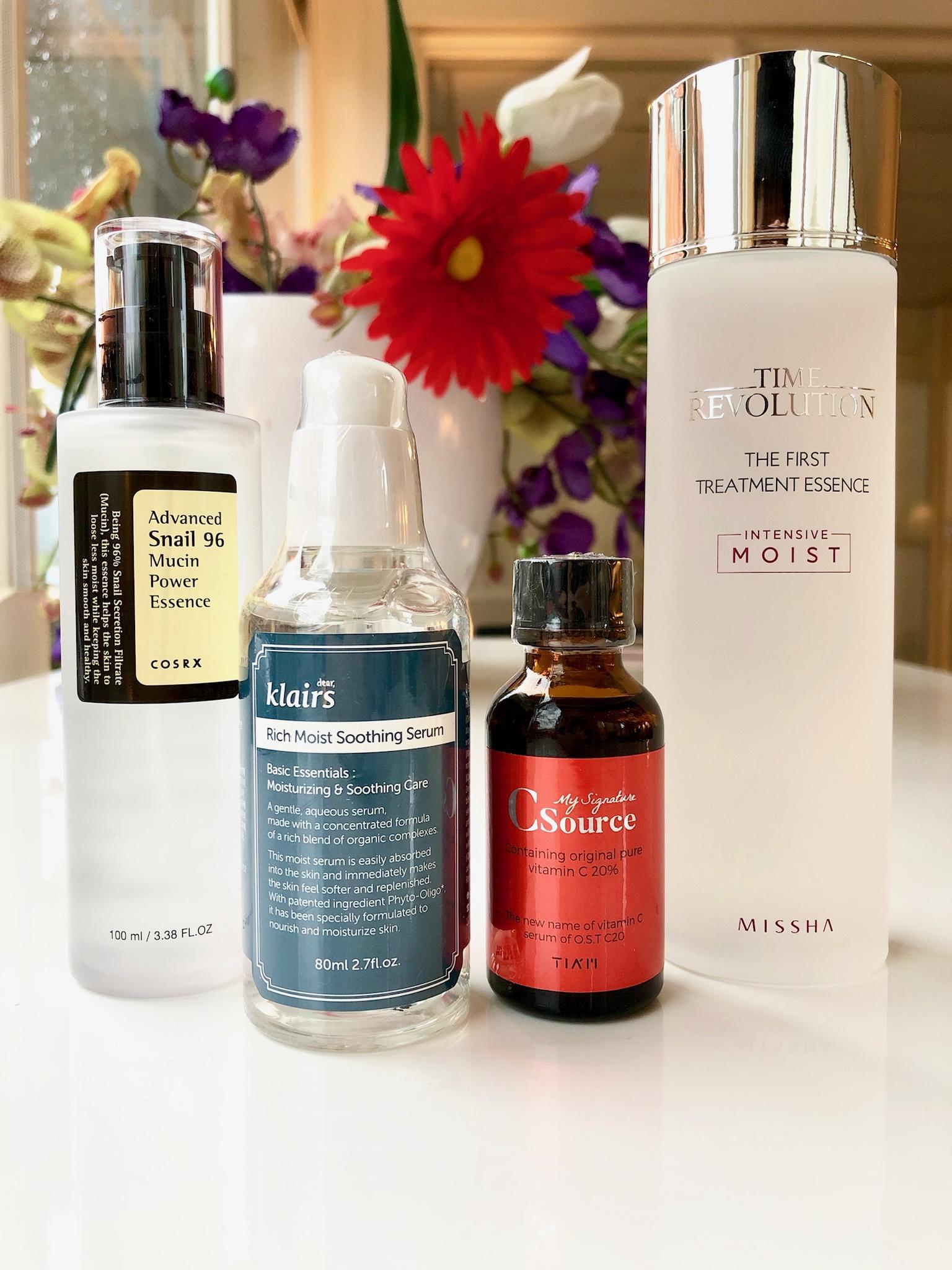 Tiam My Signature C Source
A 20% pure vitamin C serum. Packed with natural antioxidants and nutrients to protect, brighten, and moisturize skin. 

Missha Time Revolution The First Treatment Essence Intensive Moist
A cult favorite essence with 90% fermented Yeast extracts from Himalayan Purple Barley to plump the skin, refine texture, and reduce pigmentation. Well-known for its ability to repair damaged skin and even out the skin tone in just a few weeks.

COSRX Advanced Snail 96 Mucin Power Essence
A hydrating essence with 92% Snail Secretion filtrate to soothe skin and heal skin damage. 




5. Moisturizer and Eye Cream
You want to lock in all that moisture and nutrients you just applied to your skin with a rich, creamy moisturizer. Since you have dry skin, you will benefit most from an emollient moisturizer that smooths out your skin and keeps it moisturized all day long. Also look for creams with calming and soothing properties to alleviate any redness or itchiness you may have. The same goes for eye creams. Look for eye creams that are rich and emollient to keep your delicate under eyes moisturized and protected.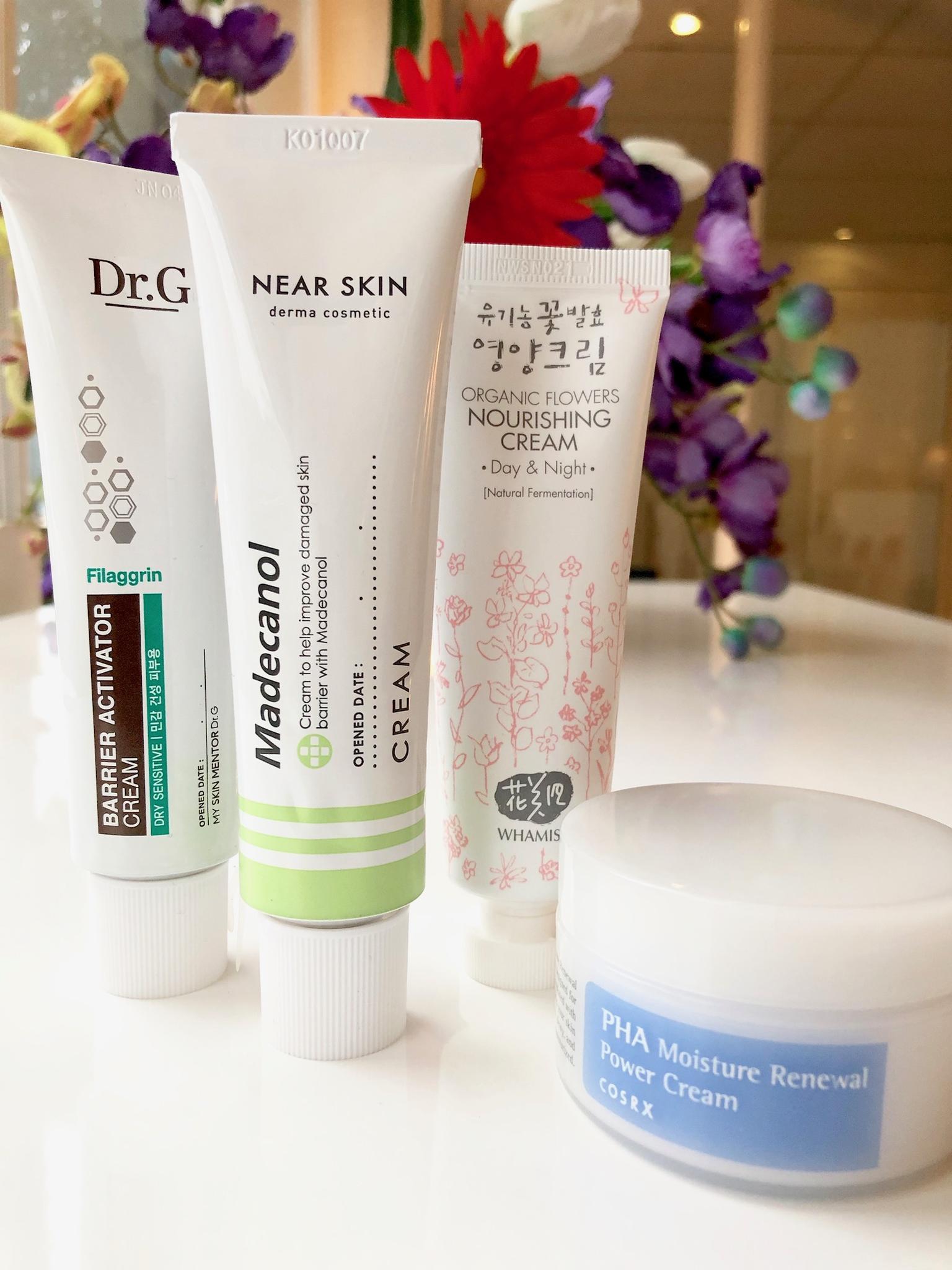 Dr. G Barrier Activator Cream (dry, sensitive)
Hydrates dry, sensitive skin, and strenghtens it's protective barrier with high purity Ceramides and Filaggrin.

Missha Near Skin Madecanol Cream
Repairs damaged skin and scars with Madecassoside, Centella Extract, and Pathenol. 

Whamisa Organic Flowers Nourishing Cream
An intensely rich moisturizer with Mango, Cacao, Avocado, and Shea butter, specially formulated to deeply nourish skin. 

COSRX PHA Moisture Renewal Power Cream
Moisturizes and exfoliates skin with PHA, a mild exfoliant that removes dead skin cells and refines skin texture in a very gently manner.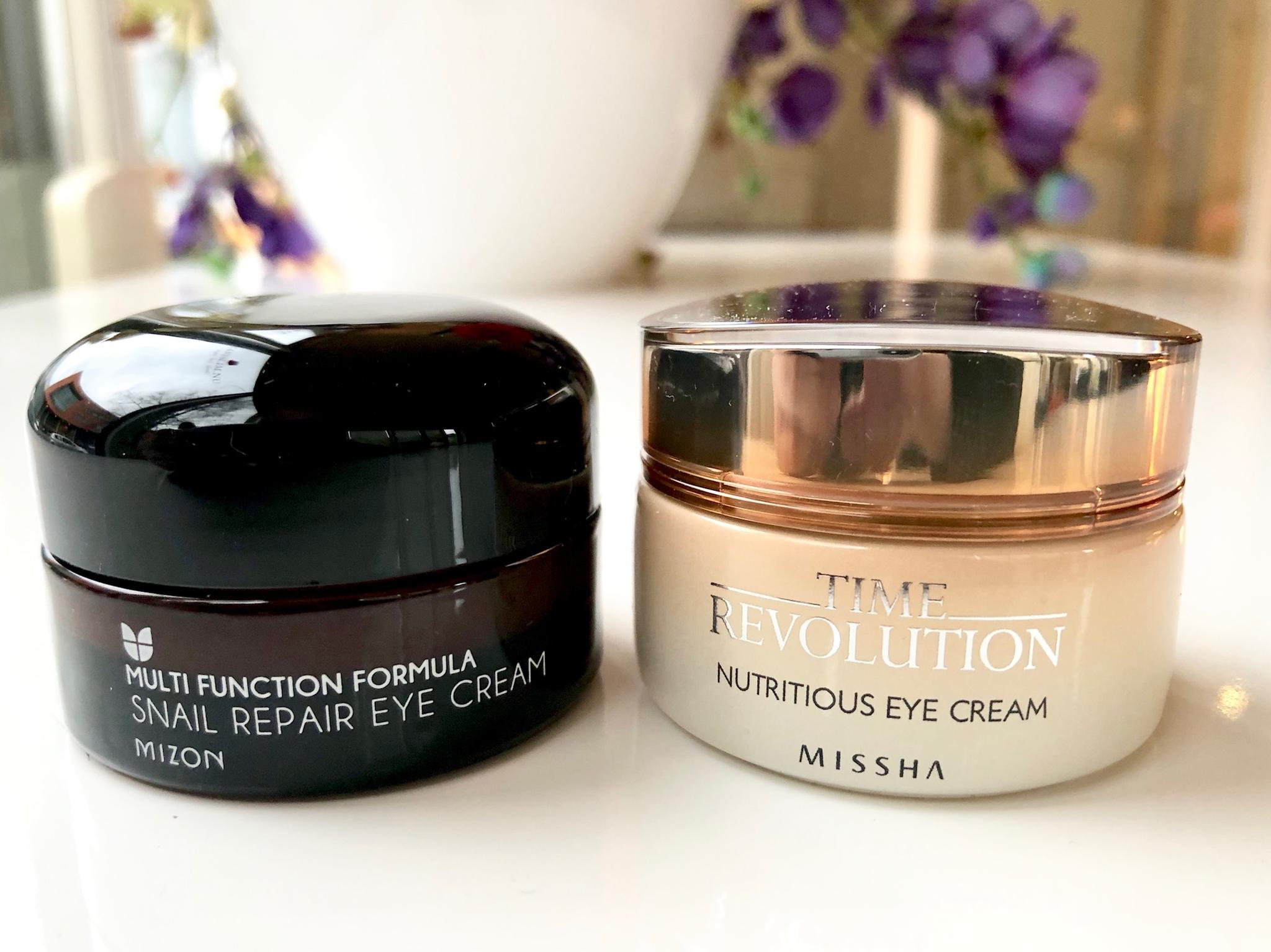 Mizon Snail Repair Eye Cream
A powerful regenerative eye cream with 80% Snail Secretion filtrate. The cream has a rich texture that smooths, plumps, brightens, and firms the skin around the eyes. 
Missha Time Revolution Nutritious Eye cream
Formulated with Black Lentil butter, Chamomile, and Angelica to nourish, rejuvenate, and moisturize dry, tired skin.





6. Sunscreen
Finish your morning routine with a sunscreen to protect your skin against harmful UV rays and prevent premature aging. Depending on your skin tone you want to use a sunscreen rated at least SPF 30. You can combine a moisturizer and a sunscreen by using a moisturizer with SPF. Whatever you use as your sunscreen, just make sure that you apply it liberally! The general rule is to use ½ a teaspoon for your face.

Note: some foundations and BB creams have an SPF, but the amount of BB cream the average person applies to their face is not enough to protect skin throughout the day. So don't think that just because your foundation or BB cream has SPF you don't need a separate sunscreen. Unless you apply half a teaspoon of foundation to your face, you should always use a separate sunscreen under your makeup to keep your skin protected.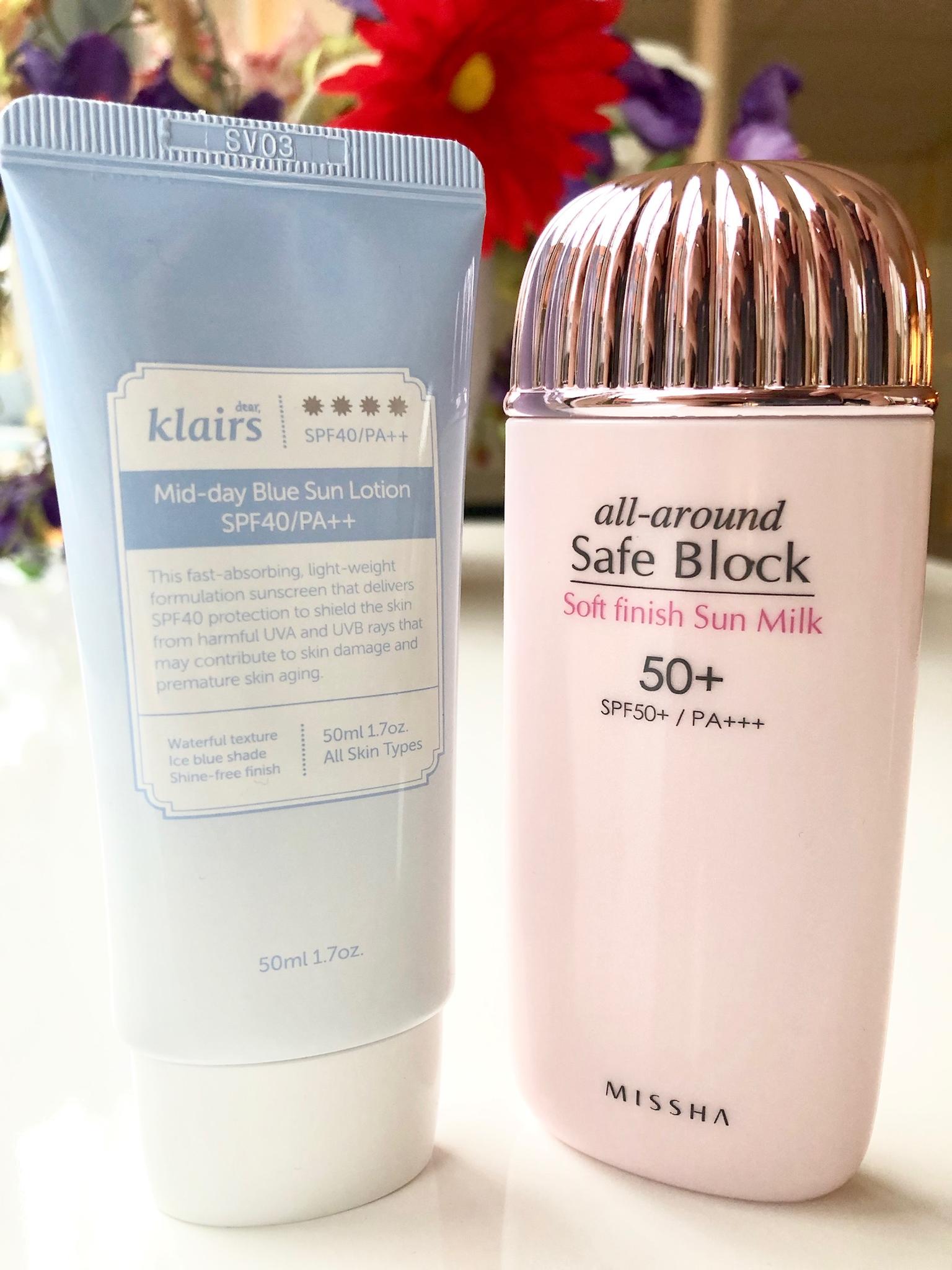 Klairs Mid Day Blue Sun Lotion SPF40 PA++
Protects skin from UV rays as well as direct heat with Guaizulene, a calming ingrediënt that soothes irritations caused by infrared heat. Perfect for sensitive skin. 

Missha All-around Safe Block Soft Finish Sun Milk SPF50+/PA+++
A lightweight and refreshing sun milk that protects skin and soothes irritation. Also great as a primer underneath makeup. Water-and sweat-proof.



7. Lip balm
Lips aren't really skincare, but they are part of your face. Don't forget to keep your lips soft and hydrated with a nourishing lip balm!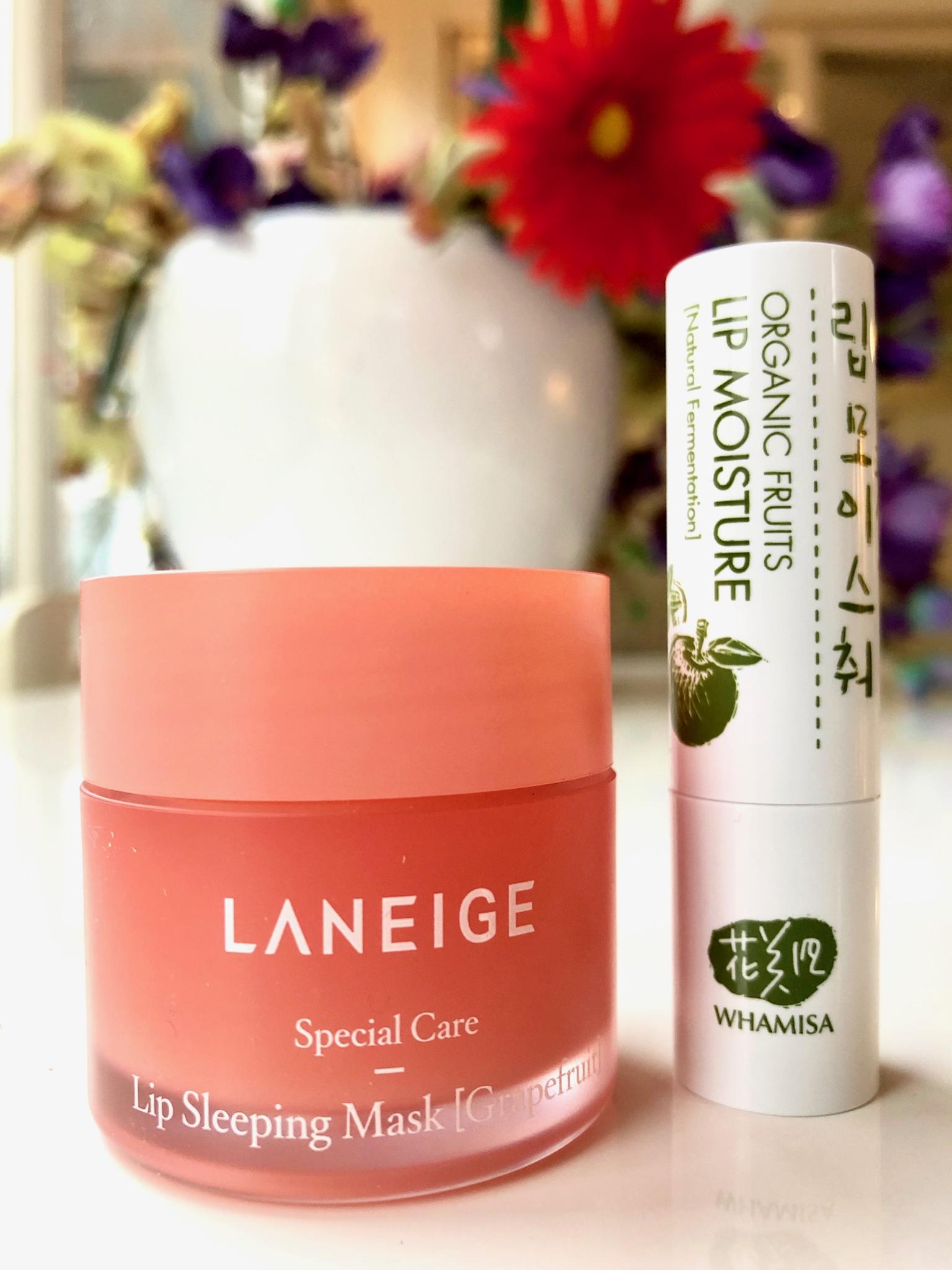 Laneige Lip Sleeping Mask
Gently melts away dead skin cells for soft, smooth, and elastic lips. 

Whamisa Organic Fruits Lip Moisture
Hydrates lips with nourishing Avocado butter, softening Shea butter, and Mint oil.


Evening Routine
1. Cleanser
If you're someone that wears makeup during the day, especially waterproof makeup, you might want to double cleanse in the evenings. Double cleansing is a 2-step technique where you use an oil-based cleanser to dissolve makeup and dirt in the first step, and then cleanse your skin and remove any residual makeup with a water-based cleanser in the second step.
If you don't wear any makeup you can stick to using one gentle cleanser to get rid of any dirt or pollutants that might have covered your skin during the day.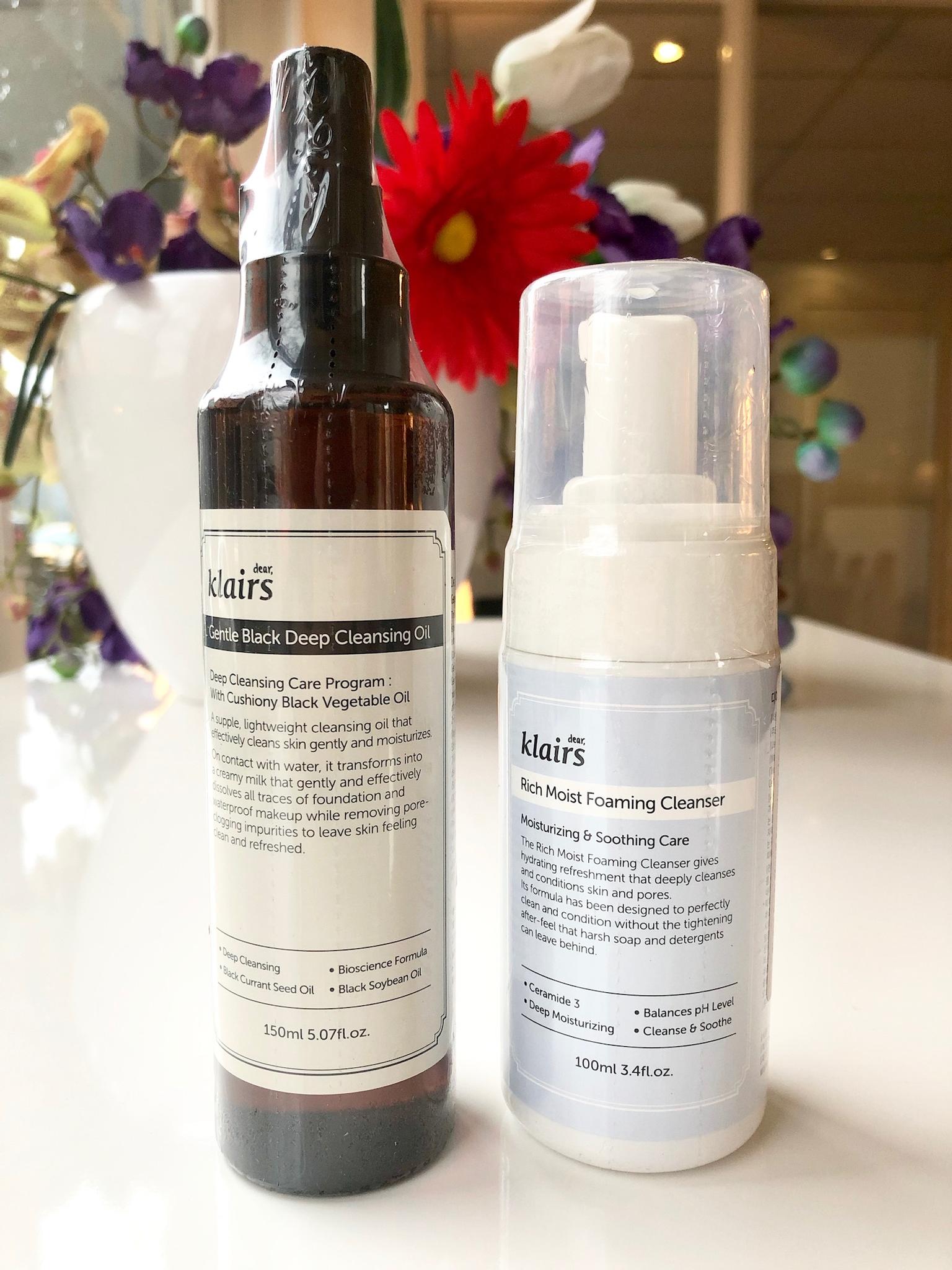 Klairs Gentle Black Deep Cleansing Oil
Composed of various vegetable oils to soothe skin. Removes dirt and makeup without irritating the skin. 

Klairs Rich Moist Foaming Cleanser
A pH-balancing cleanser that keeps the skin's protective barrier intact during cleansing. 


2. Exfoliation
As mentioned before, you can exfoliate either in the morning or at night. Try exfoliating 1-2x a week to keep flaking at bay.

3. Toner
Don't forget to also use toner at night!

4. Sheet mask
Sheet masks are pre-cut fabrics soaked in light serums that contain a variety of skin-beneficial ingredients, such as antioxidants, vitamins, minerals, hyaluronic acid, etc. They're little mini facials for at home and an important Korean skincare characteristic. There are sheet masks for every skin concern; hydrating, moisturizing, nourishing, vitalizing, anti-aging, brightening, you name it. Choose a sheet mask that addresses your specific skin concerns. Try using sheet masks 1-2x a week for best results.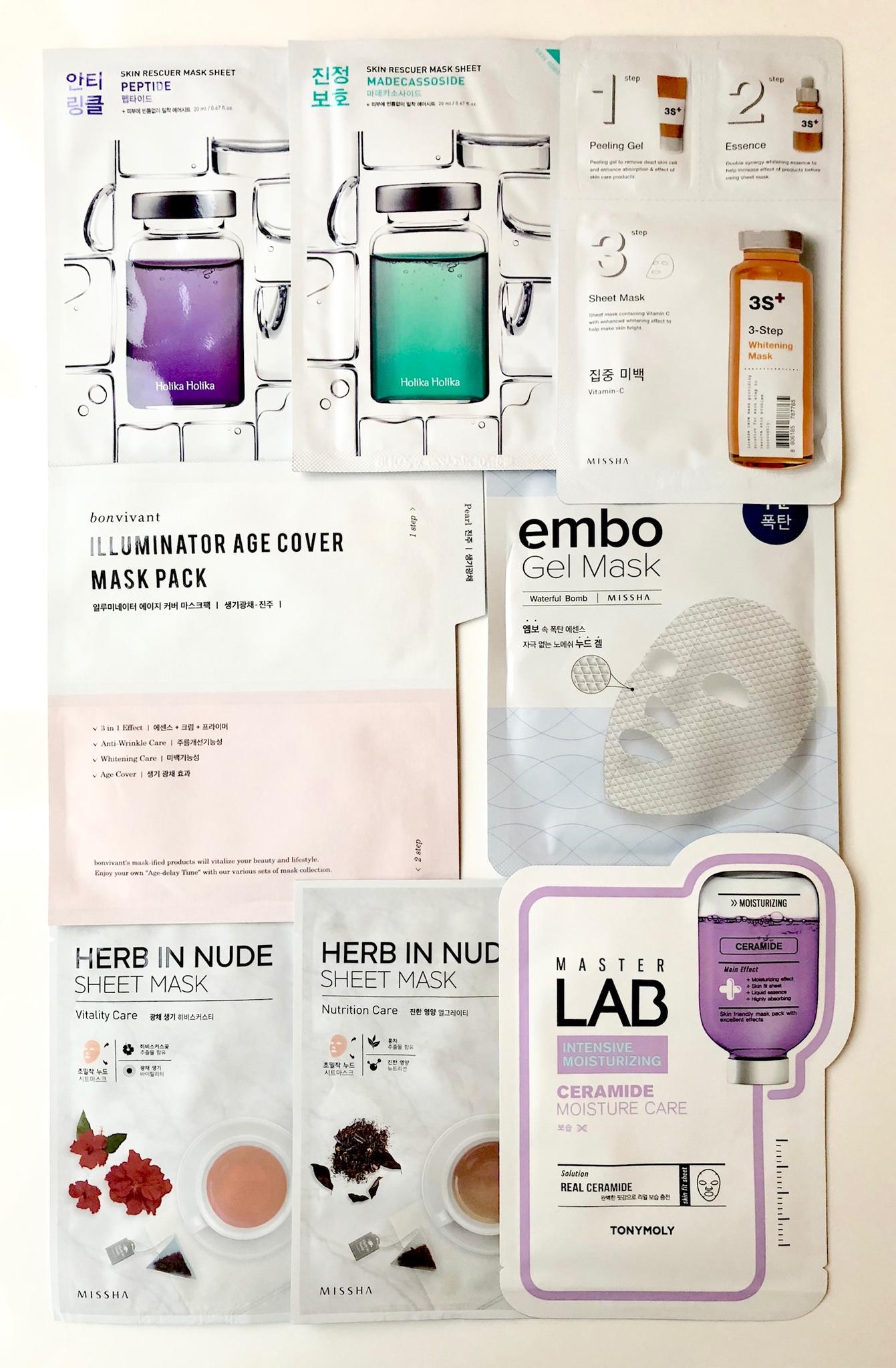 5. Treatments: Essence/Serum/Ampoule
Of course your skin also needs concentrated treatments at night. On the days you use a sheet mask you can skip this step because sheet masks are essentially serums in sheets. You can skip right to moisturizers on those days.  
6. Moisturizer/Face oil/Eye Cream
The final step is moisturizing. Again, you want to really seal in all the hydrating and nourishing goodness you just applied to your skin so they can work their magic overnight. If your skin is very dry, you can swap your nighttime moisturizer for a face oil. Face oils are great to infuse fat-soluble minerals and nutrients - like vitamin E, fatty acids, and antioxidants- into. They penetrate skin to transform it while helping it build a lipid barrier that keeps your skin resilient and protected. You can also combine the two and mix your face oil with your moisturizer.
Oh and don't forget to use eye cream!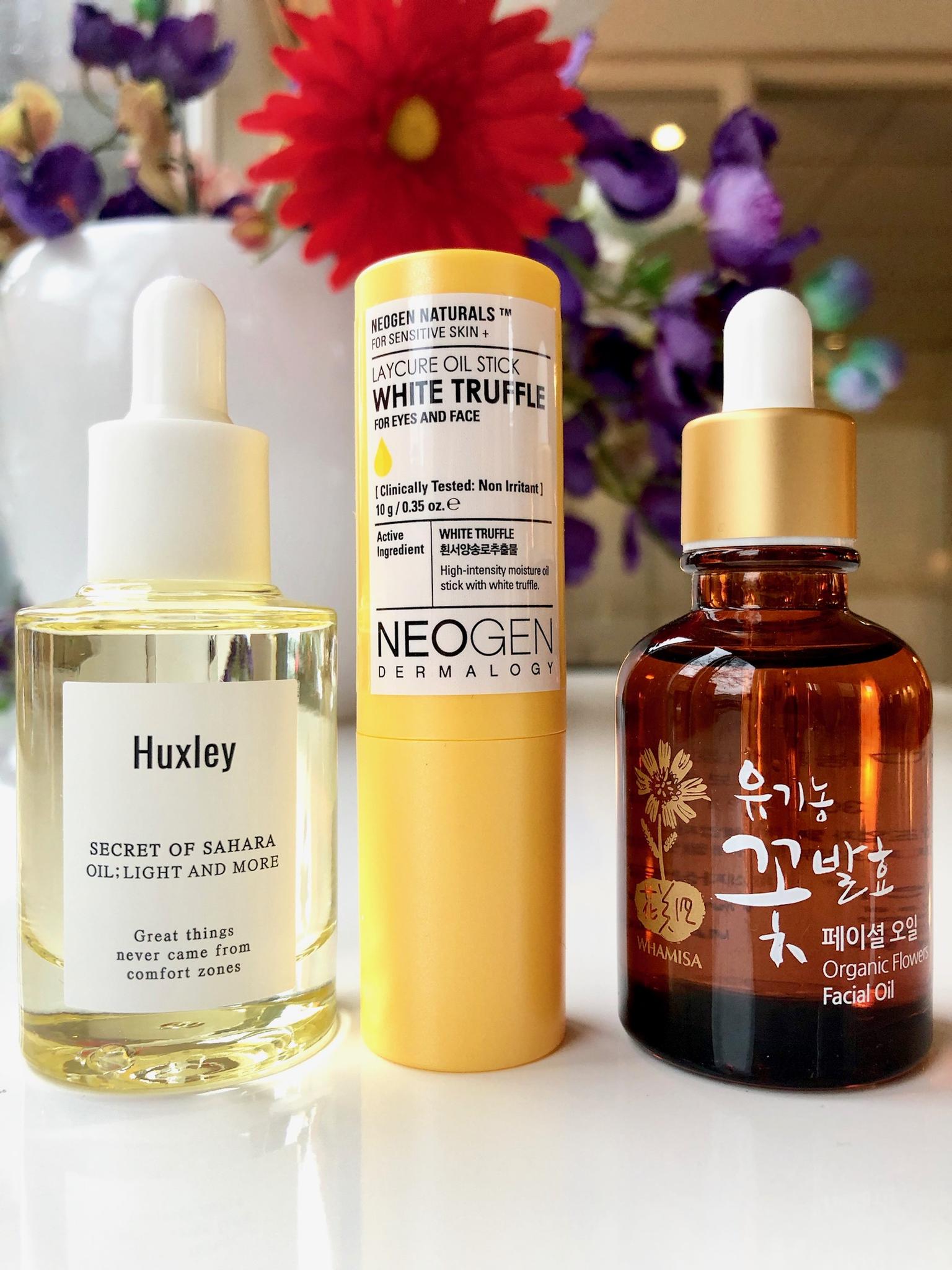 Huxley Oil Light and More
A concentrated blend of organic Sahara Prickly Pear Cactus Oil, Jojoba Oil, and Sunflower Oil. Melts seamlessly into skin to provide plumping hydration and firming nutrition.  

Neogen Dermalogy Oil Stick White Truffle
Enriched with White Truffle oil and 3 different types of Hyaluronic acid to work wonders on stressed and uneven skin. The convenient stick applicator allows for precise and targeted application.  

Whamisa Organic Flowers Facial Oil
With organic Argan and Camellia seed oil, and fermented Olive fruit filtrates. Improves skin's immunity and elasticity, and protects from environmental damage.  



7. Lip balm
Moisturize your lips before going to bed with a nourishing lip balm for soft and smooth lips in the morning.
I hope I've helped you understand your skin and your skin's needs a little more. I want to mention it again: the products I mentioned are just examples. There are many great products for dry skin out there, the ones I mentioned are just products we love and would recommend. So don't feel the need to go out and buy all of them, that's absolutely unnecessary.

Stay tuned for skincare routines for other skin types! 

See you next week!
XXX- Soha