Today's post is going to be a bit different than usual. I felt like writing about more colorful stuff today, stuff like makeup. I know I don't write about makeup very often on this blog. That's because I feel like most of you prefer skincare. But let me know in the comments if you like reading more about makeup.
In today's post I'm going to try to help you find a lipstick (formula) that will suite your personal preferences. There are many types of lipstick formulas and finishes, but for the sake of easy reading, I've condensed the most common Korean lipstick types into 6 categories:   
Matte
Matte lipsticks are serious business. They are one of the trickiest to work with. While they are pigmented, long-lasting, and impactful, they are not for the faint of heart. Mattes tend to be more drying than creamier formulas, and are unforgiving. If you're the type of girl who wants to swipe some color on her lips without looking in a mirror and dash out the door, these are not for you. Matte lipsticks require commitment; they should be applied cautiously and precisely. Save your matte lipstick for when you have time for precise application and want to steal the spotlight.
Staying power: long-lasting
Shine level: none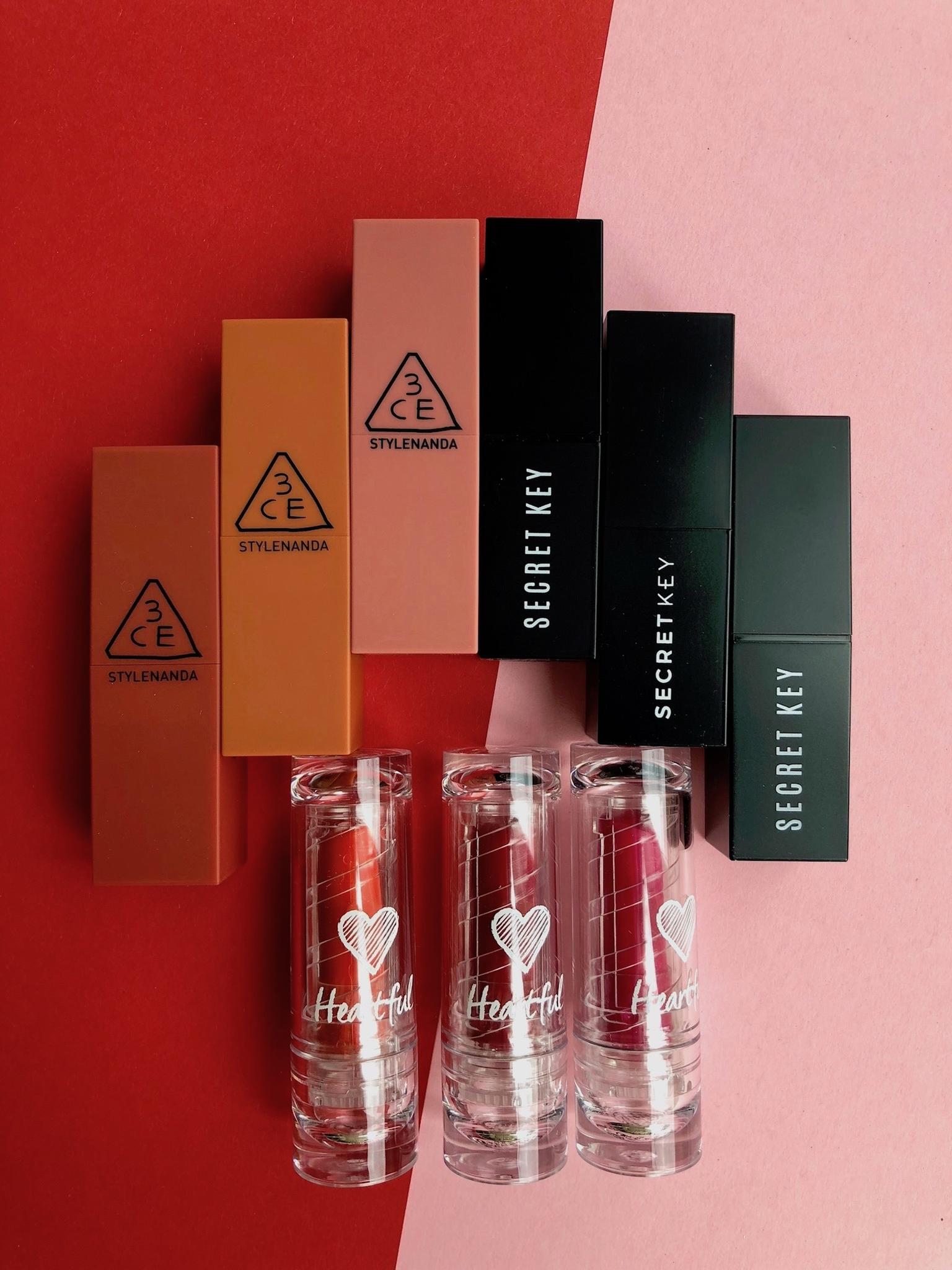 Holika Holika - Heartful Chiffon Cream Lipstick
Secret Key - Fitting Forever Lip Stick
3CE - Mood Recipe 2 Matte Lip Color
Creamy
Creamy finishes offer high pigmentation like matte finishes, but with a slightly moisturizing texture. The color payoff is still opaque, but with a hint of sheen. The application is easier than matte lipsticks and the wear is more comfortable and less drying. The downside of creamy lipsticks is that they can bleed into lip lines. This is easily prevented by using a lip liner.
Creamy lipsticks are best for those who look for long wear and comfort.
Staying power: long, but less than matte
Shine level: a slight hint of sheen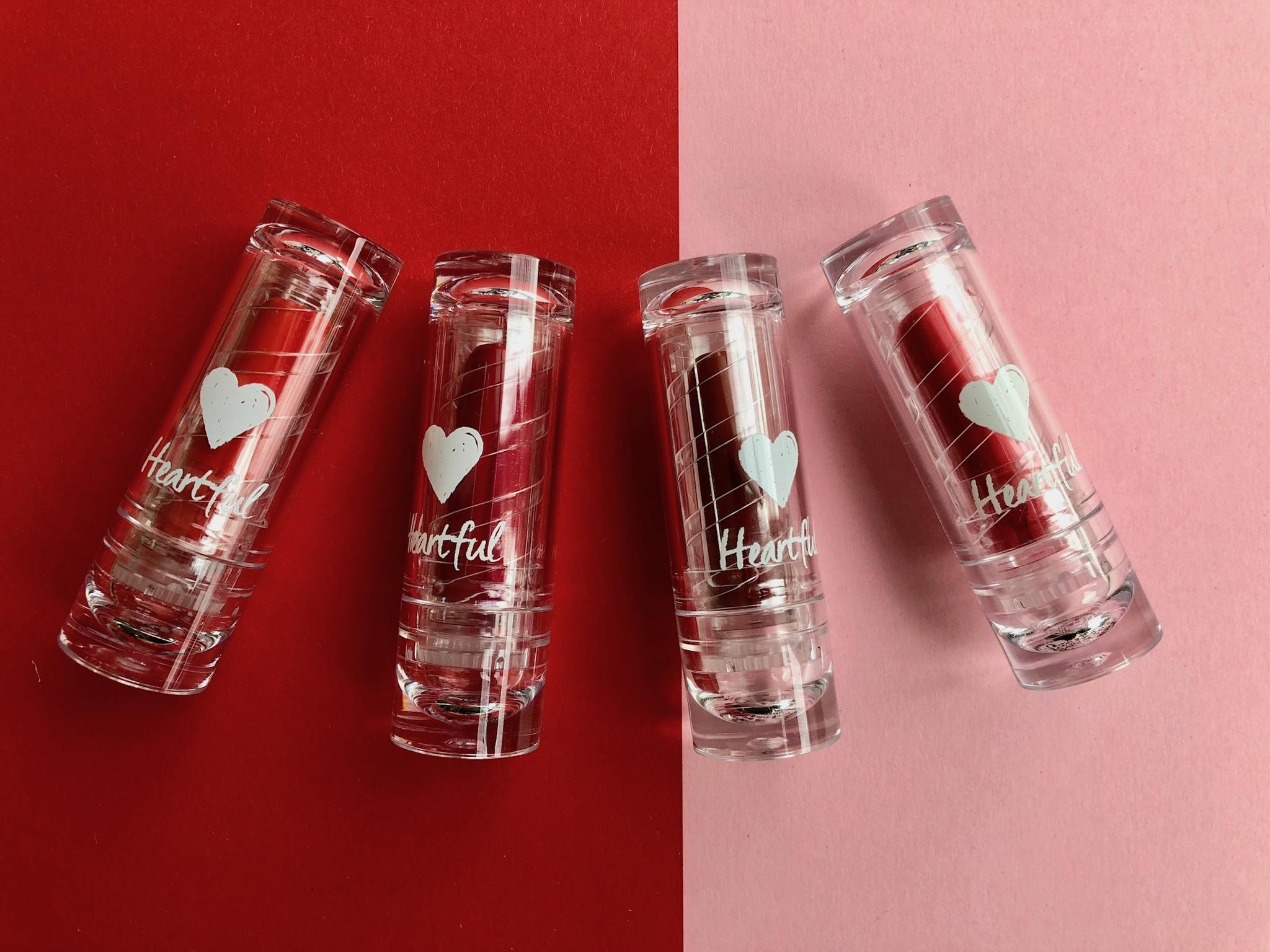 Holika Holika Heartful Melting Cream Lipstick


Sheer (Glossy) Balm
Sheer, balmy lipsticks offer just the right balance of subtle shine, a hint of color, and moisture.
Balmy lipsticks are the perfect low-maintenance, easy-to-apply lipsticks for those lazy days.
They leave your lips sexy and seductive with a glossy finish and keep your lips moisturized all day long. Sheer lipsticks have a high oil component so they may appear darker in the tube than they will look on your lips. Sheer lipsticks are not long lasting. They offer little coverage and need to be touched up frequently. Very beginner-friendly.
Staying power: short
Shine level: high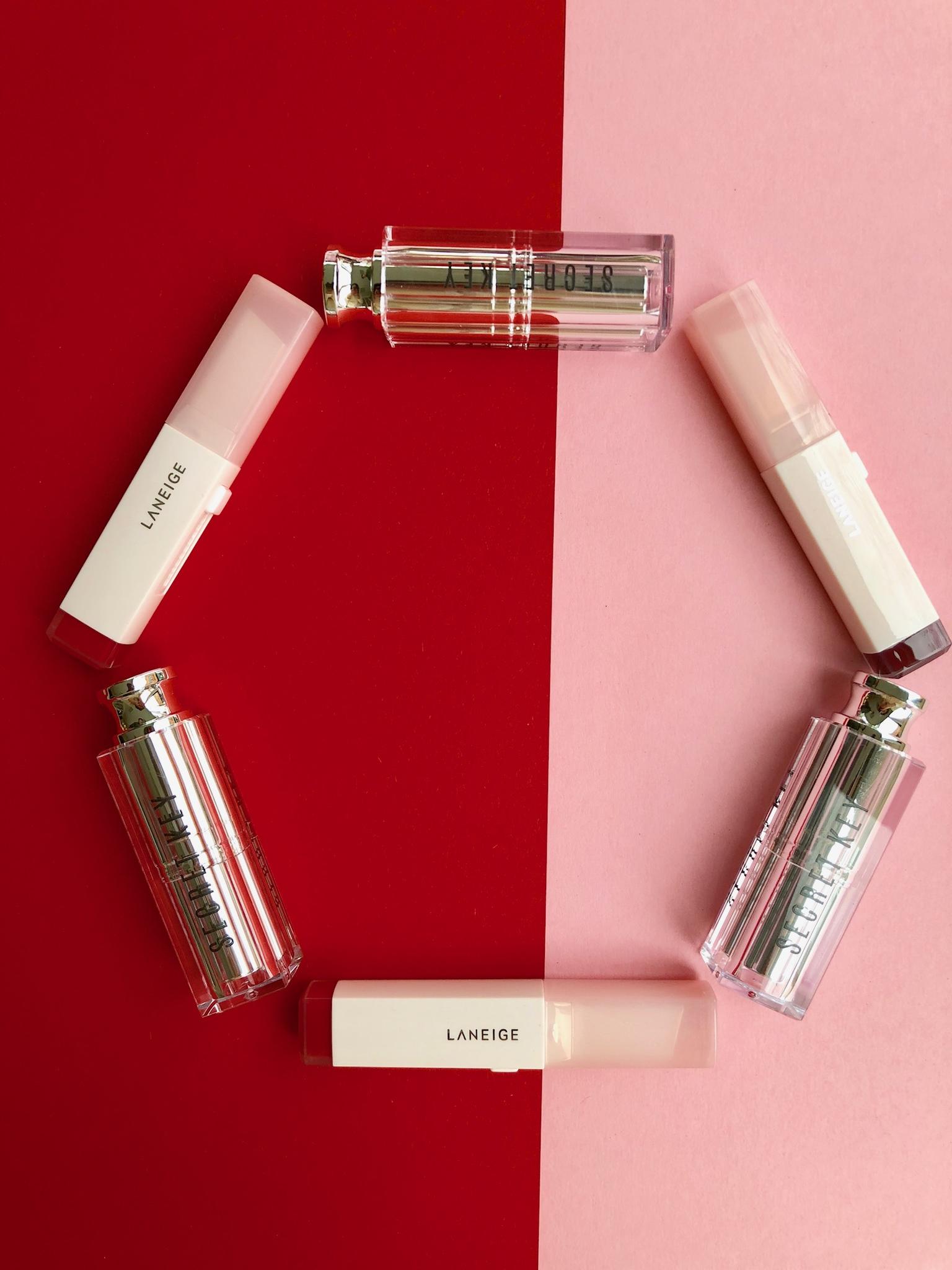 Secret Key Sweet Glam Two Tone Glow
Laneige - Two Tone Tint Bar
Lip Tint
If you're into K-pop and K-dramas, you've probably noticed your favorite stars wearing lip tints, most likely in the form of a gradient lip. So what exactly are lip tints? A lip tint has a liquid or gel base, often with a mousse-like or velvety texture. Within the liquid base there are base pigments that cling to the lip once the watery base has evaporated. Lip tints are long-lasting, budge-free and don't transfer. They remain light and comfortable on your lips throughout the day. Lip tints are extremely popular at the moment, because they are very versatile and easy to apply. Lip tints can be worn lightly for a natural look, opaquely for a bold look, or as a natural gradient. The most popular way of applying lip tints is in the form of a gradient (ombré) lip, where you concentrate the color on the inside of your lips so that it fades as you get closer to the edge of the lips. This gives the coveted "just-bitten" or popsicle-stained look. Lip tints are best for those who look for a comfortable, natural look with not much shine or gloss.
Staying power: long-lasting
Shine level: depending on the tint, usually a velvety, slight sheen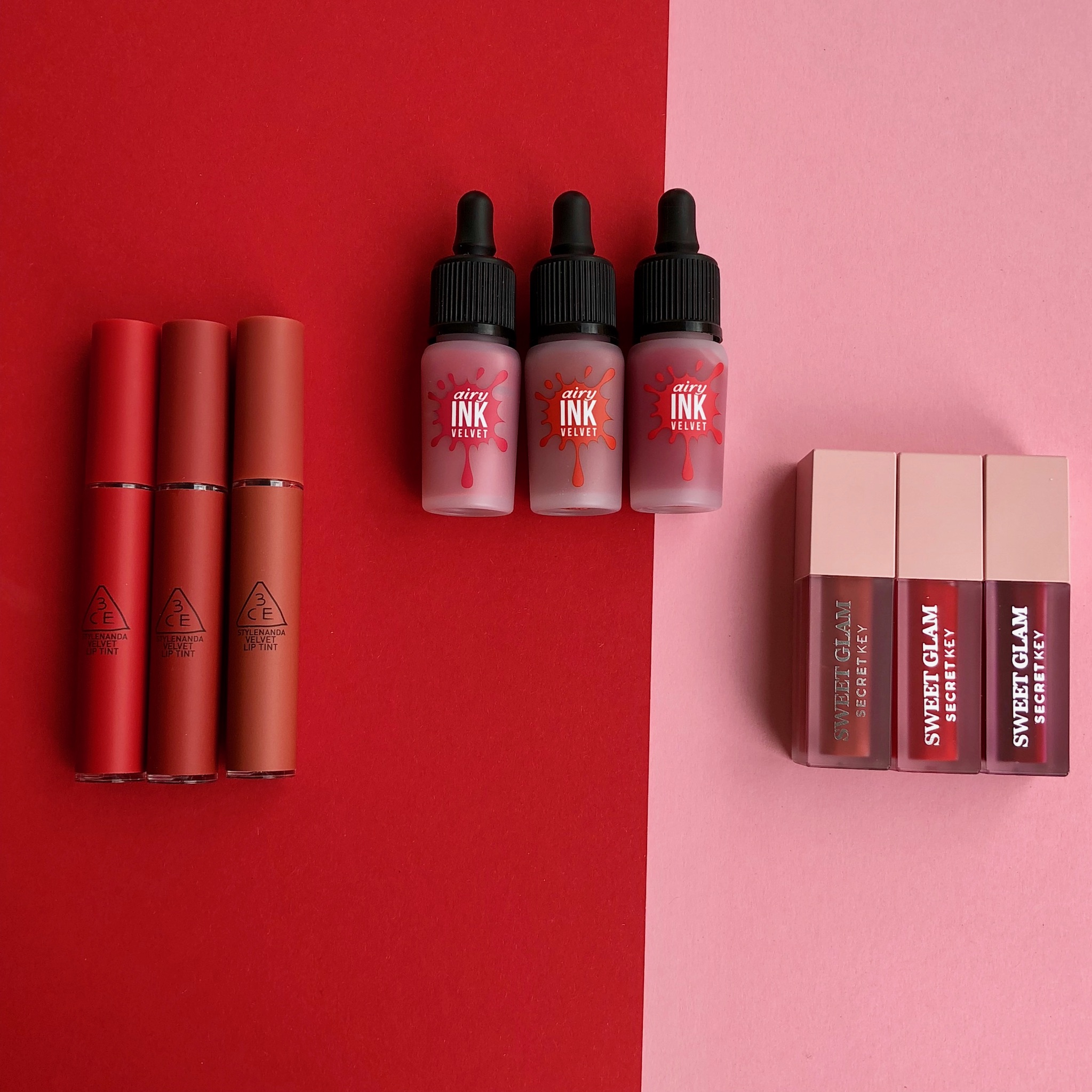 3CE - Velvet Lip Tint
Secret Key - Sweet Glam Velvet Tint
Peripera - Ink The Airy Velvet



Lip Lacquer
Lip lacquers come in liquid form. They offer high coverage like a lipstick, but they have a high shine finish like a lip gloss. Lacquer means 'polish', so they're basically like nail polish for your lips.
The consistency and texture of lacquers are very thick, creamy, and pigmented. They deliver an ultra-high-shine finish that will make your lips glisten like never before. Therefore, they are not beginner-friendly. Lip lacquers require precise application and some maintenance.
Staying power: moderate
Shine level: ultra-Glossy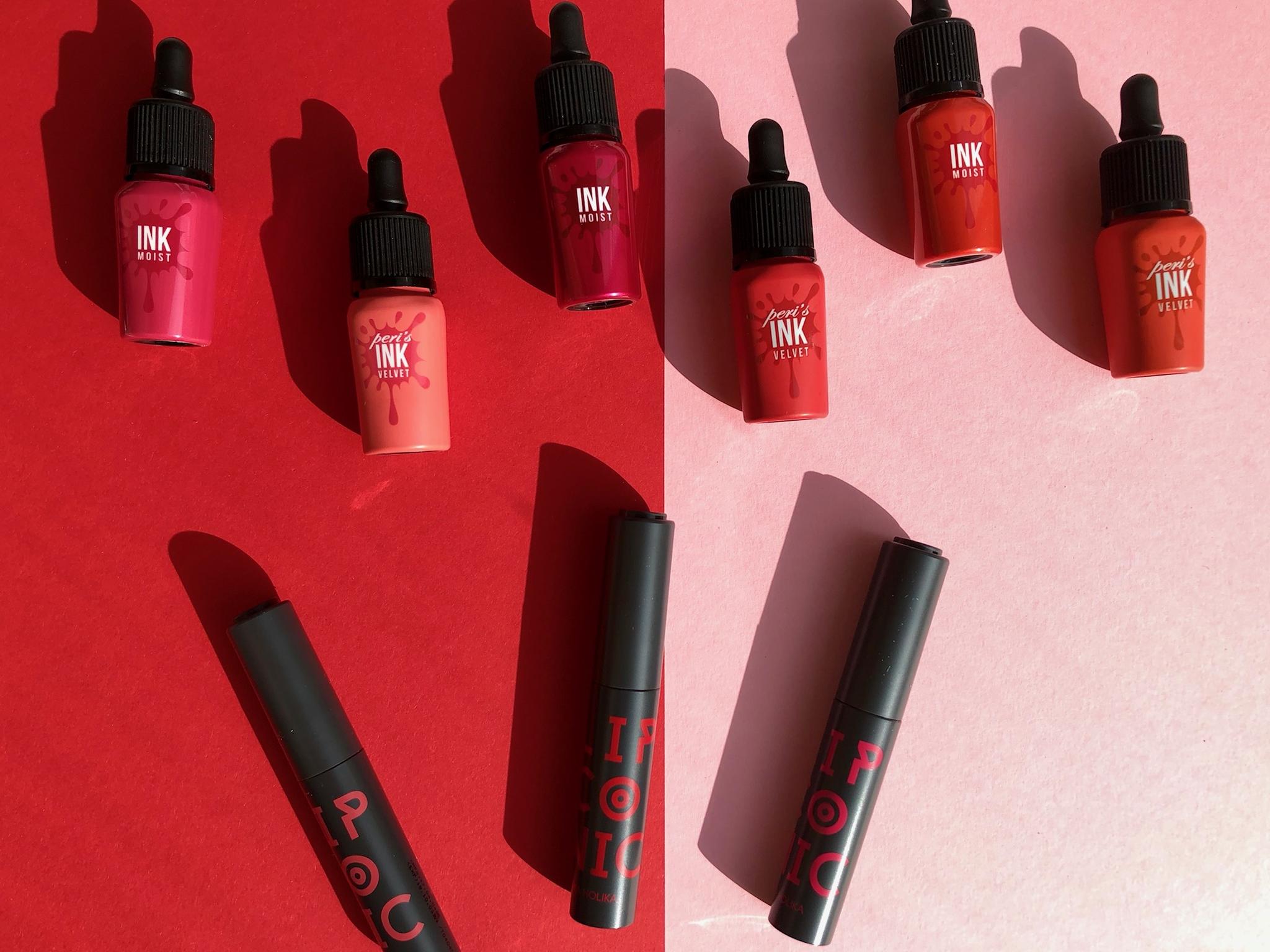 Peripera - Ink Moist
Peripera - Ink The Velvet
Holika Holika - Lipconic Cream Tintgun


Lip Stain
Lip stains are lightweight liquid lipsticks that stain your lips, giving you a lollipop lip effect. Lip stains are known to last extremely long on the lips, so reapplication is not an issue. But they set really fast so you need a steady hand for application. And, they're usually not very moisturizing, so prepping your lips with a dab of lip balm is advised. Lip stains are best for attending long events or a long work day; for when you want some color but don't want to fuss about the state of your lips. Note: most lip stains are very hard to remove.
Staying power: long-lasting
Shinelevel: none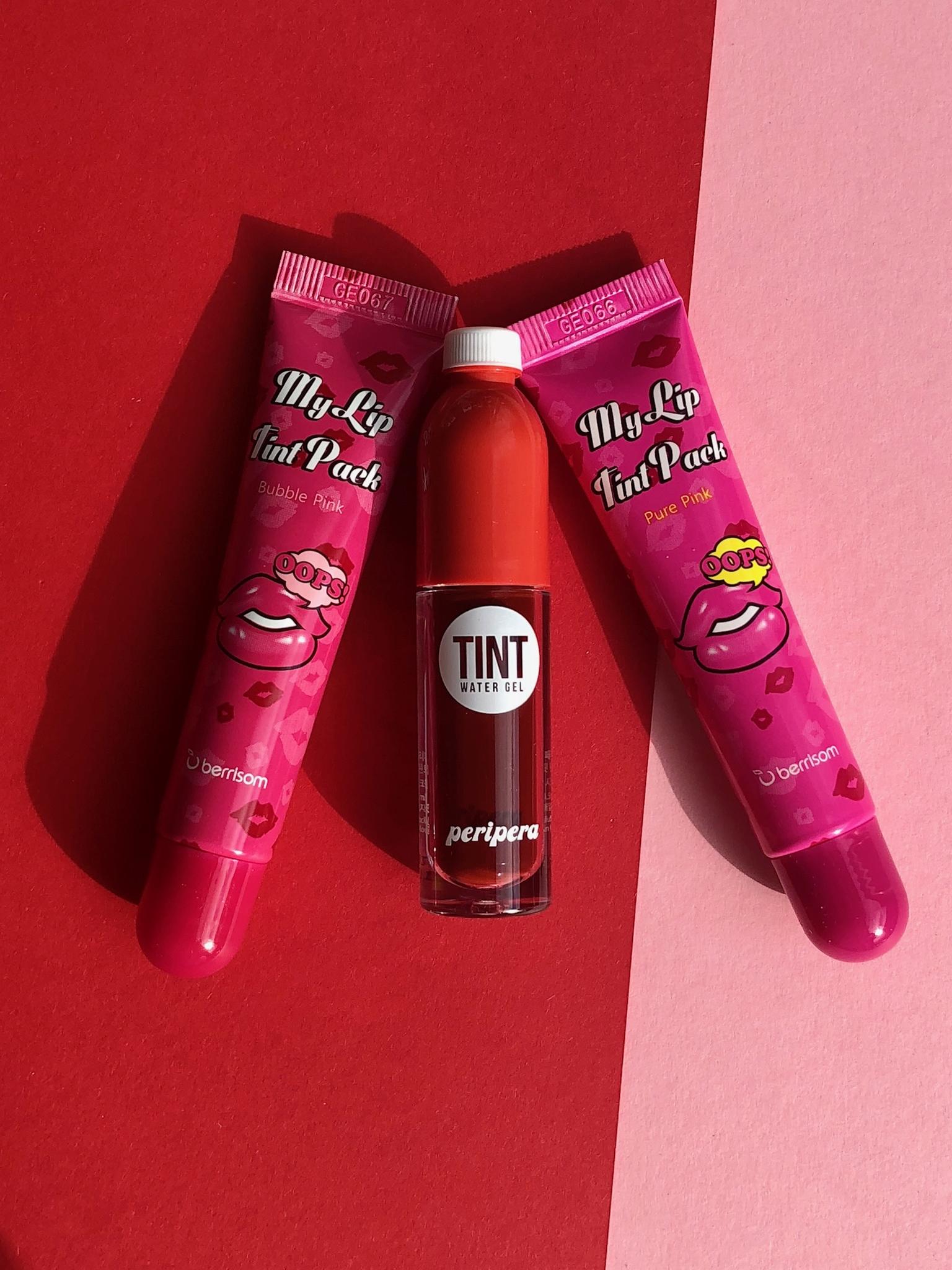 Peripera - Color Fit Tint Water Gel
Berrisom - Oops My Lip Tint


Have you tried any of these finishes? Which are your favorites? Let us know! 
XXX- Soha