About a month ago I wrote a post on affordable Korean dupes for higher end products. I mentioned that it would be the first part of a series because there are lots of dupes to find in the K-beauty market. Today will be part 2 of that series; here are more affordable dupes.


Paula's Choice Skin Perfecting 2% BHA Liquid / Biologique Recherche P50 Lotion vs. COSRX BHA Power Liquid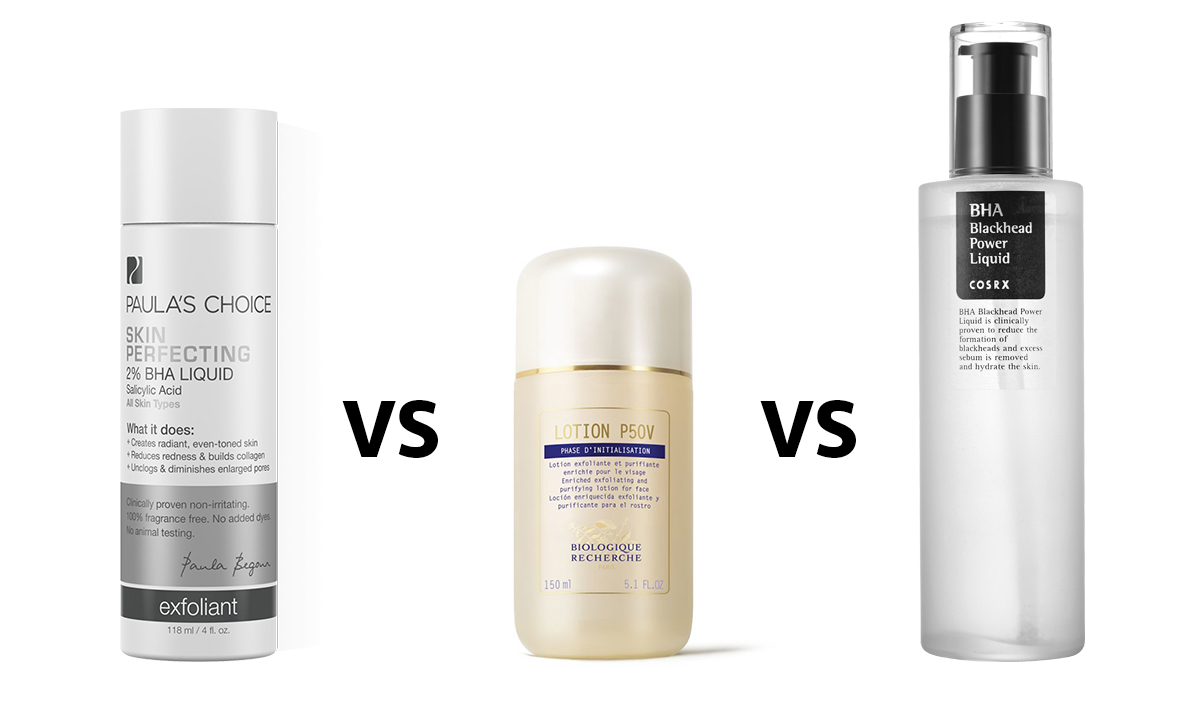 COSRX, 100 ml, €22
Paula's Choice, 118 ml, €33
Biologique, 145g, €70.50


This one is a double dupe (I don't know if that's a word, I just made it up). The COSRX BHA Power Liquid is a dupe for the Paula's Choice Skin Perfecting 2% Liquid ànd the Biologique Recherche P50 Lotion. All three products are liquid exfoliants that promise to enhance the appearance of skin by clearing dead skin cells.

The Skin Perfecting 2% BHA Liquid is Paula's Choice #1 product worldwide and a cult favorite. It's a
leave-on exfoliant that unclogs pores, smooths wrinkles, and evens out skin tone with Salicylic acid (BHA). Salicylic acid sheds dead skin cells to help renew skin and minimize the size of pores. It's a nice product in my opinion, but it will leave your skin looking greasy. That's the major downside of this product.

The Biologique Recherche Lotion P50 is a watery exfoliating toner that hydrates skin and balances the skin's pH. This toner not only contains Salicylic acid (BHA), but also Lactic acid, Citric acid, and Malic Acid (all AHAs). It helps to speed up the skin's natural (but slow) exfoliating process and remove all the gunk out of your skin. Out of the three, this one has the most loyal following. For good reason. It's an amazing product and does wonders to skin. In fact, rumor has it that Madonna and the Olsen sisters are faithful followers of the P50 lotion too.
However, there is an unappealing side to this product. Aside from its high price tag, this product is really hard to find in Europe. The only place you can get it online is the website for Philadelphia's Rescue Spa, which of course incurs taxes and shipping fees if you live in Europe. Also, this product smells like vinegar.
So let's get to the cheap dupe. The COSRX BHA Power Liquid is an exfoliating and hydrating liquid with 4% Betaine Salicylate (a natural BHA). The liquid dissolves impurities and debris from pores and removes dead skin cells to unveil new, bright skin. The liquid also contains Willow Bark Extract which has soothing effects on the skin, Hyaluronic Acid to hydrate skin, and Niacinamide to help brighten the skin. One downside of this product is the smell. It smells kind of like paint. But fortunately it doesn't linger.
I think you can tell from my descriptions which product I like most. I prefer the Biologique Recherche Lotion's results over the other two, but the price tag and inaccessibility really bother me. I don't find this product sustainable to use. I like the results, but not enough to justify the costs. Between the Paula's Choice and the Cosrx liquids, I definitely prefer the Cosrx BHA liquid. I find that it gives me better and faster results, and it doesn't leave my skin so horribly greasy.
Peter Thomas Roth Acne-Clear Invisible Dots vs. COSRX Acne Pimple Master Patch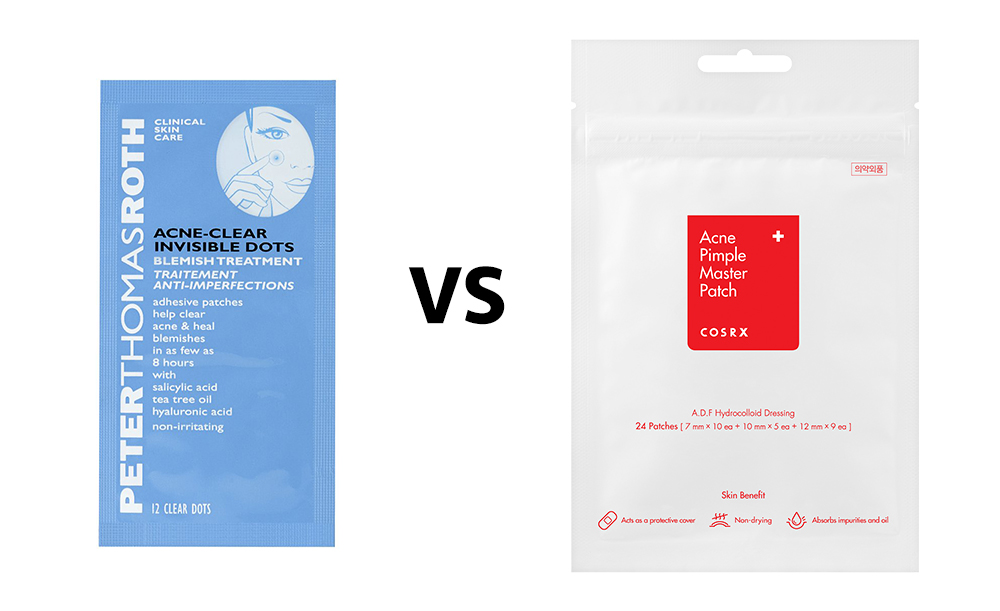 Peter Thomas Roth, 72 pc, €30
COSRX,24 pc, €5
Pimple patches are spot-controlling hydrocolloid dressing stickers that you can stick onto a pimple or whitehead to speed up healing, absorb gunk, and prevent bacteria from entering the wound or spreading. The barrier formed on the pimple also prevents you from picking. I wrote an entire post on pimple patches. If you'd like to know more about pimple patches, click here.
The Peter Thomas Roth Acne Clear Invisible Dots contain 0.5% Salicylic acid, Tea Tree oil, and Hyaluronic acid to effectively target and heal blemishes overnight. Each pack comes with 2 different sized patches for different sized blemishes.
The Cosrx Acne Pimple Master Patch is one of the best-selling K-beauty products. The patches extract impurities and create a protective barrier that shields blemishes from bacteria and viruses and prevents them from growing and spreading. Each pack comes with 3 different sized patches.
I find that both patches work equally well. For the difference in money (if you calculate, the Cosrx patches are exactly half the price) I would say go for the Cosrx one.
Diorsnow Brightening Makeup Base Blue vs. Klairs Mid Day Blue Sun Lotion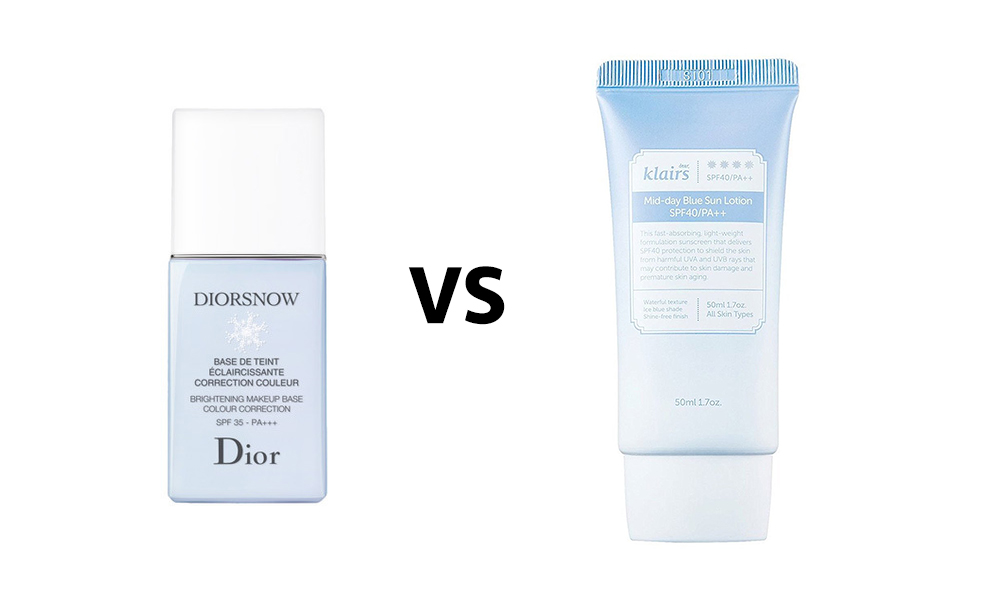 Dior, 30 ml,€52 
Klairs, 50 ml,€26
Next up is sun protection. The Klairs Mid Day Blue Sun Lotion is a dupe for the Diorsnow Brightening Makeup Base in Blue. Both products provide sun protection and brighten the skin with a blue tone.
The Diorsnow Brightening Makeup Base is a brightening makeup primer with SPF 35. It has a unique blue tone that helps conceal sallowness and reveal a bright clear, and luminous skin. The Klairs Mid Day Blue Sun Lotion is a sunscreen (SPF 40) that protects skin from UV rays and direct heat. The formula contains Guaizulene, a calming ingredient that soothes irritations caused by infrared heat. This sunscreen also has that unique blue tone that helps to brighten skin.
So which one should you go for? Both products protect skin and provide brightening effects, but they're fundamentally different products. The Diorsnow is a makeup base with sunscreen, while the Klairs is a sunscreen with color-correcting properties. If you're looking for a product that extends the wear of your makeup, then the Klairs lotion won't fulfill as a dupe. But if you're looking for sun protection and brightening, then I'd recommend you save your coins and go for the Klairs lotion. Note: if you have tan to deeper skin, stay away from these two products. The blue undertones can make your skin look ashy and grey.
Glamglow Bubblesheet Oxygenating Deep Cleanse Mask vs. Elizavecca Milky Piggy Carbonated Bubble Clay Mask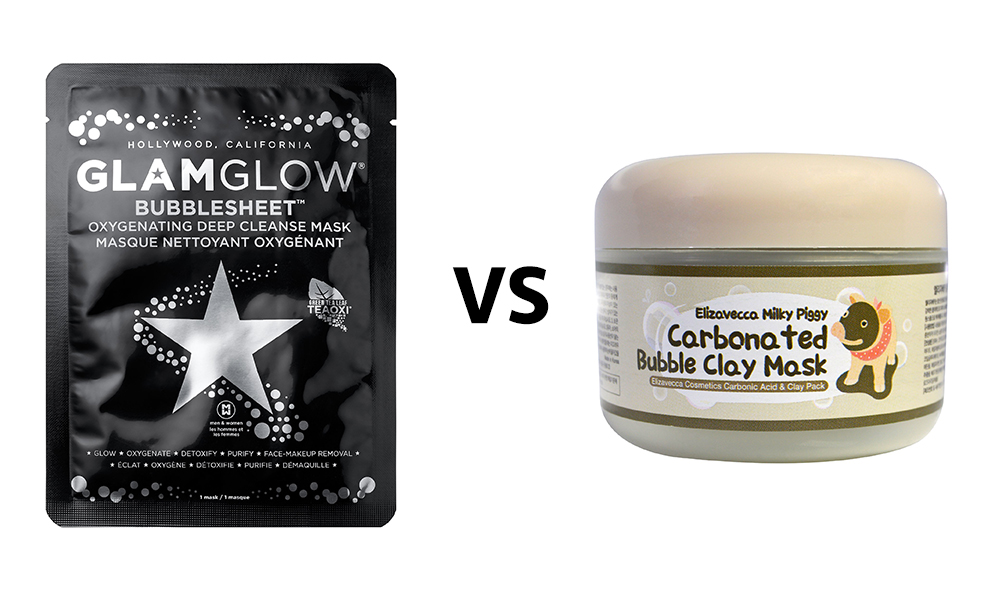 Glamglow, 1 sheet, €9
Elizavecca, 100g, €19


Bubbles Bubbles Bubbles. The Glamglow Bubblesheet mask is probably one of the most fun sheet masks to use. This mask contains carbonated water that foams up on your skin in all directions to effectively remove dirt, excess sebum, and impurities. The mask consists of a black bamboo charcoal sheet that is infused with a microbubbling cleanser with Green Tea and L-arginine to enhance radiance.
The Elizavecca Milky Piggy Carbonated Bubble Clay Mask is a pretty close dupe for the Glamglow Bubblesheet mask. It's a purifying mask with Carbonated water, White clay, Bentonite clay, Charcoal powder, and Green Tea extracts. Just like the Glamglow mask, this fizzy mask foams up on your skin to cleanse and unclog pores, remove dead skin cells, and absorb excess sebum without drying out the skin. This mask also contains nutrients and minerals that replenish the skin and help to soften and smooth skin.
Although both masks are bubbly foam masks, the Glamglow mask is a one-use sheet mask, while the Elizavecca mask comes in a jar. With the Glamglow mask you pay €9 for one time use, while the Elizavecca mask will cost you €19, but will last you several months. Both masks give similar results and the same fizzy experience. So for the price difference, I'd say the cheaper dupe is more worth your money.
I hope this post has helped you save a lot of money too. I think the next dupes post will be about makeup. So stay tuned for more beauty dupes!
Hope to see you next week!
XXX- Soha