I think I've mentioned before that I used to suffer from acne back in my late teens. After a long 2-year antibiotic treatment I managed to get rid of my acne around 21. But even after I got rid of the acne my skin problems didn't end. The areas of my skin that were formerly affected by acne (and treated) became very red, irritated, and inflamed. I'm not exactly sure what had caused it but I think it was a combination of the aggressive acne treatment and some leftover inflammation from the acne. For me these problem areas were my cheeks.
For a while I didn't mind the redness. I was so glad I got rid of the acne that the redness didn't bother me. I thought the redness would fade away with time and meanwhile I could cover the redness with some concealer.
But after a year or so my redness still hadn't been reduced. And even worse, sometimes I just got random rashes on my skin for no reason and would end up with my whole face super red. It was so horrifying (ok maybe I'm exaggerating, but it was horrifying for me to see my face like that :p). That's when I started to look for products that could soothe my inflamed sensitive skin.
Now it's a year later (I'm 23 btw) and I feel like I've gotten the redness under control. On some days it's more visible than others, but it's definitely a lot less than it used to be. I'd say the redness has gotten reduced by 80% or so. I know a lot of people are struggling with the same issue as me: red, sensitive, irritated, inflamed skin. So today I want to tell you about some products and general skincare tips I use to relieve irritated skin.
There are certain ingredients that immediately suggest a product will be soothing and calming. The 4 main ones in Korean skincare are Tea Tree, Aloe Vera, Centella Asiatica, and Beta Glucan (very powerful!). There are many many more, but the ones I mentioned have worked the best for me.
So keep an eye out for products that contain these ingredients. Some of my favorite soothing products include:


Centella Asiatica
Centella is an antioxidant-rich plant extract. It's a source of amino acids and has soothing properties. You may find it listed on ingredients lists as asiatic acid, hydrocotyl, or gotu kola
Some of my favorite Centella Asiatica products are: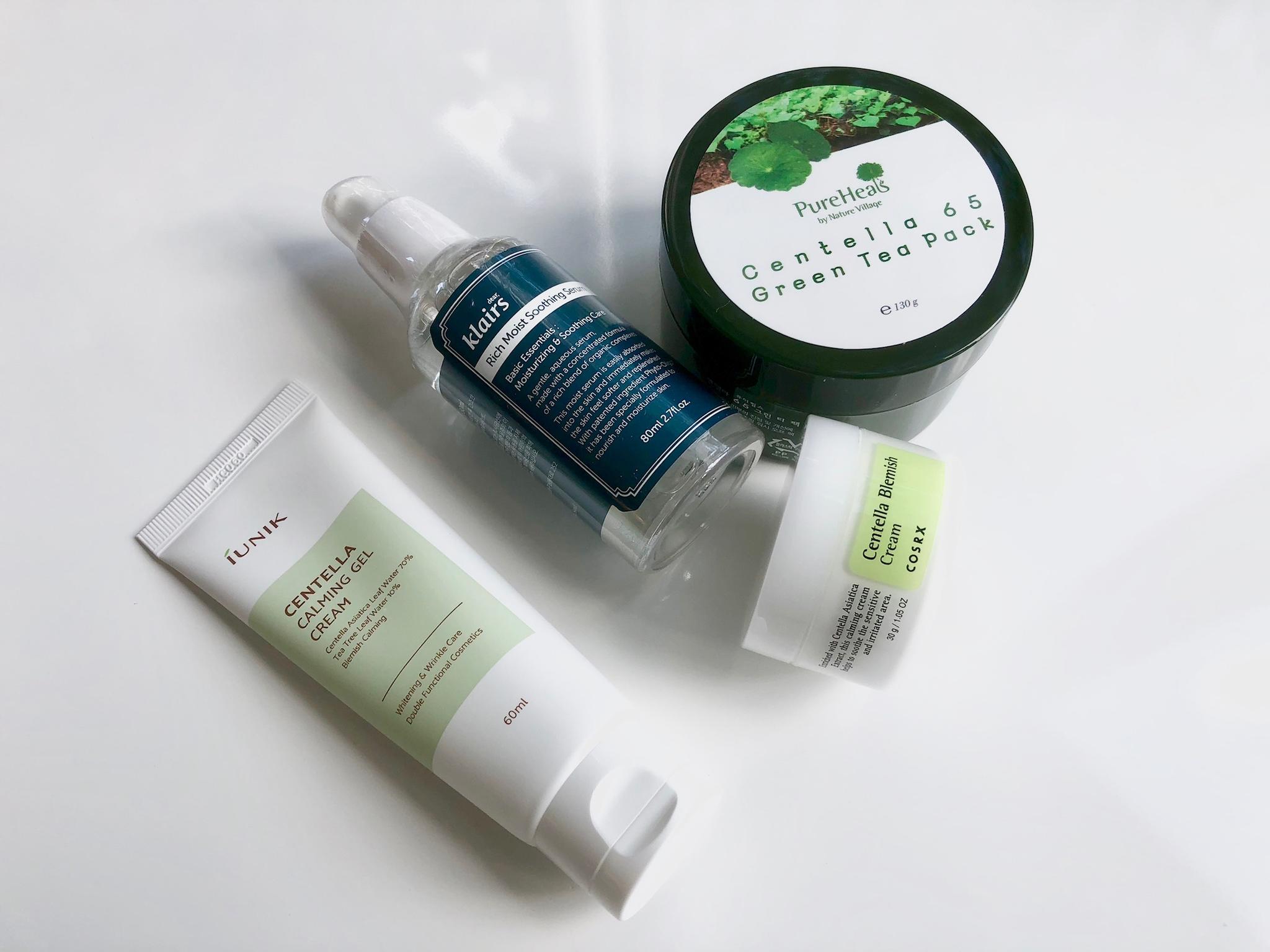 Klairs Rich Moist Soothing Serum
Klairs' Rich Moist Soothing Serum is specially formulated for dehydrated, irritated skin. It hydrates and calms skin Centella, Celery, Carrot, and Broccoli extract and leaves skin plump and smooth. Besides Centella, this serum also contains Licorice root extract, which is another well-known skin-soothing ingredient.

Cosrx Centella Blemish Cream / iUNIK Centella Calming Gel Cream
The next two products are Centella-based moisturizers. These moisturize, hydrate, and calm blemishes and sensitive skin. The iUNIK Centella Calming Gel Cream is a light gel with 70% Centella Asiatica leaf water and 10% Tee Tree leaf water.
The Cosrx Centella Blemish Cream is a little richer than the iUNIK gel cream and more suited for dryer skin types.

Pure Heal's Centella 65 Green Tea Pack
Pureheal's centella 65 Green Tea Pack is a wash-off mask with 65% Centella extracts and real Green Tea leaves. This mask calms irritations, reduces breakouts, and cleans out pores with its anti-bacterial and anti-inflammatory properties.


Aloe Vera
Aloe Vera is a hydrating agent that has soothing and antioxidant qualities. It may also be listed as Aloe Barbadenis. I personally like using Aloe Vera products on heat-irritated skin.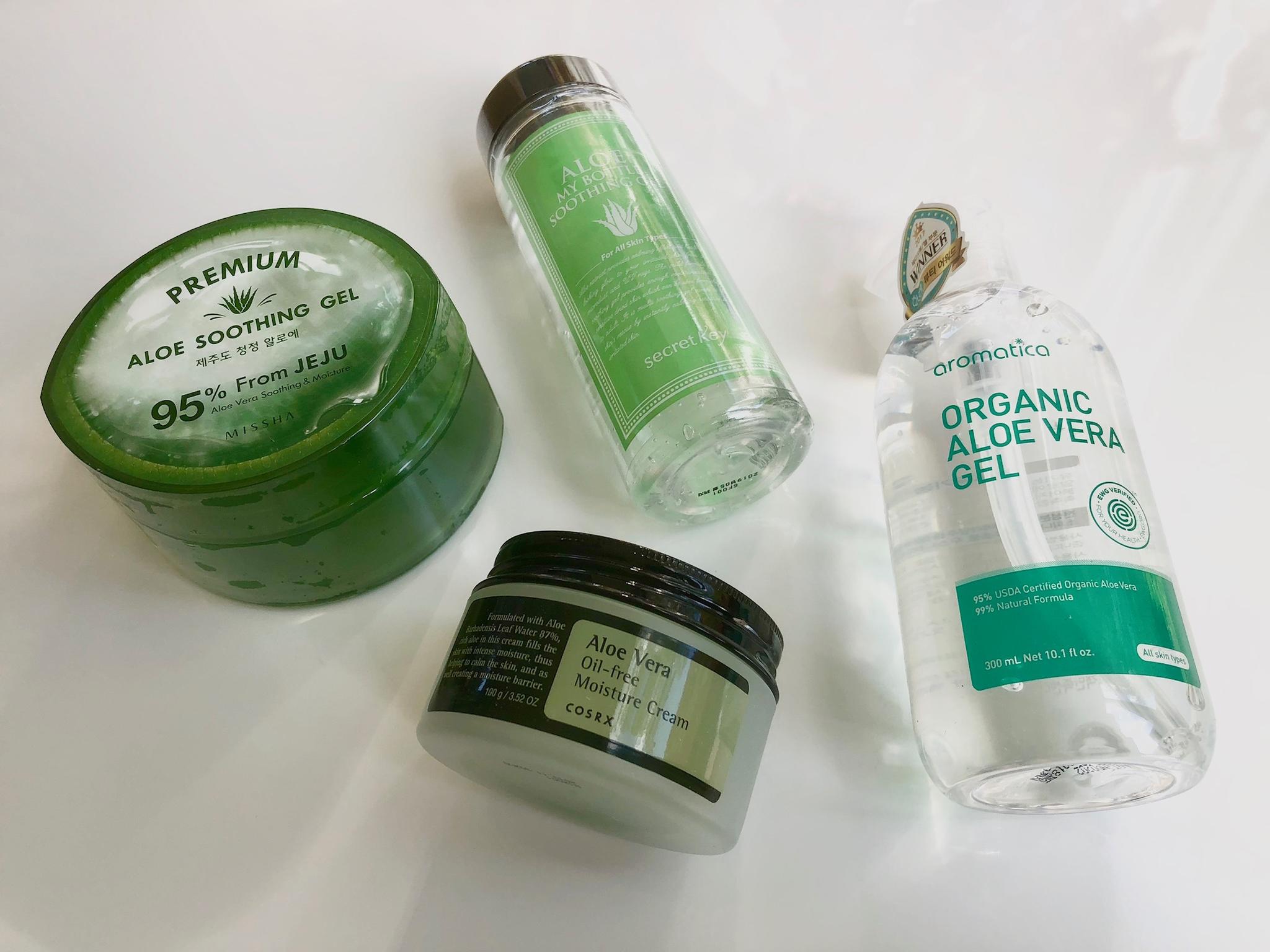 Aloe Vera gels
There are a variety of Aloe Vera gels. These gels contain very high concentrations of Aloe Vera (>90%) and are great for instantly cooling and calming skin. I typically use these gels on my body, not my face. But they can be used on the face as well. These gels are great for sun burns.

Cosrx Aloe Vera Oil Free Moisture Cream
This is a gel type moisturizer with 80% Aloe Vera extracts. It deeply hydrates skin, calms, and soothes irritated skin.
Tip: store this in your refrigerator for an extra cooling effect in the summer.


Tea Tree
Tea tree is a native Australian plant. Its extracts have skin-soothing and antioxidant properties.
Tea Tree was one of the most effective ingredients to reduce my redness. However, I despise the smell of it. I warn you, most people do not like the scent of Tea Tree. It has a very strong herbal scent.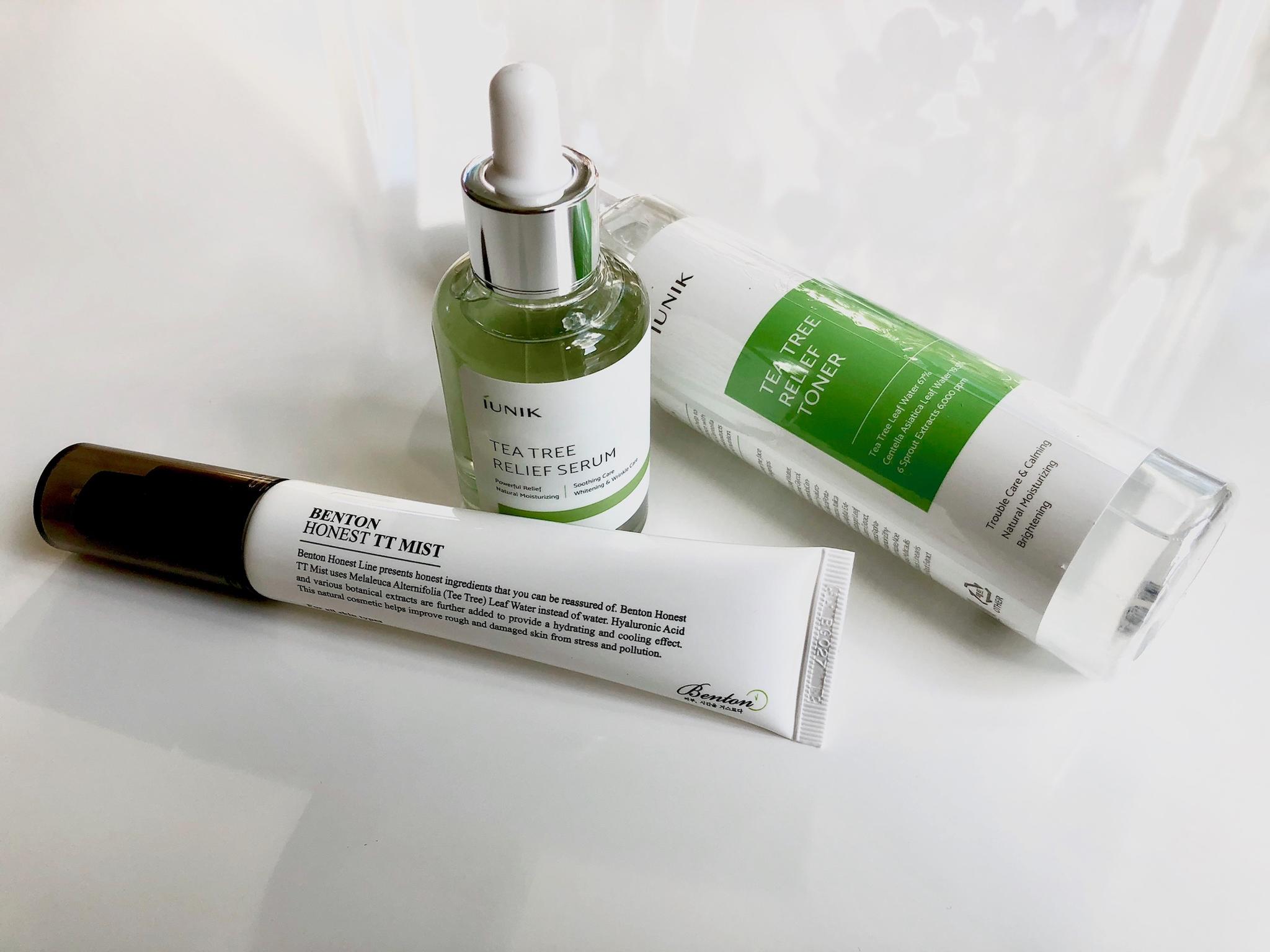 Manyo Factory Active Refresh Herb Special Treatment Oil
This is a Herbal oil treatment, specially designed for problematic and inflamed skin. It contains Tea Tree oil, Jojoba oil, Tamanu oil, and Squalene to help soothe, nourish, moisturize, and refresh irritated skin.
Warning: smells bad (but dissipates after you apply it).

iUNIK Tea Tree Relief Serum / iUNIK Tea Tree Relief Toner
The next two products are both by iUNIK. Both of these products were specially developed for sensitive skin. Both contain 67% Tea Tree Leaf water and 19.5% Centella Asiatica leaf water to help calm and moisturize skin and are best suited for oily, sensitive skin.

Benton Honest TT Mist
Benton's Honest TT Mist was specially developed for oily, acne-prone skin. This mist contains 85% Tea Tree water and extracts to soothe inflammations and hydrate skin. I personally love this mist for on the go. I know a lot of you sensitive-skinned girls can relate. Sometimes you're just sitting somewhere, minding your own business, when your skin decides to break out in rashes for absolutely no reason. This happens regularly to me. I keep this mist in my bag for those occasions.

Beta-Glucan
Beta-Glucan is a sugar derived from yeast or oats. It is a skin-soothing agent and has some antioxidant properties. Beta-glucan is an excellent ingredient for improving redness and other signs of sensitive skin. It also helps to build up the natural protective layer of the skin.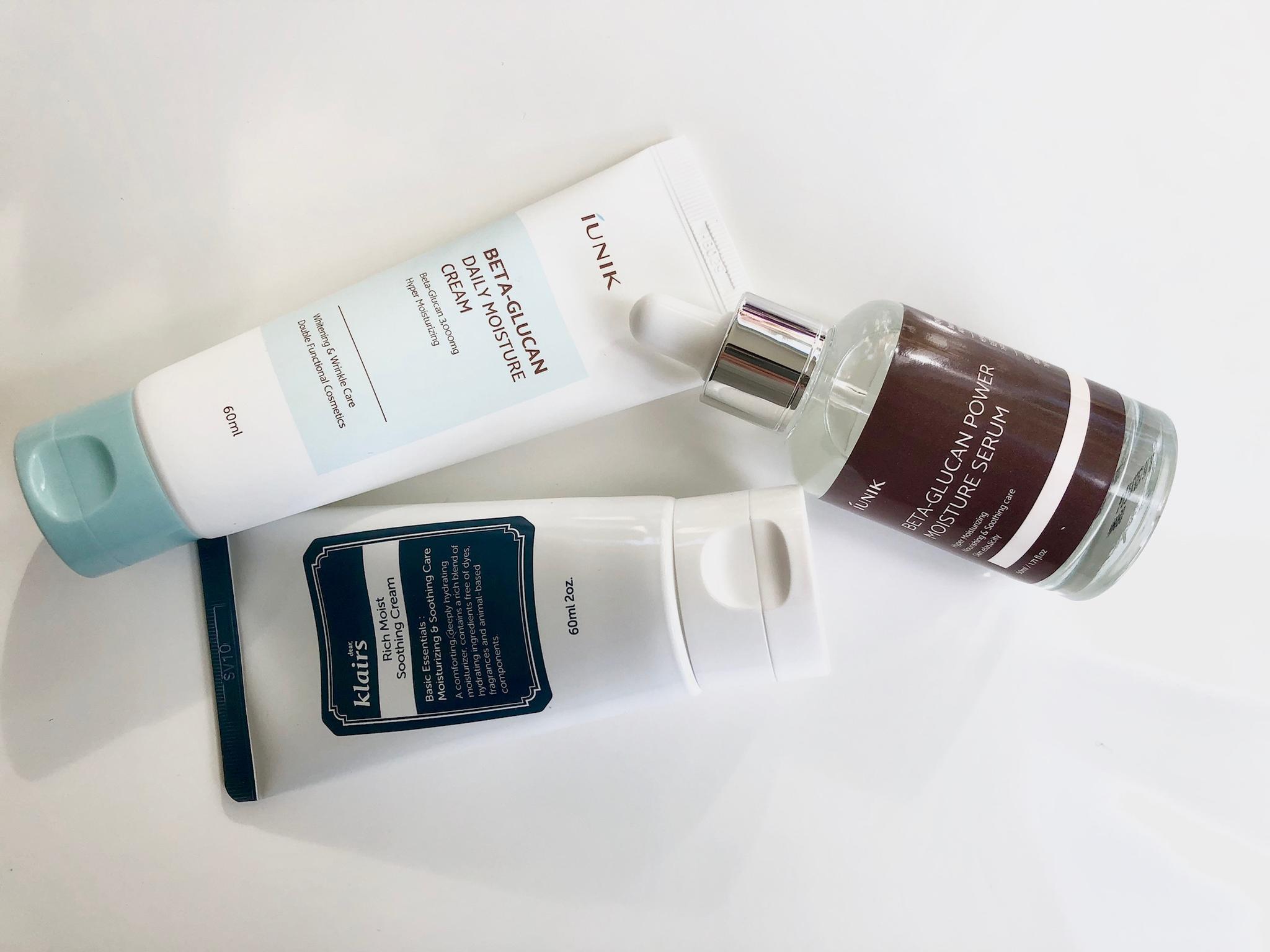 iUNIKBeta-Glucan Daily Moisture Cream
This is a lightweight moisturizer with Beta Glucan, Centella extract, and extracts from Red fruits. It moisturizes and calms skin, and helps strengthen the protective layer of skin.
iUNIK Beta-Glucan Power Moisture Serum
This is a 100% pure Beta-Glucan serum. It is a highly moisturizing serum that helps to nourish and calm skin, and improve skin barrier function.
Klairs Rich Moist Soothing Cream
This moisturizer contains high concentrations of Beta-glucans to support the skin's protective barrier and restore the skin's natural moisture levels. It soothes skin and provides skin with long-term hydration, moisture, and protection.

There are many more soothing and calming ingredients that can be used in skin care products. I can't discuss every one of them because this post would get too long and repetitive. But for those who are interested, here is a short list of other common skin-calming ingredients:
Calendula, Propolis, Licorice, Green Tea, Willow herb, Allantoin, and Bisabolol.
Most of the products I discussed above also contain at least one of these ingredients, but in lesser concentrations.

Cleansers for sensitive skin
I briefly want to mention a couple of my favorite cleansers for sensitive skin. I know many people with sensitive skin struggle to find cleansers that are effective but mild enough for their skin. I've always stuck to the double-cleansing method. I dissolve dirt and makeup with a cleansing balm, and then use a foam cleanser to cleanse my skin. I've found that this 2-step cleansing method is the most effective mild way to cleanse my sensitive skin.
My favorite cleansing balms are the Heimish All Clean Balm, and the Banila Co Clean it Zero Purity (the Heimish balm removes waterproof mascara slightly easier if you were wondering).
Then for the actual cleansing I alternate between the Klairs Rich Moist Foaming Cleanser and the Re:p Natural Origin Gentle Pure Cleanser.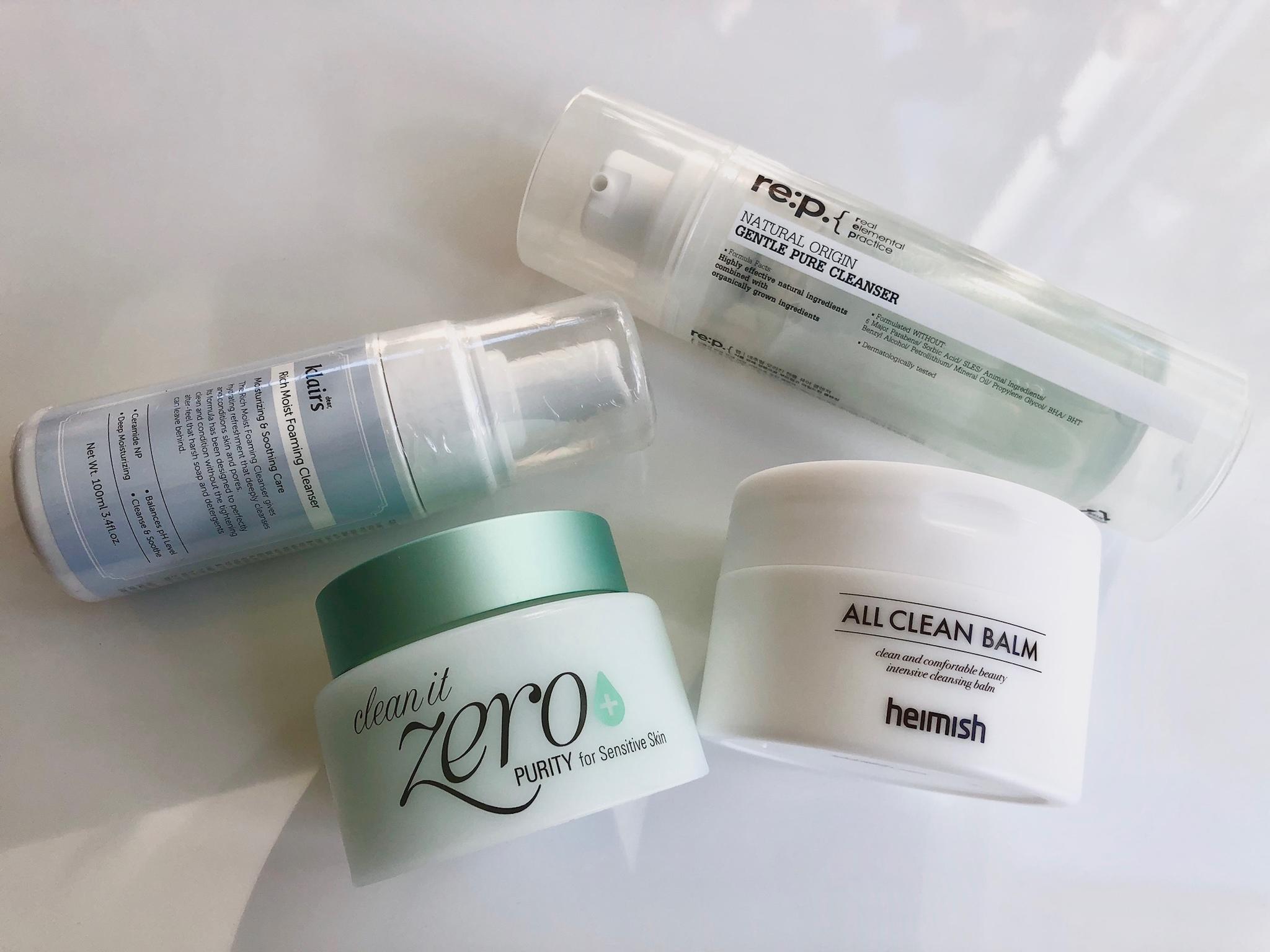 Ok so those are all the products I would recommend for soothing irritated skin. I want to end this post on a final note. This post only mentioned the ways you can help soothe and reduce sensitivity. But you should also learn why your skin is so sensitive and breaks out in rashes.
Of course you can be allergic and sensitive to certain substances, but usually there's more to it than just that. Sensitive skin often has problems with skin-barrier function. The natural protective layer of sensitive skin is often damaged and partly compromised, resulting in higher sensitivity. But more about that in a different post. I don't want to bombard you with too much information in 1 single post.
XXX- Soha