As someone who's suffered from acne for most of their teenage years, I understand the sense of melancholy that comes with getting a new pimple. Today's post is about another genius K-beauty innovation: pimple patches (or blemish patches). Pimple patches are the newest –and I think the best- way to treat blemishes. They are Band-Aids for pimples. Fabulous! Once more the genius inventors of the K-beauty world have made our lives a little easier.

What are pimple patches? How do they work?
Pimple patches are spot-controlling hydrocolloid dressing stickers that you can stick onto a pimple or whitehead to speed up healing, absorb gunk, and prevent bacteria from entering the wound or spreading. The barrier formed on the pimple also prevents you from picking. Pimple patches are made of the same material as hydrocolloid dressings used in hospitals to treat healing wounds. 
Hydrocolloid dressings are made of special types of cross-linked polymers that are able to absorb water and pus (sorry gross) to form a gel. The moist conditions created under the stickers are intended to promote wound healing without breaking down skin tissue to minimize the risk of scarring. To reduce inflammation and calm redness the stickers are often also coated with Salicylic Acid or Tea Tree oil. The combination of promoting and speeding up wound healing, while also alleviating signs of irritation is what I think makes pimple patches so genius. Btw, the stickers usually come in a variety of sizes and shapes to treat different sized blemishes.

Different types of patches
There's many different types of pimple patches available on the market. As mentioned, some patches are coated with anti-inflammatory agents to calm irritations, other patches contain anti-bacterial ingredients to prevent bacteria from entering the wound or spreading to other parts of the face. Besides the coating of the sticker, pimple patches also differ in what material they're made of.  
Because pimples aren't exactly attractive to look at, most of us like to cover them up with a little bit of foundation or concealer. Most pimple patches are slippery and you cannot put any makeup on top of them. Of course the K-beauty geniuses have come up with a solution for that as well. They've created special pimple patches for underneath makeup! For example, the COSRX- Clear Fit Master Patches are specially designed for daytime to go under base makeup.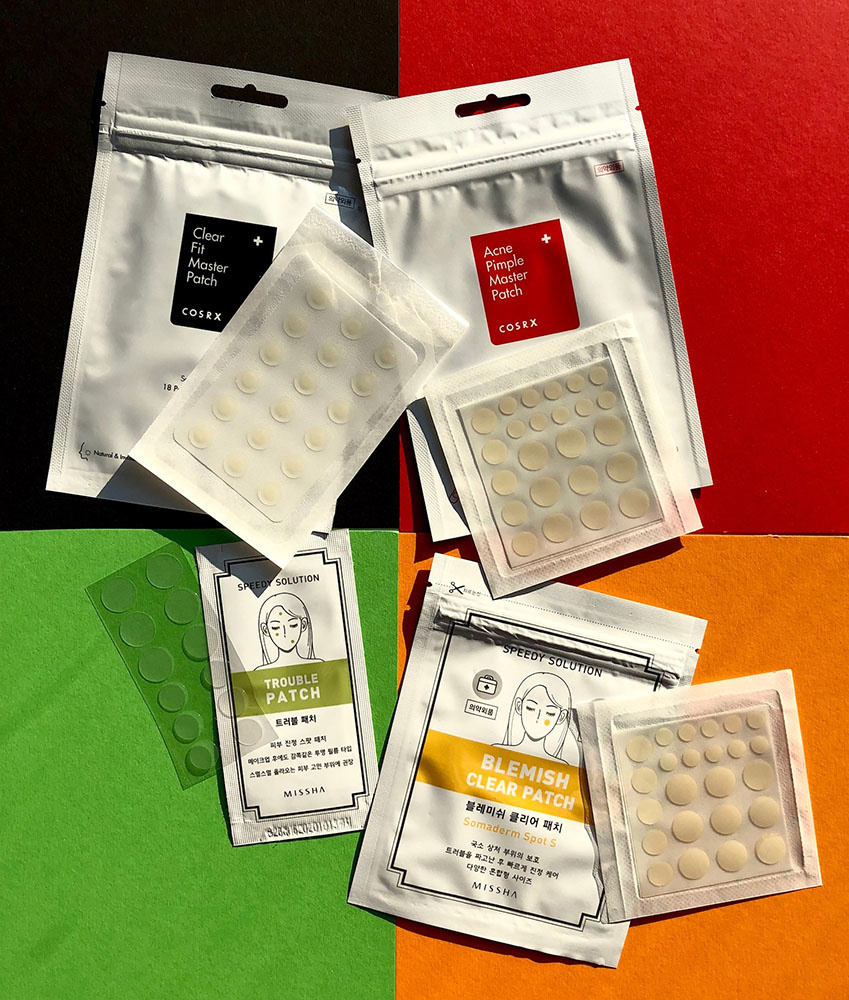 COSRX- Clear Fit Master Patch
COSRX- Acne Pimple Master Patch
Missha- Speedy Solution Anti Trouble Patch
Missha- Blemish Clear Patch
How to use pimple patches 
Pimple patches are typically applied at night so that you can wake up with a smaller zit and clearer skin. But pimple patches can be worn during the day as well. Keep in mind that the clear patches will turn white when exudates absorb, so if you like wearing pimple patches during the day, make sure you carry them with you to replace them when they've turned white.    


1. Wash and completely dry the problematic area.
2. Don't apply any skincare to your skin yet.
3. Remove a patch from the film and apply to the target area.
4. As the patch absorbs exudates, it turns white and puffy. Replace the white patch with a new one. If you apply patches at night, replace them in the morning.
Pimple patches are one of the most popular Korean beauty products. For good reason, they really work! They not only improve and speed up healing, but they also make pimples look better (as in less bad).

I hope to see you next week! 
XXX- Soha