It's funny how no matter how many beauty products you have, you can still want more. Probably everyone reading this blog can relate. I think most of us can also relate to not having the money to buy every product we desire. This is something that I as a student certainly can relate to. I don't have the money to just go out and buy every great product there is on the market. That's why I'm always looking for cheaper alternatives. I've actually become quite good at it :p.
The Korean beauty industry is well-known for its low price and high quality products. I think that's what drives the K-beauty hype. The K-beauty market is very adept at taking great products and pulling them down to an affordable price point. You can find many great Korean dupes for expensive Western products if you know where to look.
I know many people are in the same (broke) boat as me. That's why for today's post I've compiled a list of dupes for some popular high end products. These are some great, more affordable Korean products that perform just as well –if not better- than their high end (Western) counterparts.

Estée lauder Advanced Night Repair - Missha Time Revolution Night Repair Science Activator Ampoule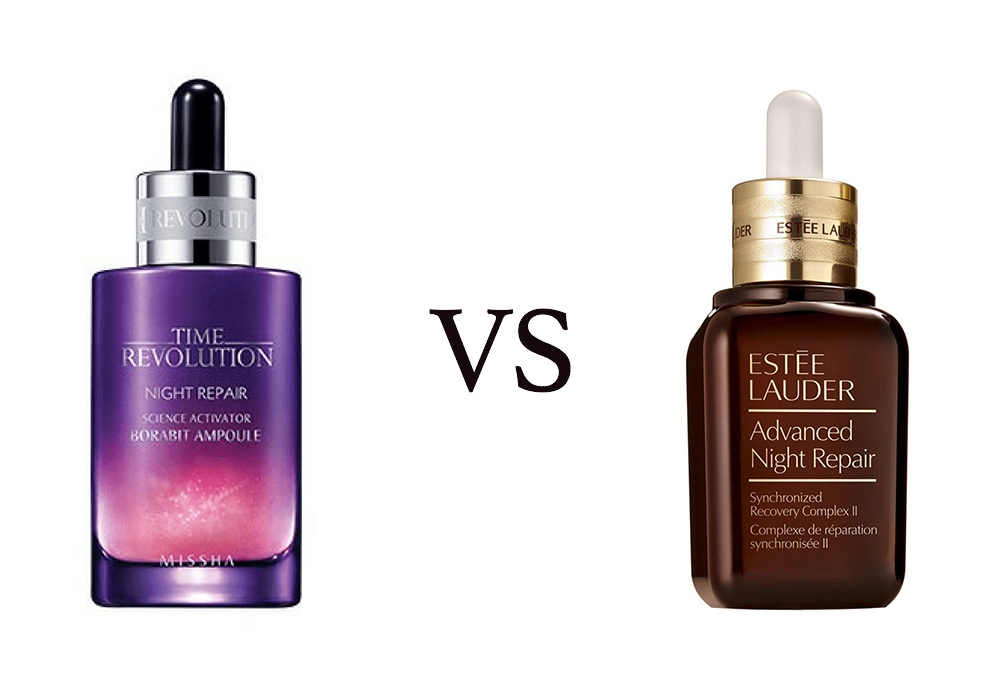 Estée Lauder, 50 ml, €123
Missha, 50 ml, €35

Ahh the wonderful Missha Night Repair Ampoule, my favorite skincare product. This is a well-known dupe for the Estée Lauder Advanced Night Repair serum, also a cult favorite. Both are powerful repairing serums that create flawless skin by promoting the skin's ability to repair itself. They also reduce fine lines, even out skin tone, and moisturize the skin. The star ingredient in both serums are Bifida Ferment lysate and Lactobacillus Ferment.
-Bifida Ferment lysate is a probiotic that is supposed to strengthen the skin's protective barrier and immunity, and reduce skin sensitivity.
-Lactobacillus Ferment is another probiotic and acts as a skin softener.
Both serums also contain a vitamin A derivative. The Missha ampoule contains Retinol, which is famously the best over-the-counter anti-aging ingredient that's available, while the Estée Lauder serum contains Retinyl Palmitate, also a vitamin A derivative, but less powerful than Retinol. Additionally, the Missha ampoule contains multiple skin-beneficial plant extracts and Niacinamide, an antioxidant, which has anti-aging and brightening effects.
With more skin-beneficial ingredients for less than a third half the price, I think it's fair to say that the Missha ampoule is superior to the Estée Lauder serum. Save your coins and go for the Missha ampoule.

Emma Hardie Moringa Cleansing Balm - Banila Co Clean it Zero Purity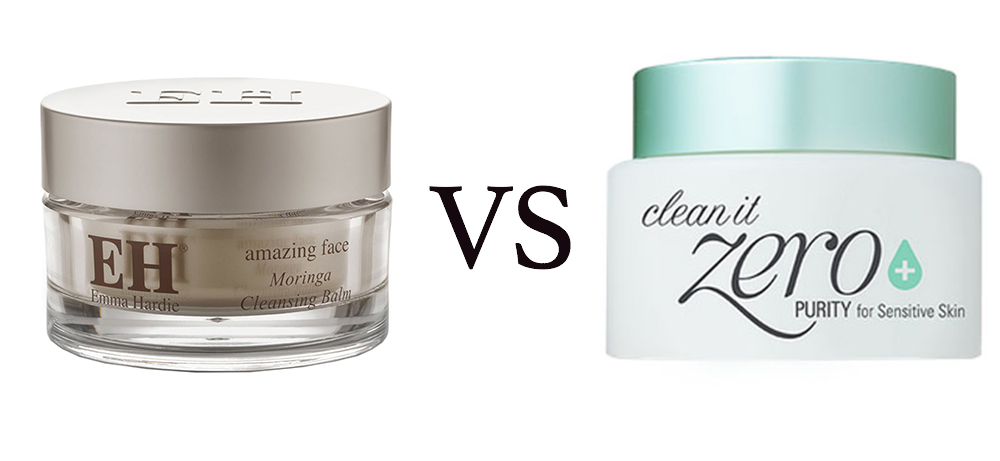 Emma Hardie, 100 ml, €47
Banila Co, 100 ml, €25

Nothing comes close to cleansing balms when it comes to facial cleansing. Cleansing balms remove makeup so easily and gently, and they don't require you stripping your face with a cotton pad or a wipe. I absolutely love them and use them every night.
The Emma Hardie cleansing balm is an award-winning cleansing balm that's a cult favorite (for those who can afford it). A great dupe for it is the Banila Co cleansing balm, which has also won multiple awards.

Banila CoClean it Zero Purity (Back on stock really soon)
The Banila Co cleansing balm is a hypoallergenic cleanser for sensitive skin. It has a sorbet-like texture that transforms into an oil on the skin to dissolve makeup and dirt seamlessly. The balm is enriched with Evening Primrose Oil to moisturize skin, Licorice Root Extract to brighten, and Camellia Sinensis Leaf Extract to soothe skin.

Emma Hardie Moringa Cleansing Balm
The Emma Hardie cleansing balm is a little more multi-purpose. It can be used as a cleansing balm, a face mask, or even a lip balm. It has a thick, luxurious texture that melts into an oil on the skin. It contains a mix of essential oils, including:
-Grape Seed Oil and Sweet Almond Oil rich to plump and soften skin.  
-Moringa Seed extract, Wild Sea Fennel and Vitamin E to balance and purify skin.
-Essential oils of Orange, Neroli and Mandarin to rejuvenate and revitalize the skin.
-Jasmine and Rose to help hydrate dull and dry skin.

The Emma Hardie cleansing balm definitely feels more luxurious to use. It has more skin-beneficial ingredients, and it's also more multi-purpose than the Banila Co cleansing balm. But you have to think to yourself, what real effect do those skin-beneficial ingredients have on your skin during cleansing? The beneficial ingredients are only on your skin for a very short period of time and do not have enough time to have a significant effect on your skin. You're probably only going to notice the beneficial effects on your skin when you use the balm as a mask.
When it comes to the actual cleansing however, both cleansing balms perform equally well at very different price points. The Emma Hardie balm definitely is not a necessity for cleansing. If you're on a budget and are looking for an excellent cleansing balm, I would absolutely recommend picking up the Banila Co Clean it Zero balm over the Emma Hardie balm.

Dior Jelly Sleeping Mask – Laneige Water Sleeping Mask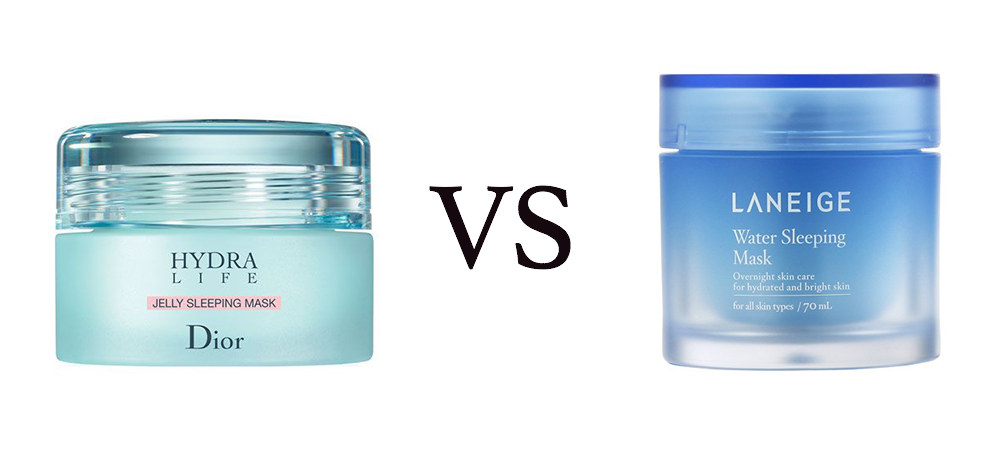 Dior, 50 ml, €72
Laneige, 70 ml, €33


The Laneige Water Sleeping Mask is one of the most popular Korean skincare products, and it's slowly gaining a cult following in the West as well. It's supposed to be a dupe for the Dior Jelly Sleeping Mask. I think they are. Both are overnight, moisture-recharging masks with a lightweight texture. Let's have a look at the beneficial ingredients.

Dior Jelly Sleeping Mask
Glycerin
Betaine
Centella Asiatica Extract
Sodium Hyaluronate
Vitamin D
Plant extracts

Laneige Water Sleeping Mask
Glycerin
Sodium Hyaluronate
Trehalose  
Plant extracts

Both masks primarily contain hydrating agents. Glycerin, Betaine, Sodium Hyaluronate, Centella, and Trehalose are all hydrating agents. As you can see the Dior mask contains a few more skin-beneficial ingredients than the Laneige mask, but they're very close. Another advantage the Dior mask has over the Laneige mask is that it's very cooling on the skin. The Dior mask is very soothing on the skin, which is especially great during hot days in the summer. But other than that, I think the two masks are very similar. Both in texture and ingredients. The Dior mask is a slight bit more hydrating than the Laneige mask, but nothing that's worth paying triple for.

Fresh Sugar Face Polish – Skinfood Black Sugar Mask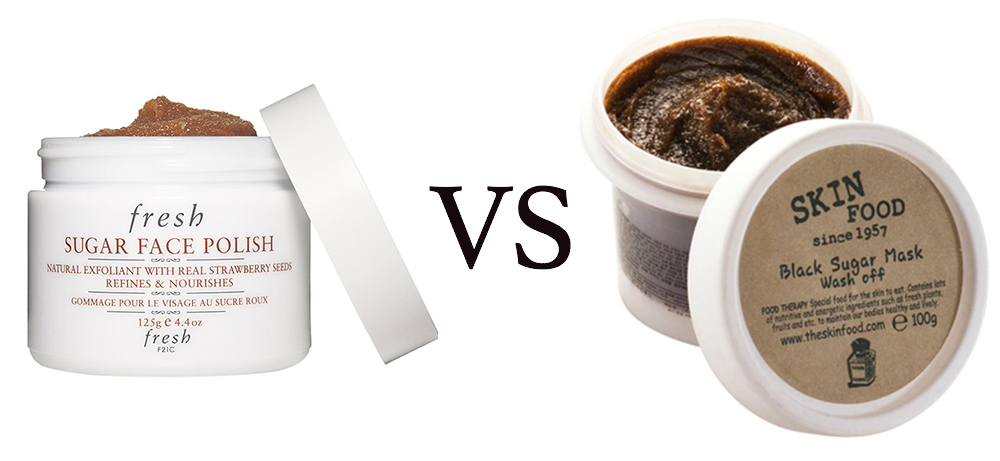 Fresh, 125g, €61
Skinfood 100 ml, €15


These two masks are extremely similar. Both are exfoliating scrubs with brown sugar as a base.
They both contain Macadamia oil to moisturize skin and both smell heavenly. The only difference is that the Fresh mask contains wild strawberries, which are supposed to be packed with vitamin C. But we know how unstable vitamin C is. As soon as the jar gets opened, the vitamin C loses its efficacy.
These two are very similar. They're both hydrating formulas that buff away dry, dull skin, and keep your skin baby soft. Both are also very high ranking products. In fact, the Skinfood mask is so popular that it's almost impossible to find in a Skinfood store. It's always sold out. For good reason!
For almost one fifth of the price, I think this one is a no-brainer.
SKII Facial Treatment Essence - Missha Time Revolution First Treatment Essence Intensive Moist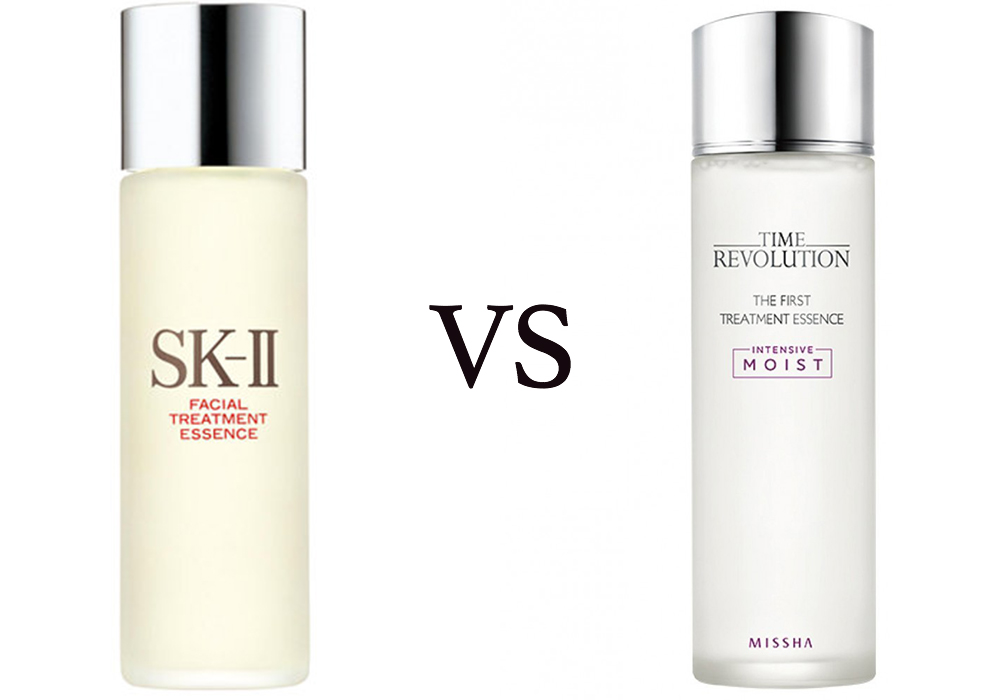 SKII, 160 ml, €150
Missha, 150 ml, €39

This is my favorite dupe, because it saves me the most money (:p) and the dupe performs better than the original. For those who don't know what these products are –the names of the products don't really give away much- these are watery essences with powerful repairing, hydrating, and anti-aging abilities. The star ingredient in both essences are fermented yeast extracts. The SKII essence contains Galactomyces ferment filtrate, while the Missha essence contains Saccharomyces ferment filtrate. These yeast extracts help the skin's cell renewal, improve the skin's barrier function, and are said to give the skin a healthy glow. 
Both essences contain more than 90% of these fermented yeast extracts and several hydrating ingredients to increase the skin's moisture levels.
However, the Missha essence contains 3 more skin-beneficial ingredients that the SKII essence does not contain:
Bifida Ferment Lysate, a probiotic that further strengthens the skin's protective barrier and immunity, and reduces skin sensitivity.
Niacinamide, an antioxidant with anti-aging and brightening effects.
Adenosine, a soothing skin-restoring agent with anti-wrinkle effects.

I prefer the Missha essence far more than the SKII essence. Not only does it contain more skin-beneficial effects, it also works better on my skin. I don't really see a difference other than hydration when I use the SKII essence, and hydration should not cost me €150. With the Missha essence I can definitely tell a difference in my skin tone. It really does brighten my skin, and after a few weeks of usage, it makes my skin glow the entire day! Another major advantage is that the Missha essence does not have a smell, while the SKII essence notoriously smells like pee. The Missha essence is far cheaper, more effective, and it doesn't smell. Again, a no-brainer.
I hope I've helped you save a lot of money today. I can already tell that this will be the first part of a series, because there's so many great dupes out there that I could not fit into this post.
Hope to see you next week!
XXX- Soha