It's finally here! The It's Skin Power 10 Formula Effector line! A cult favorite line of 13 highly potent serums. Today we will discuss all thirteen and what skin types and skin problems they're designed for. Keep reading!
There are 13 highly concentrated effectors (serums) in this line. Each one is formulated with specific ingredients designed to tackle a distinct skin concern, such as hyperpigmentation, discoloration, oily skin, large pores, skin aging, etc. Below is a chart with more information on each effector.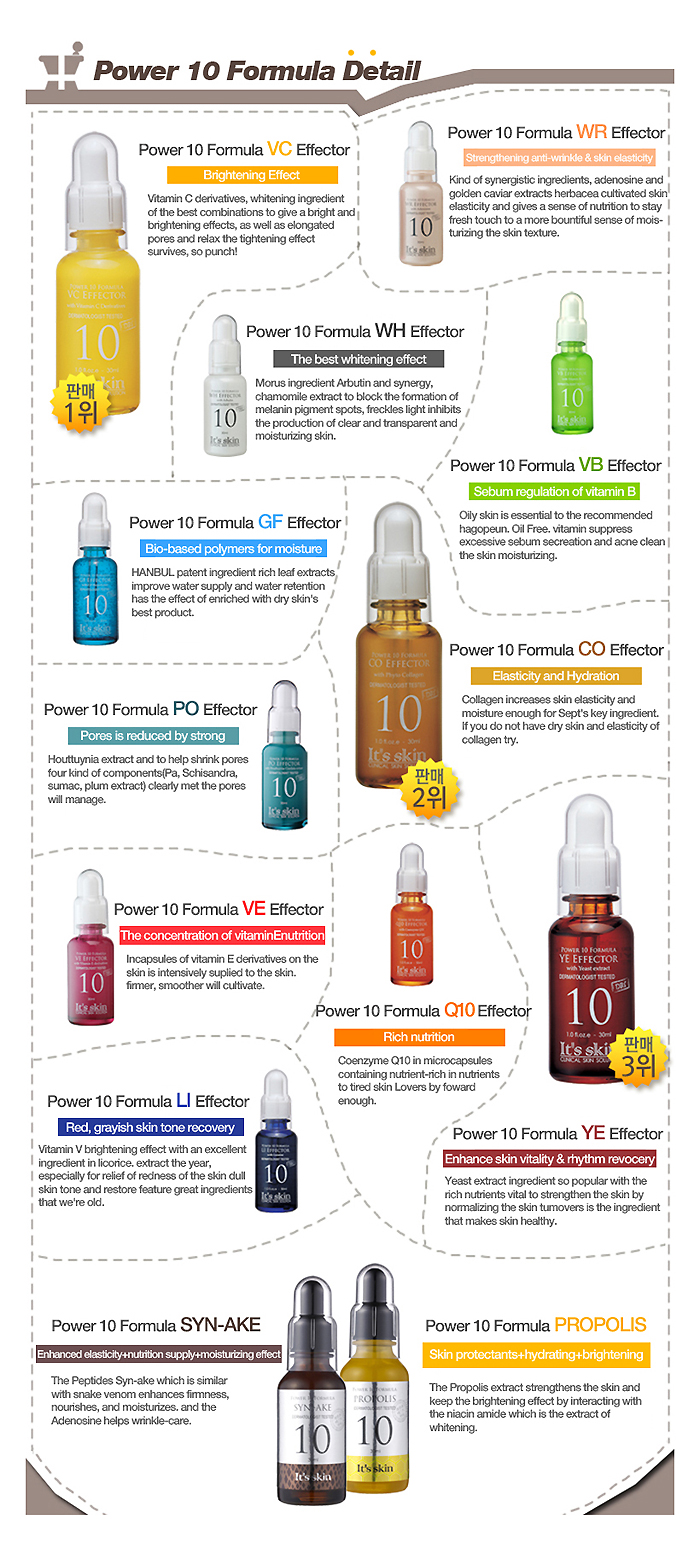 I condensed the information from the image in a table for a clearer view:
| | | |
| --- | --- | --- |
| Effector | Star Ingredient(s) | Effect |
| VC | Vitamin C & Green Tea | Brightening |
| LI | Licorice | Brightening |
| WH | Arbutin | Whitening |
| CO | Phytocollagen | Elasticity & Anti-aging |
| SYN-AKE | SYN-AKE peptides | Elasticity & Diminish wrinkles |
| YE | Yeast | Rejuvenating & Elasticity |
| WR | Adenosine, Caviar, Mistletoe | Plumping & Diminish wrinkles |
| Propolis | Propolis & Honey | Brightening & Protection |
| GF | GF-Biopolymer | Hydrating & Soothing |
| Q10 | Coenzyme Q10 & Glutamic Acid | Rejuvenating & Vitality |
| VE | Vitamin E | Nourishing & Protection |
| VB | Vitamin B6 | Excess sebum & Moisturizing |
| PO | Houttuynia Cordata | Excess sebum & Blemishes |
If you look closely, there are slight overlaps in the effects of the various effectors.  According to the skin concerns they target, you can categorize the 13 effectors in 4 broad groups:
1. Brightening Effectors
The brightening effectors all contain a type of skin brightener.
The VC effector is the most popular one. Not only in the skin brightening group, but also out of the entire Power 10 Formula Effector line. Formulated with two powerful antioxidants; vitamin C and Green Tea extracts, it brightens dark spots and discoloration whilst simultaneously inhibiting melanin production to prevent any future discoloration.
The LI effector is a brightening serum as well. It contains licorice, a well-known natural skin lightener used often in Korean skincare. Also formulated with multiple hydrating ingredients, the LI effector leaves an even skin tone with a luminous glow.
The last effector that falls under the 'brightening' category is the WH effector. It's star ingredient is Arbutin, a lightening ingredient extracted from the bearberry plant. The WH effector also contains a few hydrating agents, which leave the skin looking brighter, clearer and plumper.
2. Anti-aging, Firming and Elasticity
Again, starting with the most popular effector. The CO effector is the 2nd most popular effector out of the entire line. It is a potent collagen-boosting serum perfect for mature skin. Formulated with phytocollagen that deeply penetrates the skin to increase collagen levels and reverse and prevent premature aging.
The next effector in this group is an intriguing one. The SYN-AKE effector contains SYN-AKE peptides that mimic the action of snake venom to 'freeze' wrinkles and prevent future lines. It is also enriched with a cocktail of Adenosine, Baobab extract, Indian fig extract, Malt extract, and Yeast ferment for deep nourishment and elasticity.
The SYN-AKE effector is not the only effector that contains yeast ferment. The YE effector has Yeast extracts as its star ingredient. Yeast is a very popular skincare ingredient in Asia, because it boosts cell turnover rates, and stimulates the skin's elasticity. It's no wonder the YE effector is the 3rd most popular in the line. The YE effector leaves the skin fresh and plump, with a youthful glow.  
The last one in this category is the WR effector. The WR effector is a lightweight serum that contains a blend of ingredients, including Adenosine, Caviar extracts and Mistletoe extracts that work in synergy to plump the skin and reduce the appearance of fine lines.
3. Rejuvenating & Nourishing
This group consists of effectors that are primarily designed to nourish the skin and protect it from environmental aggressors.
The first one is the Propolis effector. Propolis, a.k.a. Bee glue, is a natural antibiotic and another popular Korean skincare ingredient. The It's Skin Power 10 Formula Propolis is infused with Propolis and Honey Extracts to provide antioxidant, anti-inflammatory and healing effects to the skin. Above that, it also contains Black Rose, Freesia, and White Daisy extracts to moisturize and brighten the skin.
The second one in this group is the GF effector. It's formulated with the GF-Biopolymer, extracted from the Grifola Frondosa mushroom. A quick -absorbing serum that hydrates and and soothes. Perfect for dry, dehydrated skin.
Up to the Q10 effector. This effector contains coenzyme Q10 and Polyglutamic Acid to boost collagen and elastin levels whilst providing moisture to restore the skin with lost vitality and resilience. This is a rejuvenating serum designed to reinforce the skin's resilience.
The last one in this category is the VE effector. A vitamin E enriched serum that delivers a range of antioxidants and hydrating ingredients to boost elasticity and moisture and protect the skin from free radicals.


4. Excess Sebum
This last group is specially formulated for us oily girls. There are two effectors in this group. Both leave the skin looking clearer and healthier.
The VB effector is a lightweight, quick-absorbing serum that contains vitamin B6 which balances the skin's sebum production and restores moisture levels.
The PO effector is formulated with Houttuynia Cordata extracts which help regulate the skin's natural sebum production and shrinks pores. This serum reduces oil production, blackheads and blemishes, whilst boosting hydration and firmness.
How to use - Directions
These effectors are to be used as serums. Apply them to freshly cleansed skin (after toning if you use toner) and follow up with your favorite moisturizer. If you have multiple skin problems you want to target, you can use two effectors and layer them. In fact, the VC and VE effector are best used in conjunction, because they both contain antioxidants which potentiate each others actions.

Have you tried any of these effectors? How did they work for you? Please share!