Hi guys! Today's post is going to be a bit more colorful than the previous ones. I will be swatching and reviewing the beautiful Wine Party eyeshadow palette by Etude House.
The Wine Party palette is the latest addition to the Etude House Play Color Eyes range.
It is a limited edition eyeshadow palette for fall 2017 consisting of 10 beautiful burgundy, wine and brown shades, perfect for fall.
The packaging is similar to all other Play Color Eyes palettes; sleek, thin, and travel-friendly. This edition has a burgundy colored cover decorated with cutesy images of wine party related items; a little wine bottle, some grapes and a little Swiss cheese. Cute!


The palette comes with a separate plastic sheet with all the shade names (in Korean), a handy mirror on the inside, and two dual ended sponge applicators.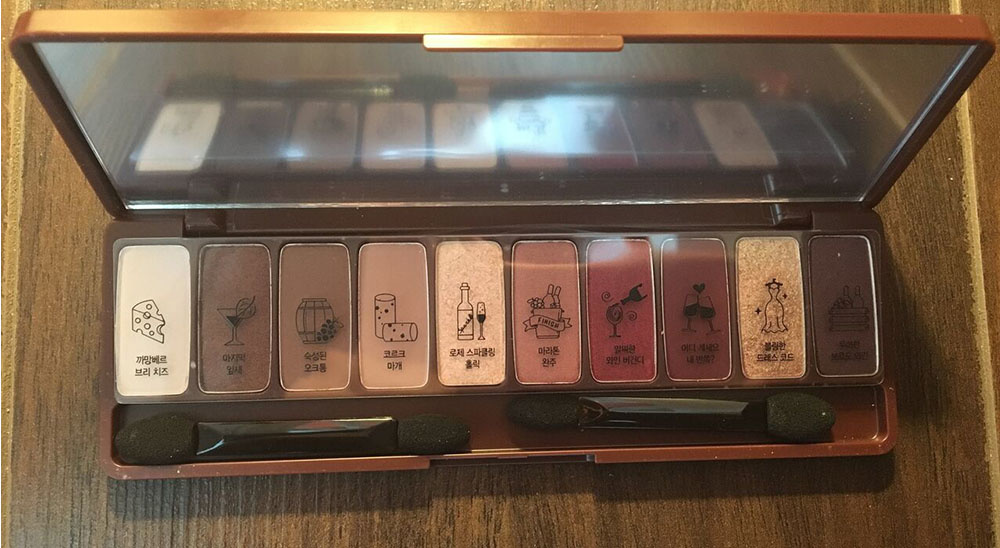 I personally never use sponge applicators to apply my eyeshadow, I much prefer to use brushes for that.
But I've heard that plastic applicators are very good for patting color on the eye, for that extra intense look. I am more into subtle eye looks, so I'll stick with my beloved brushes.
The shade names are also mentioned on the back of the palette, which is really handy for Korean speakers (not much for the rest of us :P).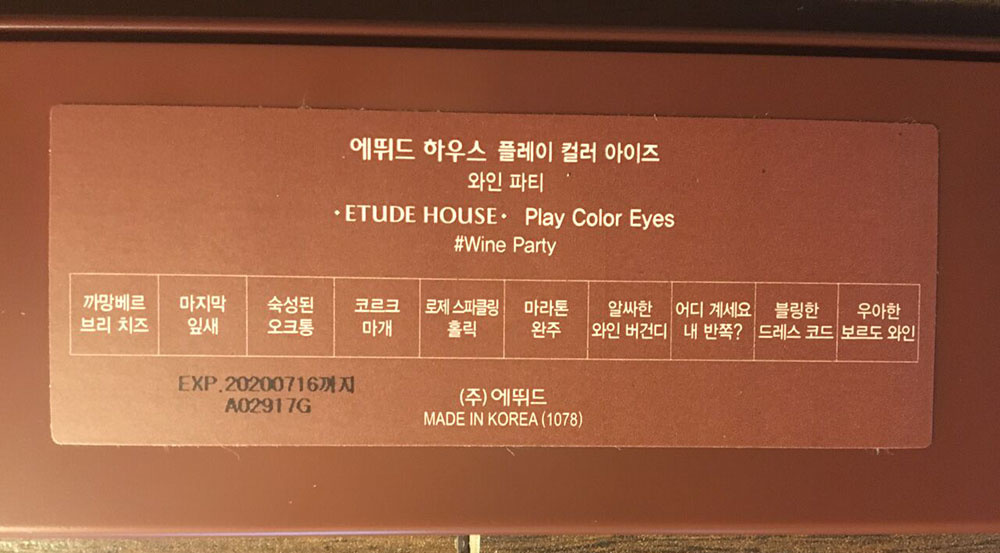 Luckily the shades have been translated, so I can name the shadows in the swatches.   
These are all finger swatches on my arm, with no primer underneath.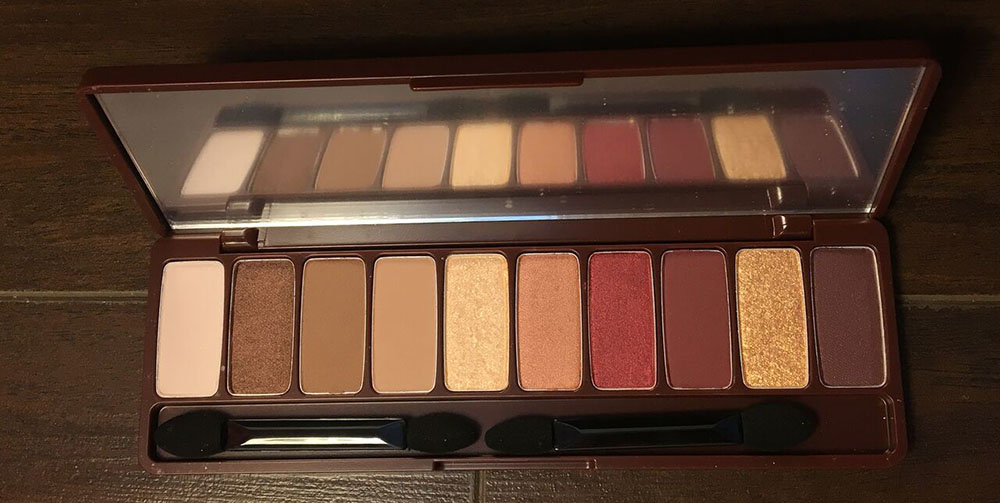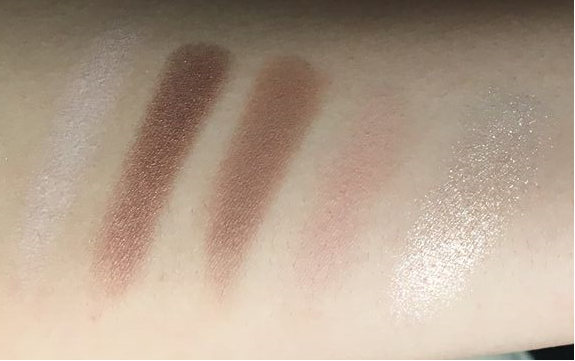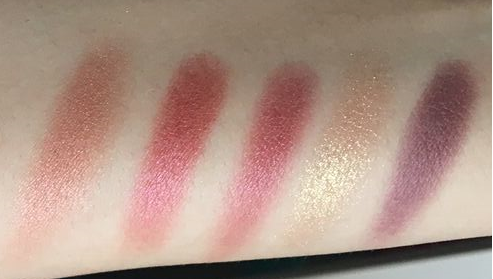 Camembert & Brie - The Last Leaf - Oak Barrel - Wine Cork - Rose Sparkling Holic
Marathon - Wine Burgundy – Soulmate - Dress Code: Bling - Bordeaux Wine
Camembert & Brie is a matte white with a pink undertone. This is an all-over lid shade. This shade is not very pigmented, like most white eyeshadows, but you can build it up.
The Last Leaf is a dark brown with a pink pearl running through it. This shade has just the right amount of pigmentation. It definitely shows up with one swipe, but it's not too pigmented that it becomes muddy when you blend it.  
Oak Barrel is a matte neutral brown. A great crease shade.
Wine Cork is a matte beige with a pink undertone. This one could definitely be more pigmented. Like Camembert & Brie, you really need to build this shadow up.
Rose Sparkling Holic is a gold glitter with some pink pearls running through it. This was my least favorite shade of the palette. The glitter gets everywhere! I got it all over my arms and hands when I was swatching it. Since it's a glitter, the best way to apply this is by patting it unto the lid with your finger.
Marathon is a pinky brown (leaning rose gold) with a pinky gold sheen. Very nicely pigmented and a gorgeous color.
Wine Burgundy is a burgundy shade with a sheen. This is my favorite shade of the palette. It's so buttery and soft and I adore the red hues.
Soulmate is a wine shade with a sheen, slightly more purple than Wine Burgundy.
Dress Code: Bling is a gold glitter. I prefer this glitter over the Rose Sparkling Holic. This one is much more pigmented and the glitters stick together, they don't go all over the place. Again, best applied with your finger.
Bordeaux Wine is a deep muted purple. This one also has that well-balanced pigmentation. It shows up, but it doesn't go crazy muddy when you blend it.

Overall I think this is a great palette for beginners. The eyeshadows are very soft and buttery, and they apply very evenly. Most of the shades are muted and have the perfect amount of pigmentation for beginners, they're pigmented but they are not crazy pigmented that you end up looking like you have a red eye. The lighter shades, Camembert & Brie and Wine Cork lack pigmentation in my opinion, but they can definitely be worked with and built up. Personally I am much more drawn to the right side of the palette with all the beautiful red shades.
I hope you're having a fantastic day!