It's been a while, but finally it's time for a new brand spotlight! This time, I'm giving some extra attention to the professional spa brand Troiareuke. Troiareuke offers prescription quality skin care with therapeutic benefits for sensitive, acne-prone skin.
At Little Wonderland, we're always trying to offer you a broad range of different types of brands and products. Having more to choose from can be fun, but it can also make you feel like you don't know which brand suits your needs best. This may sounds like a luxury problem, but still. Consider this brand spotlight as a guide, to help you differentiate brands from each other. So you can choose the perfect products to accommodate to your skin's needs!
Troiareuke is a wellness brand that was solely used in a professional setting by estheticians and dermatologists in Korea for some time, before becoming available to the public. I really enjoyed diving into this brand, and I hope so will you. 
Troiareuke comes from the ancient Greek word meaning 'foundation' or 'beginning'. It's a cruelty free brand that produces and develops all of their products in Korea. Originally, the brand was only used in professional settings like spas and skin clinics throughout Korea. Troiareuke is still used in over 5,000 wellness clinics and spas, and it's still a loved brand among skin therapists, estheticians and cosmetic dermatologists. 
The people visiting these spas were so happy about the products by Troiareuke and the effects on their skin, that they wanted to be able to use the products in their own homes. This prompted Troiareuke to expand their range to the costumer market, making their prescription skin care available for home use. This way, clients could take the therapeutical quality and the results and luxury of the spa home with them.
Troiareuke ACSEN
The specialists at Troiareuke are experts when it comes to treating sensitive skin that's prone to acne. Their products can be enjoyed by people of all skin types, but if your skin is sensitive and prone to acne, Troiareuke might just have some holy grail products for you. 
Troiareuke's ACSEN range is one of the best selling skin care ranges by Troiareuke. 'AC' stands for 'acne' and SEN stands for 'sensitive'. The ACSEN range contains mild products that are very effective when it comes to restoring damaged skin and calming down inflamed, acne-ridden skin. 
The main ingredient in the Troiareuke ACSEN line is Centalla Asiatica. If you're a K-beauty lover, you're probably familiar with this wonderful little plant and it's healing, restorative properties. What's so special about Troiareuke ACSEN, is that they only use Centella Asiatica of the highest quality in their formulas, which is harvested in Malaysia. 
I'll outline some great products from the Troiareuke ACSEN range, and explain some more about the products, what's in the formula, and for which skin types they are best suited.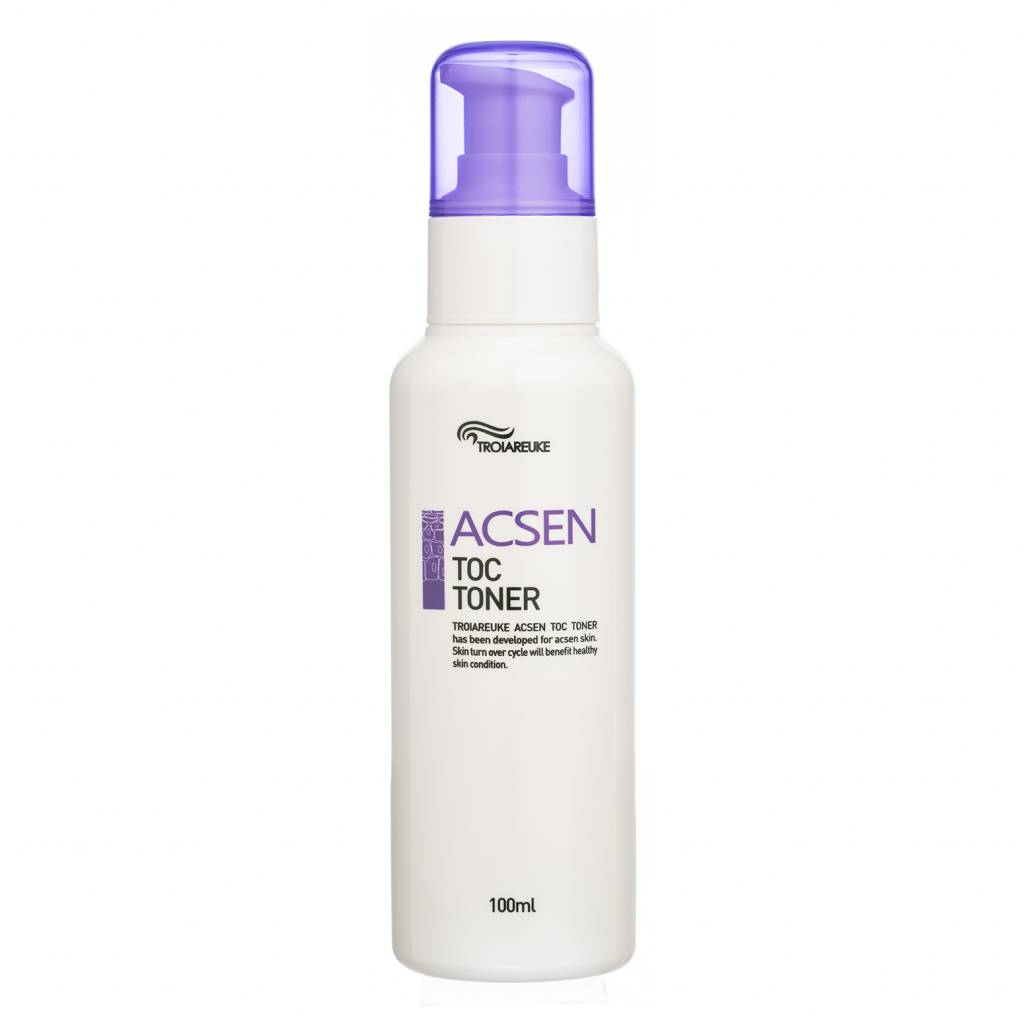 Troiareuke ACSEN TOC Toner
What is it?
The T.O.C. stands for Turn Over Cycle, because it stimulates the cycle of skin cell renewal, preventing the accumulation of dead skin cells that can clog your pores and can cause acne or a dull skin tone. This toner is suitable for sensitive skin types that suffer from an imparied barrier function. It helps to support the barrier, so the skin becomes healthy and resiliant from within.

What's in it?
The ACSEN T.O.C. Toner contains a potent mix of hyaluronic acid, salicylic acid and glycolic acid. Hyaluronic acid strenghtens and hydrates the skin, glycolic acid gently exfoliates the surface of the skin, and salicylic acid penetrates the pores deeply and removes the dirt and dead skin cells hiding your pores.

Who's it for?
The T.O.C. Toner works wonders for dull skin, visibly enlarges pores, excessive sebum, acne, and problematic, sensitive skin. It's a multifunctional go-to toner for everyone who is looking to address several needs their skin has, like congestion and red, irritated spots, or an oily T-zone and dull skin tone.   

Troiareuke ACSEN Selemix Serum
What is it?
This serum has two powerful effects. Firstly, it calms the skin, and secondly, it diminishes the visibility of small scarring left behind by acne.

What's in it?
Selemix-an is a special combination of ingredients patented by Troiareuke. Selemix-an contains fermented bean-extract and magnolia bark extract, plus clove flower-extract, sophora-extract and purslane-extract. It's a powerhouse of botanical anti inflammatory extracts that soothe and calm down skin. Selemix-an is 2000 times as effective in neutralising free radicals compared to vitamin E. It helps the skin to withstand UV-damage, and kills the bacteria in your skin that causes acne. 

Who's it for?
The Selemix Serum effectively combats acne, inflammation and the consequential damage to skin. Because of the calming, restoring botanical extracts, the Selemix Serum is very suitable for skin suffering from eczema or in need of restorative care. It's a potent serum that seriously improves the appearance of acne marks, for a smoother, more toned appearance.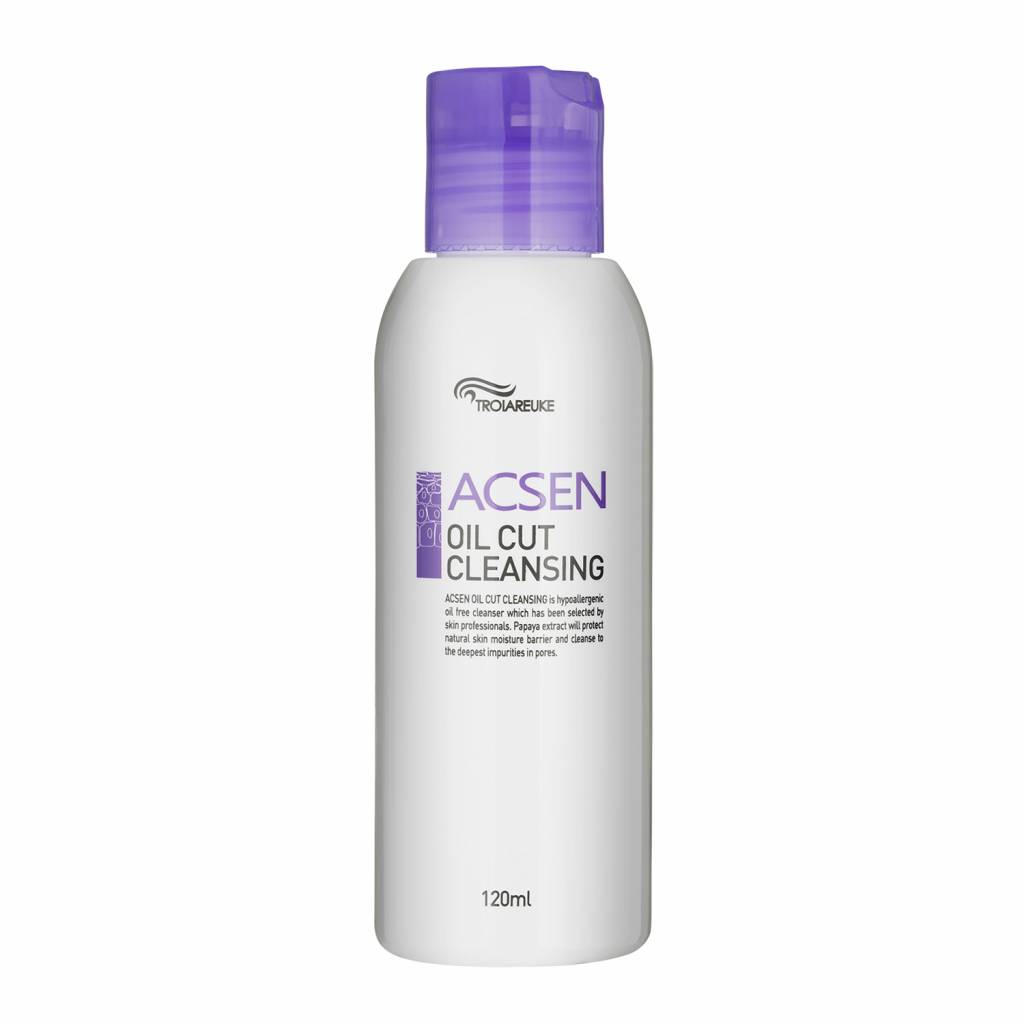 Troiareuke Acsen Oil Cut Cleansing
What is it?
The Oil Cut Cleansing is an oil free, two-in-one cleanser. If you cleanse your face using this cleanser, you don't need to follow the usual two steps of the double cleansing routine. It targets the sensitive, barrier-impaired skin that suffers from acne. After cleansing with this mild formula, your skin doesn't feel sensitized or dry. 
What's in it?
This cleanser uses a natural surfactant derived from the Saponaria offinicalis, a.k.a. soapwort or soapweed. The leaves of the soapwort produce a lathery liquid that's a gentle soap that mildly cleanses the skin, without causing any irritations. Papaya extract mildly exfoliates the skin, and aloe vera juice has a soothing effect.

Who's it for?
While this cleanser is targeted at sensitive, barrier-impaired skin with acne, it's a gentle, natural cleansing product that's suitable for all skin types. It doesn't contain mineral oils, essential oils, alcohol, silicones or any animal derived substances.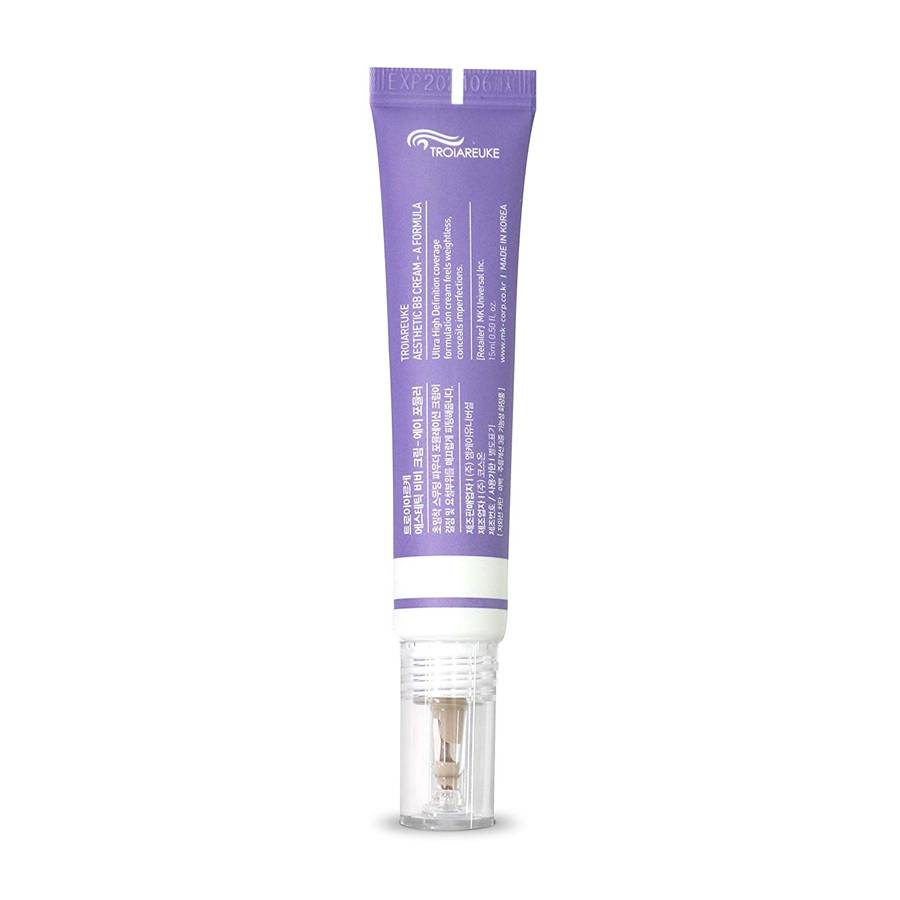 Troiareuke Aesthetic BB Cream Formula
What is it?
You could consider the Troiareuke Aesthetic BB Cream Formula the best of both worlds. It's a combination of skin care and make up. The BB cream offers natural coverage to smooth out and hide imperfections, but the formula is wonderfully caring and calming for the skin. It's like an instant perfecting effect that's beneficial to your skin at the same time.
What's in it?
The Aesthetic BB Cream is packed with ingredients that make your skin healthy. Houttuynia Cordata-extract contains impressive amounts of polyphenolic flavonoids that have anti-inflammatory, antioxidant and antibacterial properties. It also contains tea tree oil, adenosine, niacinamide, and glycerine. 
Who's it for?
The Aesthetic BB Cream is for everyone who's looking to correct the appearance of their skin, cover up imperfections, but not at the cost of compromising the skin. The caring ingredients make it a perfect choice for people that have sensitive, inflamed skin who want to perfect their skin tone instantly, but are wary of using regular makeup, because they experience worsening of their symptoms when they put regular BB creams or foundations on their skin.

That was it for now. I have to say, I was pretty amazed once I dived into the world behind Troiareuke and discovered the potency and healing properties of their formulas. Their product range and the quality is really exceptional. What are your favorite Troiareuke products? I'd love to hear about your experiences in the comments below. 
XXX, Marthe